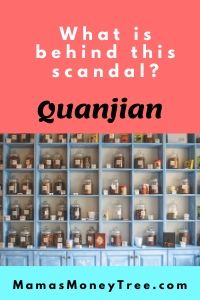 Welcome to my Quanjian MLM review.
The latest development just this month is its founder, Shu Yuhui, has been sentenced to jail for nine years. I guess it is safe for us to say this signals the collapse of the direct selling company that sold Chinese herbal products.
This article aims to provide some insights on the events that led to Quanjian's demise.
At the same time, we will examine why the way Quanjian was running its MLM business was not acceptable to the Chinese authorities.
Stick with me until the end of the post, where I will show you how acquiring a high-income skill in this internet age allows you to build an online income so that you do not subject yourself to the exploitative nature of any MLM business.

Without further ado, let's dive right in now!
---

Quanjian Review Summary

Product: Quanjian
URL: its official website has been taken down at the time of this writing
Creator: Shu Yuhui
Product type: direct selling firm that deals with Chinese herbal products
Price: an entrance fee, along with a minimum monthly sales requirement (the exact amount is not relevant anymore)
Scam / Legit? : illegitimate, as determined by the Chinese authorities to be a pyramid scheme
Quanjian's founder has been sentenced to 9 years' jail on Jan 8, 2020, and fined RMB$50 million (equivalent to US$7.2 million).
This is for engaging in MLM activities of setting a significantly higher price than the cost of its products, and selling them through a pyramid scheme to members who are enticed to join the opportunity with seemingly attractive rewards.
---
---

What is Quanjian

A brief background of Quanjian

Quanjian is a direct selling company founded in 2004 by Shu Yuhui, with its headquarters in Tianjin.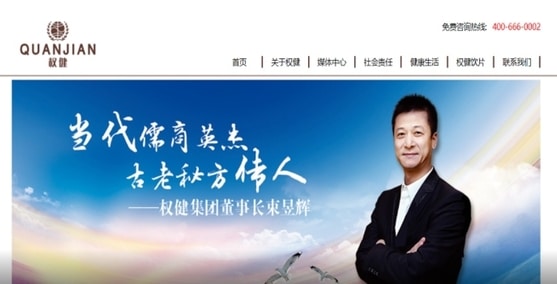 Besides making Chinese herbal medicine, the conglomerate had also diversified its portfolio to include soccer clubs, equestrian sport, hotels, medical institutes, and finance industries.
In Quanjian Natural Medicine Science and Technology Development, Shu's herbal medicine products were supposedly backed by his own team of doctors.
There were also some non-food products being sold, like negative ions sanitary napkins, facial cleansers, and magnetic insoles.

The beginning of the Quanjian Saga

It all started when a popular Chinese website Doctor Clove published an article that blamed Quanjian for the death of a four year old cancer patient Zhou Yang.
The toddler was receiving treatment in hospital for a rare form of cancer identified at the base of her spine when representatives of Quanjian approached her father to present their products, claiming that they would help her recover, and even convincing him to take her out of hospital and stopping the conventional treatments.
She died in 2015, just months after that.
Senior Zhou discovered that Quanjian had been using an image of his daughter to promote its products without his consent. He tried in vain to sue the company for false advertising.

Year long investigation

In December 2018, the article by Doctor Clove finally brought Zhou's case to the attention of the authorities, and into public eyes.
An investigation was launched, which lasted for an entire year. As Quanjian members started taking to social media to share their experiences, it also uncovered a pyramid scheme whereby most of the company's revenue was made through acquiring members, rather than through retail sales of their products.
---
---

Quanjian MLM Review – Business Model
In China, direct selling is allowed, but not organized MLM (multilevel marketing) activities.
In direct selling, products of a company are only available through its distributors, who then get to make commissions through the sales they drive to the company. The focus is on selling products.
In MLM, on top of retail commissions, recruitment enters the picture. And depending on how a company draws out its compensation plan, distributors may channel most of their time and effort into convincing others to join the business opportunity, thereby building up their downline team, rising up the ranks themselves, and significantly increasing their earning potential.
It is easy for an MLM company to attach a joining fee or some starter kit that a new distributor must purchase in order to qualify for commissions. It is also not uncommon for these companies to attach a minimum monthly sales requirement that distributors must meet in order to stay in the business.

The issue with the MLM structure

It starts with high pricing
MLM companies typically set an exorbitant pricing for their products, in the name of intensive research and development, the most advanced science involved in how they work, the cleanest and most natural ingredients, and so on.
Using some unique feature as a selling point, the out-of-this-world pricing may even be the reason some people take to it.
Without a doubt, it then puts itself out of the open market, where similar products sell at a substantially lower price.
So where does it find its customers?

Incentive structure
Hence the birth of the elaborate MLM compensation plan, with seemingly very attractive rewards. When in fact it hides the real story, which I will explain later.
Enticed by the reward plan, people sign up to become its distributor, promoting the products and the business opportunity to more people around them.
In joining, they have to pay some registration fee, and possibly meet some monthly sales requirements. The company makes money through these.
Effectively, distributors become customers.
Think about it. Without the earning opportunity, would anyone even consider buying those expensive products?
For some companies, maybe. Possibly. If their products are so unique that they serve a real need, and it is difficult to find similar products elsewhere.
Otherwise, like it or not, most people are in it for the potential income.

If an MLM business allows you to earn based on retail commission alone, then it is a good company.
It means that its products are meeting a real need.
Still, the traditional way to sell an MLM is dead. If you are taught to promote the products to your warm market of family and friends around you, then the company is not ready for the 21st century challenges.
With the internet, if you do not leverage on it, you are doing a disservice to your business.
These days, before consumers make purchases, they will be doing their research online.
If you can show up to answer the questions they are asking on the search engines, and recommend your offers in a way that make people trust you, then you would have landed yourself some potential customers.
With sufficient sales volume, just the retail commission alone is going to make you some handsome earnings. This is the high income skill that I was talking about at the beginning of this post.

How about recruiting? Why doesn't it work?

MLM companies tend to want their distributors to recruit as much as possible. What is not revealed, in fact it is hidden through the convoluted compensation plans, is that the earnings increase exponentially only at the highest rank levels.
At the entry levels, you could be fervently trying to get people to join you in the business, but the earnings you make will be disproportionately small, as the bulk of it gets passed up through the ranks, to those at the top.
It is how the reward system is made to work.
When you finally reach the top echelons, you will then enjoy the fruits of other people's labor.
Exploitative, that's what I would call such a structure.
It is the exact reason why most people fail in MLM opportunities. Let's face it, no one is going to stay if they are bleeding money every month, instead of breaking even or profiting.
A report on the FTC (Federal Trade Commission) website states the failure rate in MLM to be 99%. That is a staggering figure.
Now that you know this, I sincerely hope you do not allow yourself to be part of those statistics.
If you get a chance to study the strategies of those top earners in MLM companies, you will find that they would have developed a means to reach a broad base of targeted audience, either through advertising on some social media platform, or having a personal blog that has established a huge influence.
With this consistent stream of new distributors joining their team each month, that is how they have reached the top. Within the next couple of months, most of these new distributors would give up from lack of results.
To the top earners, it doesn't really matter because they have already established a formula that brings an influx of new recruits month after month.
At this point, again I want to highlight the importance of equipping oneself with the high-income skill of being able to reach out to a massive volume of targeted traffic on the internet.
That is how the top earners have found success.
Once you acquire the knowledge and the skills, the world is at your feet. You can promote anything and make money online. It doesn't even have to be an MLM opportunity.
---
---

Conclusion

Quanjian has been proven to not have the best interest of its distributors at heart.
Personally, I feel that most MLMs are like that, with their leaders earning at the expense of their regular distributors. Some examples are Jeunesse, Nu Skin, NeoLife, Infinitus, and PERFECT China, to name just a few.
---

An Alternative – My #1 Recommendation

Now, allow me to humbly invite you to take a look at the business model I am using to make money from home.
It is called affiliate marketing.
I do not have to recruit a single person, neither do I have to engage in any face to face selling.
All my work can be done on my computer, which also means I can bring it anywhere.
One of the best things about this model is the transparency in its payment structure. I get paid solely based on the amount of sales I drive. Hence it is fair and square.
What's more: I do not have to pay a single cent to any company to start promoting it. No entrance fee, no monthly sales quota to meet.
Which also means that I can work with as many companies as I want, promoting them all at the same time, acquiring multiple income streams.
And the way I get traffic is free too! I use what is called organic traffic – users of the search engines will land on my offers simply by virtue of me being able to meet their needs, offering the solutions to what they are searching for.
This also implies I get highly targeted traffic, everyone with a strong buyer intent. I never have to shove any expensive product into people's faces, when they are not even looking for it.
If you would like to see how this method works exactly, check out the details in my other post:

And for reading all the way to the end of the post, I believe you have it in you to make this work. Here is your FREE PDF Guide: 4 Simple Steps to Making Money Online. Fill in your details to claim it:


If you have any concerns or questions regarding this Quanjian review, do comment below, and we will start a conversation from there.
---