You may be wondering what the Project Life Mastery scam is all about. Why do some people call it that?
Stefan James Pylarinos – who exactly is this guy, and should you believe that he knows it all, from internet marketing and finding financial success, to publishing and personal development?
Welcome to my Project Life Mastery review.
Here I will breakdown the products offered on the educational platform, along with offering my own insights as to how effective his teaching and his methods are.
By the end of the post, my hope is for you to be able to make a better-informed choice through a deeper understanding of the pros and cons of this program.

Without further ado, let's dive right in now!
---

Project Life Mastery Review Summary

Product: Project Life Mastery
URL: https://projectlifemastery.com/
Creator: Stefan James Pylarinos
Product type: courses in a variety of topics, from marketing to personal development
Price: Varies from $27 to $1,997
Rating: 4 out of 5
Scam / Legit? : Legit
Recommended or not? : Some of the courses
Project Life Mastery is Stefan's blog and company that sells courses and apparels, engages in charity and produces great quality content that he shares freely with his huge following.
What he teaches is great stuff, but some of the courses are too expensive for me to recommend. Others are definitely worth the price tag. And they cover a broad variety of topics (money, affiliate marketing, personal development, publishing, etc.), so it really depends on your needs.
---
---

What is Project Life Mastery – Some Background

To find out what is Project Life Mastery, let us first take a look at what Stefan says: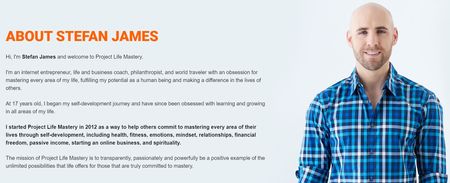 As an entrepreneur and life and business coach, he wants to help people master every area of their lives, from starting an online business and passive income to personal development and relationships.
If you do not know him, he may come across as just another 'guru' who pretends to know it all, and is just trying to get your money by selling useless, generic advice.
I do not know Stefan personally, but got to learn about Project Life Mastery only because I stumbled upon one of his courses – Affiliate Marketing Mastery, since I'm in the line of affiliate marketing. So I took a look, and was impressed by all the legit stuff he taught inside there (though I was not as impressed by its price tag).
Stefan is one who walks the talk. The way he runs his website ProjectLifeMastery.com is exactly what he teaches people to do inside the Affiliate Marketing Mastery course.
He built up a huge following through offering lots of value for free, through his Youtube videos, his blog posts, etc.
Hence I believe he legitimately gives of his best, and his courses are worth looking into.

Inside Project Life Mastery

Here are the details of the 6 training products inside Project Life Mastery.

1. Kindle Money Mastery 2.0
Priced at $97, this course goes in depth to teach you how to make a passive income by publishing on Kindle. It covers all the basics and more, from picking a profitable niche, keyword and competition research, and cover page design to the technical aspects of getting published, getting reviews, marketing your ebook, and scaling up.
The initial version of Stefan's course paved the way for many self-publishers when there was almost no training that taught the bolts and nuts of this business.
In fact, some publishers subsequently created their own training products on the same topic that were more comprehensive and updated than this Kindle Money Mastery 2.0, but their fees tend to be exorbitant.
So for its current pricing, I'd say this course really provides fantastic value.

2. Affiliate Marketing Mastery
Affiliate Marketing Mastery teaches you the proper way to set up an affiliate marketing business – through creating your own website (here's why everyone needs their own website), creating content, and using various platforms to market your brand, including Youtube, Facebook, Instagram, etc.
It is how I set up my affiliate marketing business too, though my focus is more clearly on content creation through SEO (search engine optimization), and way less hustling on the social platforms. The training platform I learnt from is also way cheaper.
Affiliate Marketing Mastery costs $1,997.
In my detailed review, I could not recommend it mainly because I felt you could get a lot more value with many cheaper alternatives.

3. Online Business Mastery Accelerator
This is a membership platform that costs $97 per month, or $997 per year.
Stefan hosts a monthly live coaching webcast so that you will learn the best online business and marketing strategies.
There are also advanced training videos and audios that cover stuff like mapping out your business, mindset, interview strategy, how to hire and build a team, email marketing, website design strategies, and much more top-notch content that's more geared towards the intermediate and advanced marketer.
If you have the financial means, and have already built up the foundation for your online business, then I believe this course will provide tons of value.
---
---

4. Life Mastery Accelerator
This is also a membership platform, costing $29 per month, or $297 per year.
There will be monthly live coaching webcasts in many different aspects of your life, from health, fitness, emotions and mindset to relationship, finances, social life, and spirituality.
The training videos and audios include topics like finding your why, how to meet and attract your soulmate, archetypes of self-mastery, find and live your mission in life, time management, cleansing and detoxing your body, etc.
The range of topics covered is wide, and for such an affordable price, I'd say go for it, give it a month or two to learn from someone who has very good reputation in the personal development niche. It may be the turning point in your life.

5. Morning Ritual Mastery
Many highly successful people have emphasized on the importance of starting the day right. And they all have morning rituals that they stick with consistently, that maximize their potential and productivity during the day.
Costing $37, this course is for you if you find yourself unmotivated and not able to focus on your tasks.

6. How to Write a Book in Less Than 24 Hours
This is Stefan's 10-step method that teaches you the entire process of writing a book within one full day.
If you are considering hiring a writer, then you do not need this. This training is for you if you at least do enjoy writing, and are entering the business of self-publishing your ebooks.
Though it costs only $27, and I'm sure there is a lot of takeaway that you can glean from this course, I'm not comfortable with some of the hype.
"Start writing your own book now and make money by tomorrow."
I hate to be the bearer of bad news, but it is not possible, especially if you are new to the self-publishing scene. Just like any other business model, it takes hard work at the beginning, with self-promotion to do before anyone will get to learn about your book.
Moreover, I'm really not sure about the quality of a book that's written within a day. Readers these days go for quality as well as quantity, you can't expect to satisfy your customers with just a few thousand words, no matter how great the content is.

My Personal Take on Project Life Mastery

I really like Stefan, I think he's a genuine person who wants to help his customers and give them his best. Follow his blog and Youtube channel, and you will see what I mean.
I love the fact that he engages in charity work.
And no doubt, all his courses are good, and teach legitimate methods and techniques in the respective topics.
I don't recommend every single one, though. Because when we compare them with alternatives in the market, they do not always come up tops each time.
---
---

To round up this article, let me recap and summarize the pros and cons, before I finally make my conclusion.

Pros of Project Life Mastery

1. Real owner who is successful in his own rights
Stefan is a highly successful entrepreneur who has made money with affiliate marketing, publishing, blogging, and so on, and is teaching others to do the same.
He is down-to-earth, and gives customers realistic expectations of having to work hard at their businesses, as the training he offers are not get-rich-quick schemes.

2. 30 day money back guarantee
This basic refund policy is in place, for people who are dissatisfied with the product.

3. There is great value in the training
At least in most of his training products, you do get the value of what you pay for, and much more.

Cons of Project Life Mastery

1. Some courses have significant flaws
Affiliate Marketing Mastery is too expensive, and How to Write a Book in Less Than 24 Hours gives people the impression that they can start making money quickly and easily.

2. Upsells
There are upsells in some of Stefan's training products, including Kindle Money Mastery 2.0, in which he makes rather persistent efforts to get you to buy its upgrades.
---

Is Project Life Mastery Scam or Legit?

Project Life Mastery is NOT a scam at all. People who say so may have thought him to be the same as other 'gurus' who appear as know-it-all but are in fact Jack of all trades.
Or they may have had some misconception of the products' ability to lead them to success. Or they are simply Stefan's competitors.
Some other great courses I have reviewed include
Income School,
Grant Cardone Sales University,
ClickBank University, and
Super Affiliate System.
My #1 recommendation remains Wealthy Affiliate, and will be at the top position for a long time.
---

Conclusion
Whether it's self-publishing, affiliate marketing, or any other type of online business, one thing will never change – it requires a lot of time and hard work, especially in the beginning stages of the business.
With the right mindset, you will get there.
I started from scratch, having zero knowledge about running an online business or even setting up a website.
Now, I work full time from home, growing my affiliate marketing business, and making an online income.
You can do this too.
Here's a peek into my daily earnings:



That's almost $200 in just one single day. It's nothing to boast about, though, as it's just a small fraction of its full potential. I just wanted to show you the possibilities.
Check out Wealthy Affiliate, that provides all the resources, tools, along with an entire community of aspiring as well as already successful online income earners:

This real deal does not promise instant results.
Instead, it provides the knowledge and lifelong skills required to grow a successful online business that will sustain itself in the long run.
And for reading all the way to the end of the post, I believe you have it in you to make this work. Here is your FREE PDF Guide: 4 Simple Steps to Making Money Online. Fill in your details to claim it:


If you have any concerns or questions regarding this Project Life Mastery review, do comment below, and we will start a conversation from there.
---