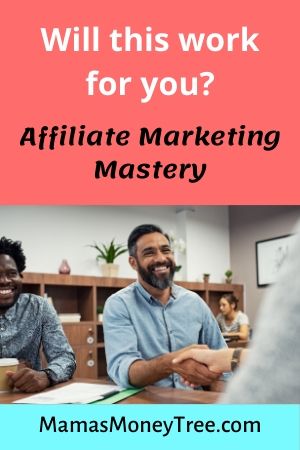 Welcome to my Affiliate Marketing Mastery review.
I love Stefan James, he is a fantastic guy who teaches his students the proper way to set up their online affiliate marketing businesses that will provide a sustainable income.
He makes no guarantees of any earnings, and this is something you should always look out for when discerning the legitimacy of courses and make-money products. When someone promises you your first $1K within the first 7 days, you've got to run the opposite direction.
In this post, we will look inside this robust course to see what exactly you will be learning.
Then I will offer my opinion on how effective the training is to bring you success in affiliate marketing, as well as why I ultimately do not recommend it.

Without further ado, let's dive right in now!
---

Affiliate Marketing Mastery Review Summary

Product: Affiliate Marketing Mastery
URL: https://www.affiliatemarketingmastery.com
Creator: Stefan James
Product type: affiliate marketing training
Price: $1,997
Rating: 3.5 out of 5
Scam / Legit? : Legitimate
Recommended or not? : Not recommended
Affiliate Marketing Mastery is a great course. What it teaches is the proper and sustainable way to build up an affiliate marketing business. The main reason I'm not recommending it is because of its high price tag.
There are great alternatives out there that are much more affordable, and for more value.
---
---

What is Affiliate Marketing Mastery

To find out what is Affiliate Marketing Mastery, let us first take a look at its website:


So this course is about affiliate marketing, as the name says it.
Affiliate marketing also happens to be exactly what I am doing. So I do know how to tell a good product from a bad one, when it comes to affiliate marketing training.
If people try to sell you a business-in-a-box, or a done-for-you niche site, or the underground affiliate hack that even the most successful internet marketers do not know about, then please stay away from them.
If it's a 4-figure income with just 10 minutes of work each day, or daily commissions on autopilot, steer clear too. I've seen enough of those junk to know NOTHING works.
Stefan's course is DIFFERENT.
I know it because I used the same techniques and strategies to build up my own affiliate marketing business from scratch. So I know it absolutely works.
And yet, nobody can guarantee your success because ultimately, it is up to you to put in the time and hard work.
But I believe anyone CAN do it, if they set their minds to it.
I'm just a stay at home mum, with zero knowledge about affiliate marketing when I first started out two years back. I'm no computer geek or marketing expert.
I followed another course (a much cheaper one), which is structured around the same vein as Affiliate Marketing Mastery. And I did it. So I firmly believe anyone can, too.
Now, let's take a look at the course details of Stefan's training.

What Exactly Do You Get Inside Affiliate Marketing Mastery

Module 1: Introduction, strategy and mindset
There are 5 lessons and one bonus here, explaining the overarching strategy upon which your affiliate marketing business will be built.
Mindset, being one of the most important deciding factors for your success (but conveniently ignored by many low-quality products), is covered upfront, which is a good thing.

Module 2: Market research and keywords
Comprising 6 lessons and a bonus, this module discusses some profitable niches, lays out the considerations for choosing between physical products and digital ones, so that you select a niche wisely.
It also discusses some affiliate networks and programs to join.

Module 3: Creating your online brand and presence
This is where you will get down to work – setting up your website (buying a domain name and connecting to a hosting provider) and social accounts (Youtube, Facebook, Twitter and Instagram), and learning about SEO (search engine optimization).

Module 4: Content creation
The 6 lessons (and one bonus) here teaches you to create great quality content, along with strategies and tips that will improve their search engines rankings and click through rates.
Besides blogging, you will learn about Youtube videos creation as well as social media posts.

Module 5: Visitors, followers and building your list
This module teaches you how to market yourself on the various social media platforms, as well as building your own list so that you can run email marketing campaigns at the same time.

Module 6: Earning revenue and monetizing your traffic
When you follow Stefan's training, you not only earn through affiliate sales, you can make money even through the people who do not make purchases through your links, simply by virtue of the high volume of traffic that will eventually land on your site.
You will learn the laws of selling, and how to monetize through your blog, Youtube, and your email list, among other things.

Module 7: Performance and analytics
Studying your audience's behavior on your website and analyzing each platform that you promote your brand on are crucial for knowing what works and what does not, so that you do not keep making the same mistakes without realizing it.
Split testing is covered too, a strategy that will greatly help with your conversion rates.

Advanced strategies
Included in this bonus module are:
– advanced email marketing strategies
– copywriting 101
– Facebook ads training
– Snapchat marketing strategies
– Periscope marketing strategies
– 10 blog design and layout tips
– podcast training
– virtual assistant training
– content creation machine
– Amazon affiliate marketing
– Using EasyAzon

Bonus case studies, webinars, and others
On top of the core modules within Affiliate Marketing Mastery, there are also bonus case studies that can be very interesting and inspiring to see.
Webinars which are actually 14 coaching sessions are available in the members' area.
There is a community that you can interact with, FAQ and support to fall back on, and more resources.

How Affiliate Marketing Mastery Will See You Through to Success

Affiliate Marketing Mastery teaches the best way to build an affiliate marketing business, exactly how I built mine.
It is the best because the strategies help you build a solid foundation which positions you for a long term, passive income.
Owning a website anchors your brand, and encourages the compounding of your efforts. A blog post that you write today can keep getting your traffic and sales many months and years down the road.
The free organic traffic strategies get you highly targeted audience who are keenly interested in what you have to say. Email marketing helps you nurture relationships, and ultimately sell to your audience.
All these are great, and will lead to success, but ONLY if you take massive action consistently.
No training, no matter how expensive, can guarantee your results. No program can help you skip the hard work.

Why I Do Not Recommend Affiliate Marketing Mastery

1. Expensive
I find the price to be over the top.
Online businesses are supposed to have a strong advantage over brick-and-mortar ones with their very low start-up costs.
No doubt this program is high quality and has got the most important aspects of running an affiliate marketing business covered, you can find programs of equal quality that are much lower in price, if you know where to look.

2. Lacks important tools
I'm very happy that Affiliate Marketing Mastery has no upsells. Once you pay up the course fee, you get access to everything inside. Stefan does not get you to pay more for more in-depth training, it's a good and transparent product.
But to be realistic, you will need to incur extra costs in order to follow his training to the letter.
Purchasing of website domain and hosting service are the bare minimum, without which you cannot even get a website up and running. On top of that, I'd highly recommend you get a keyword research tool, so that you focus your content creation around low competition, high search volume keywords.
My #1 recommended training platform includes these: hosting for 10 websites, and a keyword research tool (on top of many other things), all inclusive in the much lower price that you pay.

3. Can be overwhelming for the beginner
There is a time and season for everything.
Take the analogy of constructing a building, as an example.
At the start, you excavate into the ground to lay your foundation. That's really tough work, something that needs your time and attention, with little results to show for.
But it is something that you can't skip. Without a strong foundation, the building cannot even stand.
If you channel all your resources into doing what really matters in the initial stage, you will start to see the first, second and third levels of the building take shape in a few months.
On the other hand, if you use half your resources to prefabricate the penthouse that is meant for the highest level of the building, it can take a much longer time, maybe a few years, to see initial results. Because the construction of the foundation gets dragged out over a longer period.
Frustration may lead you to give up prematurely, such that all the effort goes to waste.
Thus it pays to strategize, and to understand what is required at each stage of building your business.
If you try to do everything inside Affiliate Marketing Mastery at the same time – content creation, Youtube channel videos, hustling on all the social media platforms, etc. it can get overwhelming, especially for the beginner.
If you ask me, the single most important thing to accomplish in the infancy of your business is content creation using SEO (search engine optimization) strategies.
This allows you to quickly establish your website's authority in the niche, allowing you to rank high in search results, and getting you a consistent flow of free organic traffic that is highly targeted.
When this happens, you will be so much more confident because you know you are capable of making it work. And it gives you motivation to push on.
Then, you can shift your learning focus to converting your readers into buyers – through email marketing, and tweaking your website design to channel your audience into funnels, etc.
There is no point setting up an email autoresponder for email marketing when you do not have a substantial amount of traffic landing on your site yet. It draws your time and energy away from what really matters at the start.
Moreover, I tend not to spend time on social media marketing in the initial months, because I find those efforts get washed off easily, with there being too much noise on those platforms.
On the other hand, content creation efforts stay with you for as long as the lifespan of the website, and they create a compounding effect.
The saying, "Content is King" has strong roots and is here to stay when it comes to internet marketing.
---
---

To round up this article, let me recap and summarize the pros and cons, before I finally make my conclusion.

Pros of Affiliate Marketing Mastery

1. Course creator is an awesome and sincere person
Stefan genuinely wants to give his best in this program. The strategies and methods he teaches will see you through to success if you take massive action and be accountable to yourself.

2. 30 day money back guarantee
This basic refund policy is in place. If, after studying some of the materials, you find that this may not be the route that you want to embark on, you have this policy to fall back on, to try and get your money back.

3. No hype, no empty promises
Stefan makes it clear right from the outset. This will take hard work. And there is no guarantee. It is courses like this that I absolutely trust, because the course creators are not afraid to tell the hard truth.

Cons of Affiliate Marketing Mastery

1. Too expensive
Not everyone can fork out $2K just like that. And it doesn't have to take you so much money to get started with affiliate marketing.
But if you are the type of person who would push yourself harder when the stakes are higher (due to its high course fee), then go ahead and get Affiliate Marketing Mastery. It will do you good.

2. It can make starting an online business seem daunting
With plenty of ground covered, it may not necessarily be the best thing, especially if you end up spreading yourself too thin – with video creation, Facebook marketing, setting up your email sequence for your email list, etc. on top of content creation on your website.
---

Is Affiliate Marketing Mastery Scam or Legit?

Stefan's course is a great product, and I absolutely agree with the strategies he teaches inside.
There are many other cheaper alternatives, though. And they are equally fantastic.
---

Alternatives

Wealthy Affiliate is my top choice, the one platform that brought me from zero to where I am now, working full time from home as an affiliate marketer.
My #2 choice is Income School Project 24, which teaches you to build and monetize niche websites, also through the affiliate marketing business model.
No matter which training program you choose from these few legit and great-value ones, always remember that starting an online business is not much easier than a regular, offline one.
The advantage you will get is a very low start-up cost.
The time, effort, energy and possibly tears you will put into the business cannot be over-emphasized.
The good news is, your search ends here.
Make your choice with any of these great programs, get to work, and know that you absolutely can make this work.
Here's a peek into my daily earnings:



That's almost $200 in just one single day. It's nothing to boast about, though, as it's just a small fraction of its full potential. I just wanted to show you the possibilities.
The sky is the limit when you create an online business, and learn how to drive free organic traffic to it.
And for reading all the way to the end of the post, I believe you have it in you to make this work. Here is your FREE PDF Guide: 4 Simple Steps to Making Money Online. Fill in your details to claim it:


If you have any concerns or questions regarding this Affiliate Marketing Mastery review, do comment below, and we will start a conversation from there.
---