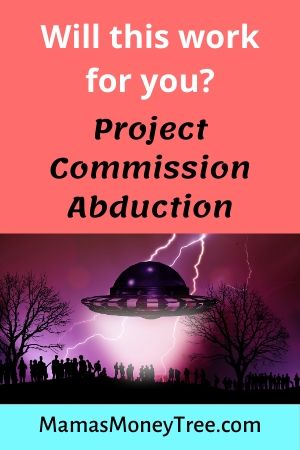 Welcome to my Project Commission Abduction review.
It is not difficult to tell if something will really work to your advantage or not. When it sells an easy method to make money online without you having to do the work, then you need to tread with caution.
In this app by Bryan, Tom E and Zeeshan, you can supposedly leverage the work of others in the fastest and easiest way possible, to generate leads and commissions.
Do not listen to their affiliates who are promoting this product, because none of them is using this app to make money. They make money selling this product to hopeful newbies, they don't actually USE it because they are experienced enough to know it doesn't work.
So stick with me as I walk you through all its red flags, to help you understand why it will not deliver the moon that it promises.

Without further ado, let's dive right in now!
---

Project Commission Abduction Review Summary

Product: Project Commission Abduction
URL: http://www.commissionabduction.com/join1.html
Creators: Bryan Winters, Tom E Mcting, Zeeshan Ahmed
Product type: software that allows you to place your own offers on others' videos
Price: $19
Rating: 1 out of 5
Scam / Legit? : Legit
Recommended or not? : NOT recommended
Commission Abduction lets you take any video from Youtube or Vimeo to place your own offers on it. It is not the right thing to do, so you won't be able to upload it back onto these channels.
You would have to find your own traffic, which is where the real challenge is. If you have a reliable source of targeted traffic, you won't even need this app at all.
---
---

What is Project Commission Abduction

To find out what is Project Abduction Commission, let us first take a look at its website: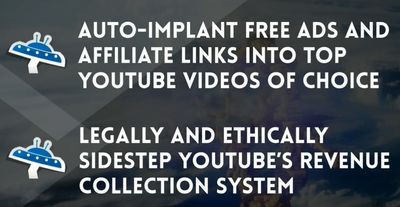 In gist, Commission Abduction is a software that lets you choose any video you like from Youtube and Vimeo, and add your own offers on top of it.
You can place your own video ads, or your affiliate links to some products you are promoting. You can even point the viewers to some landing page for collecting their email addresses, and then further promote other things to them.
Or if you have your own products, you can use this method too, by placing a link that directs the viewers of the video to your online store or website.
To find traffic to land on this modified video, you can generate a unique URL, then copy and paste it anywhere that your audience will be at.
The app also makes it easy for you to share it on social platforms like Facebook, Twitter, Google Plus (which does not exist anymore, so I'm not sure why this is even there), and Pinterest.
Though it sounds good and so easy, there is more to it than meets the eye.
In the next section, I will discuss the considerations that you should not overlook in the decision-making process about Commission Abduction.

Red Flags in Commission Abduction

There are only two points here, but both are HUGE.

1. Unethical
Obviously, it is wrong to take other people's work and place monetization links and ads on it. Do you think the creators of the videos will be happy about what you would be doing, if you were to actually use Commission Abduction?
That is exactly why Project Commission Abduction does not teach you to upload the video back onto Youtube or Vimeo platforms. Youtube is where the entire world is, so why not?
Because what they teach in this product is illegal.
And yet these vendors actually pitch it in a way that with this method, you can sidestep Youtube's revenue collection system, and pocket 100% of the earnings yourself.
They make it sound like it works to your advantage to move away from Youtube paid ads, and tap on free traffic sources instead.
The truth of the matter is: this leads you to the start of your traffic headaches.
---
---

2. Traffic
So if your modified video is not allowed to go where everybody is (on Youtube), where do you go to show it to a large audience who will be interested in your offers?
You cannot put this on your own Youtube channel even if you have one, your account will get banned because this is so wrong. And that is why Bryan says you do not even need a Youtube channel to work this method. Which is true.
On social media, as recommended in Commission Abduction?
It may get you some curious clicks from your social circle, but do not place any hope on conversion. This will be a group of mistargeted audience – family and friends. And I'm not sure you want your own social circle to see you taking others' videos and putting your own offers on them.
For free social media traffic to work for your offers, it has to be a nurtured following for your brand. This takes time and lots of effort to build up.
And if you had really done the legwork of building up a following that trusts you, you would never use a product like Commission Abduction that hurts your reputation. You would understand your audience's trust for you would have stemmed from your authenticity and genuine concern for their welfare.

What Project Commission Abduction Does Exactly

What this will do is to leave you feeling more frustrated than before you bought it.
Your name and reputation will very possibly go down the drain, and there will still be a lack of results.
In short, it will do nothing for your online earnings.
And it shows you, yet again, that there is no shortcut when you're trying to make money online.
There are many proven paths to success. None of them is easy.
You just have to choose one path that speaks to you, learn the ropes, and work on it until you see results.
Finding the easy way out only makes you an easy target for unethical opportunists. Immunize yourself against their slick tactics, so that you do not keep throwing your hard-earned money at them. Run away from anyone who tells you it's easy.
Instead, find a low-cost route to invest in, pour in your time and energy, and you will see what it means to finally earn a sustainable online income.
---
---

To round up this article, let me recap and summarize the pros and cons, before I finally make my conclusion.

Pros of Commission Abduction

1. Real owners
Well, at least these internet marketers are showing who they are and standing behind their product. That says a lot about accountability.

2. 30 day money back guarantee
This basic refund policy is in place, for people who are dissatisfied with the product.

3. You do get an app
You will get the software that does what it does – insert your own offers on videos pulled off the internet.

Cons of Commission Abduction

1. Not the right thing to do
This amounts to infringement of copyright laws.
Don't let anyone convince you that this is okay. It is not.

2. Traffic is an issue
This method puts you in a disadvantaged position, as it brings you away from where everyone else is.

3. Upsells
If you really purchase Project Commission Abduction, you will face all its upsells, or what is called OTOs (one time offers). Do not be pressured by the scarcity tactics into getting those in a hurry. They will be there for as long as Commission Abduction exists.
Take your time to go through the front end product and implement it (if you really choose to buy it). If the front end cannot deliver, the upgrades will not get any better.
These are the OTOs in Commission Abduction.
OTO1: $47 – Cash Cloner
OTO2: $97 – Money Modulator
OTO3: $197 – 10x Files
OTO4: $197 – Deep Traffic
OTO5: $297 – 6 Figure Replicator
As you can see, the money is in the upsells. The low priced front end product is a means to get people onto their expensive sales funnel. Just be aware of this.
---

Is Project Commission Abductor Scam or Legit?

Well, I can't exactly call this a scam, because they do deliver an app that will do what it claims to do.
Process with care, though.
Similar products that uses others' work include Viral Vidly, Viral Traffic Builder, Viddx, Trenzy, and Trendds, to name just a few.
---

An Alternative

Everyone wants to be rich, but guess who will make it?
It's a very natural thing, that's just human nature. I mean, find me someone who doesn't want to get rich fast, and with minimum effort.
I wasn't spared of all the temptations on the internet, hopping from one shiny object to the next.
But when I realized those empty promises are only going to make other people rich, and not me, I stopped looking for shiny objects.
I found a dull-looking object, but I knew in my heart that is the real deal. And from then on, I have never looked back.
An honest, down-to-earth method that will get you there. It's not going to be easy, but it will get you there.
Versus the fast and easy way to empty your pockets and get you nowhere.
Which would you choose?
I am now working full time from home, growing my internet business, and making an online income. I started from scratch with zero knowledge in this area. If I can do it, you can, too.
Here's a peek into my daily earnings:



That's almost $200 in just one single day. It's nothing to boast about, though, as it's just a small fraction of its full potential. I just wanted to show you the possibilities.
Check out this training platform that provides all the resources, tools, along with an entire community of aspiring as well as already successful online income earners:


This real deal does not promise instant results.
Instead, it provides the knowledge and lifelong skills required to grow a successful online business.
And for reading all the way to the end of the post, I believe you have it in you to make this work. Here is your FREE PDF Guide: 4 Simple Steps to Making Money Online. Fill in your details to claim it:


If you have any concerns or questions regarding this Project Commission Abduction review, do comment below, and we will start a conversation from there.
---