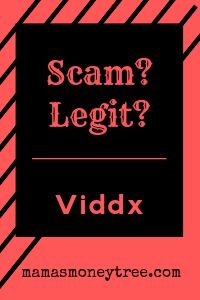 If you have just received some promotional materials in your inbox and are just checking out this product, with these pressing questions on your mind: 'Is Viddx a scam? Will it waste more of my time and money? Or is it finally the answer to finally getting some traffic to my offer?'
Congratulations for making the effort to do your own research, without simply taking things at face value. Especially these days, when there are so many scam products out there, all promising you fast cash with little effort, but none of them has ever worked.
Here, I give honest and unbiased views of Viddx, probing into this new software that is promising to create profit pulling video pages in 60 seconds that will bring you 10 times more sales, 10 times more commissions from free YouTube videos, without ever creating a single video yourself!
That sure sounds attractive! But will you get into trouble for that? Is this even the right attitude and mentality for Viddx to bait you into having – pull others' work, tweak it to make it your own, so that you can avoid having to do all the hard work yourself?
In this article, I will provide an in-depth review of Viddx, through the following sections:
---
Viddx: Review Summary
Product: Viddx
URL: https://www.getviddx.com/live
Creators: Jason Fulton, Mosh Bari, and Zeeshan Ahmed
Product type: software that generates video pages from YouTube videos
Price: $21
Scam / Legit? : Legit
Recommended or not? : Not recommended
Viddx is a software that pulls other people's videos on YouTube, Vimeo, and MP4, to make your own video pages, on which you can promote your own offers, by placing your affiliate links. This is not a good method because you would likely get into trouble for hijacking people's videos, the video pages you create would not be that great because they do not have your personal touch, and as a newbie, you do not have traffic at your fingertips to make any earnings from your offers.
If you do not want to waste anymore time and money on useless product, check out my #1 recommendation to making money online:

Read on for the detailed review of Viddx, and why I do not recommend it.
---
What is Viddx
Information presented in sales video and landing page
This is a cloud-based software that is newbie friendly, you do not need any technical skills. Turning YouTube from a time-waster into a money-maker, this 1-click video page builder app will promote any number of your offers at the same time, allowing you to earn commissions from free videos, without you ever creating videos yourself!
More than 3.4 million videos are added to YouTube every single day, many of which are about Amazon products, software product demos, book reviews, healthcare products, household products, and ecommerce products. Leverage these free videos to make video pages promoting your offers.
You don't need a website or hosting, you don't need a domain name. No expensive video software, and you don't need to create videos from scratch.
Viddx owners will host all your video pages for you, on their powerful servers. With the software, you can search for YouTube, Vimeo or MP4 videos from within the app, to create your offer campaigns. You can even select the most interesting and useful parts of the videos, leveraging other people's content to benefit yourself.
After creating your campaigns, you can then send them out to your email list, or publish your viral content on your social media accounts, like FaceBook, Twitter, Instagram, Pinterest, and so on.
What Viddx really is
Viddx is really something that hijacks other people's hard work. They call it legal hijacking, but I'm really not sure about that. Because you can decide which segments of the videos to use, by defining the start time and end time. And it's done without any permission from the real owners of the videos. I do not think they will be too happy to learn that their videos had been legally hijacked.
So to me, this is a downright dishonest method, which I would strongly advise you to stay away from.
Because I have reviewed many online products, I know the tactics they use, and this one is no different. They are all targeting at the human's natural tendency to go for instant gratification, of wanting fast results without putting in any hard work.
So they tell you that you do not have to make a single video yourself. They tell you your campaigns will go viral because videos are what everyone likes to see these days. They tell you it's for newbies (because experienced internet marketers know these do not work), you do not need technical knowledge or any websites, to lead you into believing that it will work for anyone, so it can work for you too.
Why Viddx will not work for you

Let me tell you now, why Viddx will not work for you. They are just giving you a piece of 'tool', in the middle of nowhere, and promising you that it will work. It's like giving an ice cream man an apron, nothing else, and telling him that he's going to make a lot of money selling ice cream.
The foundation for his business is not even there. What he really needs are an ice cream cart, a supplier to sell him ice cream (or the skills to make it himself), and a bell. And of course he needs to know what timing to go out, which street the kids will be playing at, etc. Which is the marketing aspect: where to find his customers, what flavours do they enjoy the most, etc.
The apron is not even in the picture for his success. It's good to have, but without his essentials and his customers, there is no point talking about an apron.
Similarly, for an online business, the foundation is important. So are your customers: your leads, your traffic, where are they going to come from? As a newbie, you can't expect to go viral simply by posting some sales campaigns on your social media accounts. It just doesn't work like that.
Yes, videos are great at getting you traffic, that is provided you have an established YouTube channel, on which you build up a loyal following over the years. Your fans have to trust you, by knowing you are authentic, and are adding value to their lives through the niche area that you choose.
People can see through poor quality videos. I'm sure you recognise a bad video when you see it. So why put your name and reputation at stake, by firstly hijacking other people's hard work, and secondly relying on a software to generate your video pages campaigns?
And as for social media, those take even more time, effort, and experience to build up. Moreover, traffic from social media is usually not targeted enough, since people are there to socialise and interact, they do not have a buyers' intent.
So where do we find people who are ready to buy? On search engines. When people do their research with keywords that are related to buying a certain product, or finding a review for a certain brand of shoes, for instance, those are targeted traffic, ready to buy.
But how on earth do we get those traffic to come to us? By building a website around our own chosen niche, let's say jogging, for example. And we build content around that niche: information pages related to running, injury, tracking of mileage, etc. and at the same time, build up some posts related to products: shoes, tracker, treadmill, etc.
When our content is robust, search engines see our websites as the authority in the niche. They will then send people searching for answers related to our niche to our site, by ranking us high in the search results page. In this way, we get free organic traffic, that is highly targeted because they are actively searching for products to buy in our niche.
This is exactly how I'm earning my online income. I do not have to own any products. I simply leverage on the millions of existing products in the market, and recommend those that I personally find beneficial. When my website visitors click on my links to land on the product companies' sales pages and proceed to purchase the products, I earn a commission.
This is called affiliate marketing.
I won't be where I am today if I had not found this awesome platform, that taught me the proper way to make money online: from setting up my own website (I knew zero about building websites when I first started), to how to build up content that will rank in search engines, to monetising the free traffic that comes my way.
There's too much to share with you about my online business, I have another article dedicated to it, you can check it out by clicking on the link below:
---
Pros of Viddx
1. Real owners
Yes these are real people, but from the looks of past products that they had created before (Freedom Profits and Fast Profit Jacker, just to name a few), I do not have much confidence in them.
2. 30 day money back guarantee
This basic refund policy is in place, for people who are dissatisfied with the product.
3. You do get a software that does what it does
Yes, the software does create video pages from videos that you get it to pull from various sources like YouTube, Vimeo, and MP4. So you do get a product that does what it is supposed to do, technically. But I can't say the same for being able to generate 10 times the sales and 10 times the commissions.
Cons of Viddx
1. There is no foundation for your online business
If you are just starting out trying to make money on the internet, you really should begin by building up a strong foundation, by first setting up your own website, which is an online asset in the internet world, without which you will just be floating around the various social media platforms, where all the buzz and activities will quickly bury whatever posts you try to promote.
2. Not taught how to get traffic
How are the video pages you make supposed to go viral, if no traffic methods are taught to you? Things do not just happen on their own like that. If anybody can make this and it just goes viral, then what else will there be on the internet that isn't viral?
Traffic comes when you learn how to do things the proper way, learning from the years of experience of people who had already succeeded online.
With a rock solid foundation, which is your website, you get traffic to come your way, instead of you going out to look for customers every single day, by spending unproductive time on social media. Or worse still, to spend money to buy traffic, by paying for advertisements, email lists, etc. When the highest quality traffic can be obtained for free if you focus on building up your website properly.
3. Upsells
Just like any other product that is not too concerned with looking after your well-being, Viddx will bombard you with upsells the moment you purchase the front end product. Even before you have a chance to open up the software to see how well it works (if at all), they want you to part with more of your hard-earned money, by pushing these one-time offers to you:
Viddx Pro Edition: $47 – advanced features and unlimited campaigns to earn you even more profits.
Viddx Traffic Jacker: $67 – get completely free traffic from the hottest niches
Viddx Done for you Money Machines: $197 – 20 Viddx cash machines and 10 hottest campaigns
Viddx Set This Up on Autopilot: $67 – how to set up Viddx automatically to earn commissions every month
Viddx license rights: $147 – sell Viddx as your own product and keep 100% profits.
---
If you really want to make some serious money online, you have to learn the proper way, and not be distracted by shiny objects, or by all the noise on the internet.
I consider myself very lucky, because my search wasn't that long, and I did not spend too much money to learn the lesson of a lifetime: there is no shortcut around it. If you want success, you work for it, build a solid foundation for an online asset, and it will work for you.
Take your first step towards an online income here:

---