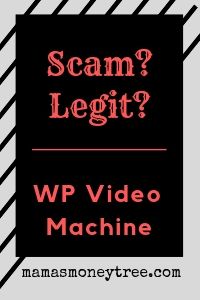 What is this product newly launched on 18th February 2019 that will get you more traffic and backlinks from one of the top authority sites owned by Google? If you are here to find out if WP Video Machine scam is real or not, you are at the right place.
I will be providing my honest and unbiased views, as I am not associated in any way with this product, unlike all those raving reviews that you see out there on the internet, those are all by the affiliates of WP Video Machine.
They are all clambering for your business, as they get to earn a commission when you buy through their affiliate links. That is why they are throwing in all those bonuses, those freebies of their own, because they are all fighting for a piece of the pie which is this product launch.
In this article, I will provide an in-depth review of WP Video Machine, through the following sections:
---
WP Video Machine: Review Summary
Product: WP Video Machine
URL: https://wpvideomachine.convertri.com/preview
Creator: Ankur Shukla
Product type: Converts your blog posts into videos
Price: $27 + upsells
Scam / Legit? : Legit
Recommended or not? : Ok, depends on your standard of quality for making videos
WP Video Machine is able to turn any of your own blog posts into content videos. It is a quick way to make videos, for people who are camera-shy, but its features are very basic. There are better softwares out there that can do a much better job (like FlexClip). But for this price, I would say it's fine to go ahead and give it a go, if you are not looking for something fanciful.
If you do not already have your own blog or website, you may want to start here:

Read on for the detailed review of WP Video Machine, and why I think it's quite an alright product.
---
What is WP Video Machine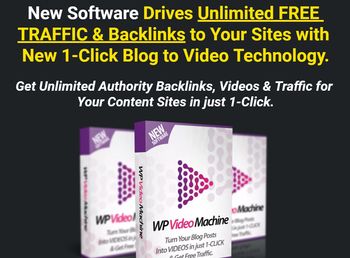 WP Video Machine is basically a fully automated video creator for any WordPress site. It takes any blog post, and turns it into a content video, which you can post on your YouTube channel. This can drive you traffic and give you backlinks from YouTube.
The software will automatically use images from your posts to place as still images inside the video. You can choose to add in more images.
You also get to choose from a number of male or female voice-overs, which creates speech from text, in 9 different languages.
The software also auto-generates video title and description, as well as tags, based on your blog posts.
How WP Video Machine may or may not work for you
This is a legitimate tool, using a legitimate method to create a different media for your own content. It can get you another source of free traffic – YouTube traffic, besides the search engines traffic that your blog posts may be already getting.
I am rather neutral to this product, as it has its advantages and drawbacks:
Great for camera-shy people, but it is very basic in its features
Using a tool to create a video for every blog post is a very fast and efficient way to build up videos for your own YouTube channel, and it's great for a start, especially if you are the camera-shy type of person.
It allows you to tap on a totally difference kind of audience than your regular website visitors, as you are reaching out to people who prefer to watch videos, otherwise you may miss out on this group of potential customers.
The thing about WP Video Machine is that it is really very basic in terms of its features and functionality. You basically get some still images in the video, with a voice-over, and subtitles.
There are many good text to video converters out there
WP Video Machine does come with its own upsells that may get you some advanced features to produce better quality videos, but there are actually many great products out there, by established developers. It's easy to find them, do check them out (I will probably have to do some reviews of those great text to video converters out there one of these days).
Your fans will prefer more authenticity
If you have built up a wide fans base for yourself, then I don't think a basic text to video converter will do. To continue building up trust and rapport with the audience who support you, you will have to appear in at least a small corner of the video, maybe? And it must be your own voice over whatever the video is showing, otherwise it just does not feel sincere and authentic.
It does not have to be fanciful or supported by higher technology. A video with you, having an authentic conversation with your audience, is a great start. Then depending on your comfort and confidence level, you may be surprised how your videos take off after the first one.
What people want to see is your own style, not something produced by machines.
YouTube channel needs time to establish
You will not get the unlimited free traffic to your site just by using WP Video Machine, as what is claimed on its sales page. A YouTube channel needs time to build up, just like your very own website.
For a start, the audience from your website may interact with some of your videos, allowing your channel to gain credibility in the search engines like Google and YouTube. Slowly, over time, new traffic will land on your videos, from which they can be taken to your website for more offers. It will happen, but not overnight.
You do need a website to start with
To create videos from your blog posts, you do need your own website to start with. A website is an online asset for anyone trying to make some serious money online. It is your virtual storefront, or your headquarters. You can build your brand around it, build an email list from it, branch out into social media platforms, but a website forms the foundation of your online business.
Without a website, you can't build a brand. You will just be floating among the various social media platforms, posting and putting up campaigns and offers, which are time consuming because you have to do it consistently, since social media content tends to get drowned out by the buzz of activities very quickly.
Content on your website will not fade away. They are there to stay. And you can always inject new life into them, by promoting them on whichever platforms you wish, no matter how old the articles are.
Nowadays, it is very easy to set up a website. You do not have to know a single line of coding. A website can be up and running in a few minutes. I built my very first website from scratch, by following the training on an awesome platform that I found. It also taught me all about running my online business, how to get free traffic to my site, how to monetise from it, etc.
Check out this platform, which offers 2 websites and 10 lessons to its starter members, absolutely free. You can start today, right now, without having to enter any credit card details:
---
Pros of WP Video Machine
1. Real owner
The owner of this product is a real person, so there is at least some accountability.
2. 30 day money back guarantee
This basic refund policy is in place, for people who are dissatisfied with the product.
3. Legitimate way to build another source of free traffic
This is an absolutely legitimate way to build up another source of free traffic for your online business, especially if you are camera-shy, or have no experience or confidence in creating real videos from scratch.
Cons of WP Video Machine
1. Features are very basic
The features in the software of the front end product are very basic. You simply get still images with voice-over in the videos. Although there are upsells with more advanced features, I think that there are much better products out there at lesser cost (if you take into consideration the cost of the upsells too), by more established developers.
2. Not a 'real' video 
This is ultimately not a 'real' video, which may be something your fans actually expect from you. Stuff created by machines just do not have the human touch. So in the long term, you will have to consider creating real videos that feature yourself in them.
3. Upsells
These are the upsells of WP Video Machine, where you do get more features. But they are pricey, and it just feels like the product owner is withholding from giving his customers the best value for money, considering the numerous layers of upsells there are: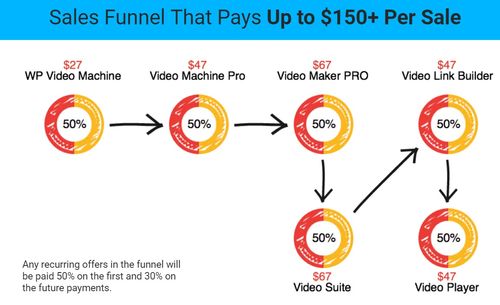 Video Machine Pro: $47
Video Maker Pro: $67
Video Suite: $67
Video Link Builder: $47
Video Player: $47
---
I do recommend WP Video Machine for a start, as the front end product is quite affordable. But if you want video transitions to have more options, for instance, and other more advanced features and customisation, then this is not a very good choice, as it gets pricey with the upsells. You would be better off getting other text-to-video converters.
Whilst if you have not been building up on the foundation of your online business yet, by owning a website and building content on it, then I recommend you to take that first step, before looking at peripherals like creating videos.
Generating articles and blog posts on your site gives it great credibility and authority, and search engines will start to send free organic traffic to your site. This is how a robust online business can be built, because nothing compares to the recognition given by search engines. When you gain their trust, the amount of traffic they send to your site is unstoppable.
Check out the platform that I used, to help me set up my very first website from scratch, with zero technical knowledge about building websites. It is from here that I learnt all the details of getting my online business up and running:

---