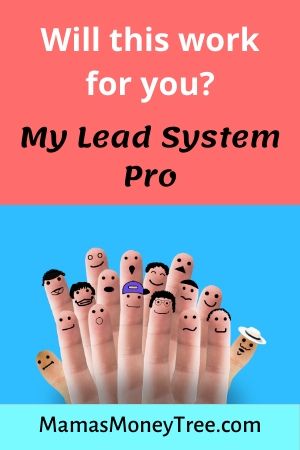 Is this an expensive but robust training program for business owners? Or is it an MLM, or both? Most importantly, is My Lead System Pro a scam?
Welcome to my My Lead System Pro review, which gives a thorough look into the products that are offered, as well as the earning opportunity associated with it.
I have no affiliation to My Lead System Pro (MLSP).
So I will not be attempting to get you to buy into the program.
But I do have my personal views to offer, which I hope can help you gain insights to different perspectives as you research this program.
Without further ado, let's dive right in now!
---

My Lead System Pro Review Summary

Product: My Lead System Pro (MLSP)
URL: https://www.myleadsystempro.com/
Creators: Brian Fanale, Norbert Orlewicz and Todd Schlomer
Product type: lead generation tools and training for business owners and network marketers
Price: $50/month (Basic), $150/month (Professional), or $300/month (Premium) + expensive upsells
Rating: 2.5 out of 5
Scam / Legit? : Legit
Recommended or not? : NOT recommended
My Lead System Pro provides intermediate to advanced training on lead generation and sales, along with tools like funnel and capture page builder, lead magnets, autoresponder integration, etc.
If you are a beginner who has not yet laid out the foundation for your business, you may be confused and overwhelmed by MLSP.
Apart from the monthly membership fees, you will be asked to upgrade on expensive training products.
---
---

What is My Lead System Pro (MLSP)

To find out what is My Lead System Pro, let us first take a look at its website: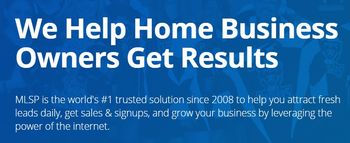 Established in 2008 by Brian Fanale, Norbert Orlewicz and Todd Schlomer, My Lead System Pro wants to inspire every network marketer, entrepreneur and home business owner to realize their full potential and get results.
They also want to give kids their Moms and Dads back. (This is noble, and it's a good one. In fact, it's pretty much what everyone wants: financial freedom so that we can focus on the things that truly matter in life.)
These are the faces behind the company:


They all have experience in network marketing and internet marketing, hence are able to fuse the two to produce results that traditional face-to-face marketing will never achieve.
MLSP started off focusing on helping network marketers and MLM-ers generate leads and sales. It has since rebranded itself to cater to a wider audience, including any home businesses and entrepreneurs.

Marketing training in My Lead System Pro
Instead of loud, flashing neon billboards, MLSP teaches attraction marketing, which is something I really love, and a strategy I personally use in my business.
The idea is instead of you stuffing products into people's faces (when they are not even looking for it), you market your offers to attract the right leads (those who are already interested in the products). In this way, your products sell themselves.
There are many methods to do this. My favorite is detailed in this post.
Some of the basic modules taught in MLSP include branding, target market, and mindset. Intermediate and advanced strategies include copywriting, hosting webinars, search engine optimization, keyword research, outsourcing, etc.
There are also modules specific to building your MLM business: calling your prospects, finding leads, prospecting strangers, etc.
Besides the marketing training modules (46 courses altogether) described above, you will get marketing tools like CRM and Funnelizer with your My Lead System Pro membership.
---
---

CRM (Customer Relationship Manager)
This feature in MLSP allows you to track your leads and your interaction with them, making it easy to schedule appointments, send emails, and rate your prospects.
When you make the extra effort to nurture a trusting relationship with your leads, you will have a much higher success rate of turning them into customers.

Funnelizer
This page builder allows you to create custom sales pages, capture pages, and funnels for your own business.
On top of this, you will get done-for-you marketing funnels that allow you to promote MLSP itself.
Which brings us to the next section that explores the question: can you make money promoting My Lead System Pro?

Earning Opportunity in My Lead System Pro

How to join MLSP
There are currently three membership levels that you can join at:


These are the pricing for monthly payment. There is an option to pay yearly, and it will be at a discounted price.
Even at the Premium level, the membership does not include the upsells in training modules that you will be hit with. Those can go up into the thousands of dollars. So there are definitely hidden upsells that are not laid out upfront here.

How to make money with MLSP

Even though My Lead System Pro says you can earn with their affiliate program, there is not much information on their website about the commission rates and other details. I found some numbers through some affiliates, which I will be presenting below.
And I notice that they make it sound easy, which is something I'm not too comfortable with.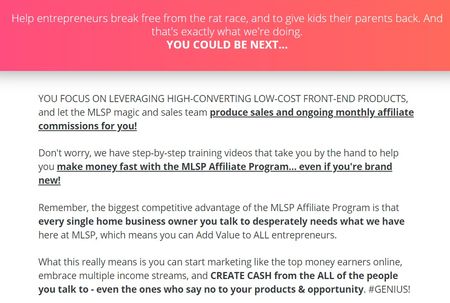 Because it is never easy to make money online. Without the mindset of having to give it time and lots of hard work, no system will work for you. That is exactly why so many people hopeful about making money on the internet end up going away disillusioned.
So, back to making money with MLSP.

Referral Bonus
This is an upfront commission once you refer someone into the MLSP membership.
As a Basic member, you make $30 per referral (regardless of which level of membership your referral takes).
On the other extreme, as a Premium member, you will earn $45 when a referral takes the Basic level, $125 when they take the Pro level, and $200 when they take Premium.
As you can see, the reward structure entices you to go for the highest membership level – Premium, so as to maximize your earning potential.

Monthly Subscription Commissions
From month 2 onwards of your referrals' monthly subscription, what you earn will be based on your Leadership level (L0 through L5).
This structure does not make My Lead System Pro an MLM. Commissions are paid to the direct referrer only, not on multiple levels.
At L0, you earn 30% commission of your referrals' monthly subscription. L1 gets you 32.5%, L2 35%, L3 37.5%, and L4 40%. At the highest leadership level L5, you earn 50% commission.
There is a caveat, though.
As long as you are not a Premium member yourself, your first 3 Premium sales will only make you 15% commission, instead of the 30% to 50% stipulated at the various leadership levels.
To move up the leadership levels, you would accumulate referral points as you get more referrals to sign up with My Lead System Pro.
When you hit the referral points criteria for each Leadership level, you will be promoted to that level.

MLSP Flagship Products
Besides earning through membership fees, you also get to earn commissions when your referrals buy products within My Lead System Pro.
They have an entire range of training products and mentorship program.
These are just some of the main ways that you can earn with MLSP. Now, let's move on to my personal take on it.
---
---

What I Like and Do Not Like about MLSP

I like it that it is robust training that teaches marketing the right way. And I can see how the owners try to provide immense value to their members, even on their blog.
If you already have a business, whether it's an offline brick and mortar type, or an online business, and are seeing profits from the groundwork that you have laid, MLSP can possibly give a boost to the number of leads you get.
What I do not like is the expensive membership and upsells on training products, and the push for you to take up the Premium membership by how its affiliate program is structured.
If you are a newbie trying to make money online, its training may likely overwhelm you. It will add little value at this stage of your journey, because what you need right now is to establish a solid foundation for your online business.
When you are just starting out, you really want to keep your costs as low as possible (learn how you can do that here).
And if you're excited by the earning potential provided by MLSP, reign in those high emotions, because the reality is it won't be easy for you to sell this program, especially without the basics built out.
---

To round up this article, let me recap and summarize the pros and cons, before I finally make my conclusion.

Pros of My Lead System Pro

1. Real owners with an established company
The founders of My Lead System Pro are the experts in their field. And this is a program that has been running since 2008. I do believe they strive to provide value to their customers, though I have to say profits (for themselves) is also high on their priority list.

2. 10 day trial
Currently MLSP offers a $10 trial for 10 days, which is cool. It will allow you to take a look inside, and decide if this will work for you.
Do note that if you decide not to take it up, you will have to cancel your subscription before the 10 days are up, otherwise your first monthly payment will very likely be charged automatically to your card.

3. There is value in the training
If you are an intermediate or advanced marketer, with excess funds to spare, this can add to your repertoire of tools and training to level up your marketing skills and strategies.

Cons of My Lead System Pro

1. Expensive membership and training upsells
With a monthly membership fee, you would think it gives you access to everything on the platform. But, no. With upsells in the thousands of dollars, it does feel like they are trying to wring you dry.

2. Not for the beginner
My Lead System Pro does not help a beginner set up, step by step, the proper foundation to a business. Without the fundamentals in place, MLSP will not add much value to you.

3. Not easy to sell as an affiliate
If you are thinking of getting on board for the sake of its affiliate program, you may find yourself losing money rather than earning.
Though it might seem easy: get a few referrals a month and you can cover your cost, the reality is far from that.
For any business, you need targeted leads. This takes time to build up. It can be through your email list, or with social media, or any other platform that your audience is on. It takes lots of time and hard work to establish yourself into a brand or an authority that people will like and trust.
---

Is My Lead System Pro a Scam?

MLSP is definitely a legitimate program, with a tiered affiliate program attached to it.
Other internet marketing courses for the intermediate to advanced earner include ClickBank University, Grant Cardone Sales Training University, Income School Project 24, and Super Affiliate System, to name just a few.
---

An Alternative

My Lead System Pro is not for the beginner.
If you are looking to start making money online, from scratch, without experience, I have just the right thing for you.
It is the exact method I used, as a complete beginner trying to make an income on the internet.
I have to warn you that it is no walk in the park, though.
I am now working full time from home, growing my internet business. I started with zero knowledge in this. If I can do it, you can, too.
Here's a peek into my daily earnings:



That's almost $200 in just one single day. It's nothing to boast about, though, as it's just a small fraction of its full potential. I just wanted to show you the possibilities.
Check out this training platform that provides all the resources, tools, along with an entire community of aspiring as well as already successful online income earners:


This real deal does not promise instant results.
Instead, it provides the knowledge and lifelong skills required to grow a successful online business.
And for reading all the way to the end of the post, I believe you have it in you to make this work. Here is your FREE PDF Guide: 4 Simple Steps to Making Money Online. Fill in your details to claim it:


If you have any concerns or questions regarding this My Lead System Pro review, do comment below, and we will start a conversation from there.
---