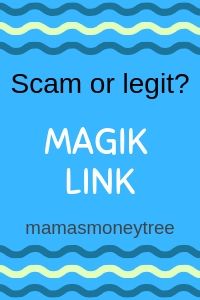 If you have received some promotional material in your inbox about this product, and are checking things out for yourself, wondering is Magik Link scam real, you have landed at the right place.
Kudos to you for doing your research and probing into this product without simply taking things at face value and buying what they have to say about it.
I have no association with this product, so you can be assured I will give my honest and unbiased view about it, to help you make a better informed decision as to whether it's worth any of your time and money or not.
What are the four different ways of making commissions on a daily basis with tiny amounts of traffic? What is the secret inside Magik Link that they are teaching? Will it work at all?
In this article, I will provide an in-depth review of Magik Link, through the following sections:
---
Magik Link: Review Summary
Product: Magik Link
URL: http://www.themagiklink.com/main
Creators: Mark Barrett, Momen Khaiti, and Roshan Bandara
Product type: affiliate marketing
Price: $12.95
Scam / Legit? : Legit
Recommended or not? : Not recommended
Magik Link teaches you to buy a system that costs $997 so that you can start to promote it. In fact, if you buy it, the creators of Magik Link actually make their commission! Because you would have clicked through their affiliate link to purchase it. It also teaches you to buy expensive traffic, and promote Global Profit System, which in turn promotes 3 products so unrelated it's bizarre how they were put together.
Ultimately, if you follow the training, you will spend more than you earn. So you will be poorer off than when you first started!
If you do not want to waste anymore time and money on useless product, check out my #1 recommendation to making money online:

Read on for the detailed review of Magik Link, and why I do not recommend it.
---
What is Magik Link
Information presented in sales video and landing page
What is the wickedly simple method that gave Mark and his friends near instant success? By following these steps: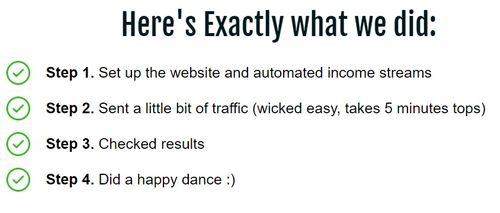 It happened fully on autopilot, without using any of their lists, authority, or any previous skills they have! It's like starting from scratch, exactly as you are right now. Isn't that amazing?
Mark is all about simple automated income processes that put as much cash into his pocket as possible, with the absolute least effort necessary.
With Magik Link, one affiliate link spits out 3 recurring income streams, one high ticket income stream, and builds your list automatically.
As if these are not enough value for the tiny amount of investment you make, they even throw in huge bonuses!
Bonus 1: Free Traffic Mania – more proven ways to get unlimited free traffic
Bonus 2: Free Traffic Foundation – actionable methods for free or low cost traffic
Bonus 3: Instant Traffic Specialist – the secret to building a profitable email list within 24 hrs
Sounds really cool and magical, doesn't it? Let's now dive right into the product to uncover the truth behind it.
What Magik Link really is
Inside the members' area, you will find six video training. Their content is listed below:
Introduction – a welcome speech
Overview – Mark reveals what you would be promoting to earn commissions, which is Global Profit System, and this is not even his own system. Inside Global Profit System, it further promotes 3 more items: Ebates, MotorClub of America, and Aweber.
Set up (part 1) – setting up some accounts that you will need.
Set up (part 2) – here, you are told that you need to buy the high ticket item which is WiFi Wealth, that costs $997, in order to promote it and earn $500 commission when people buy it.
Traffic – Having set up for Udimi, you can now buy Solo Ads on it, so that you can send your affiliate link to those lists. Here, Mark also suggests to buy a couple of thousands of clicks, which can easily cost you a thousand bucks, if going at the average cost of about 50 cents per click.
Conclusion – Here he promotes all the upsells to this product.
So, is this really going to work for you?
Ebates is a cashback website, whereby you get a little bit of cash back when you shop on there, because those are all affiliate links. That is how Ebates earn their revenue, they make a commission from the retailers when you shop through their links. And they share some of their commission with you by offering you a cashback.
MotorClub of America is a roadside service like AAA, but it is marketed through an MLM model. So it's about recruitment, getting people to join, as well as some retail sales.
Aweber is an email service provider, also called an autoresponder. It is for building your own email list, to which you can send your newsletters, website updates, promotions or offers, etc. to people on the list.
So if you're promoting Global Profit System, which in turn promotes these 3 products, to me they are just randomly put together because their affiliate program can make you some money. It doesn't make logical sense, because they are not related at all. Cashback website, roadside service, and email service provider. How much more random and mixed up can we get?
Traffic is a big issue
And when you send traffic to these offers, or rather, you will be sending these offers to the email lists that you are taught to buy through Solo Ads in Udimi. Solo Ads is a paid traffic method where you buy other people's email lists, to have your offers sent to those lists.
Firstly, the quality of the traffic may be questionable, because the list may not be targeted. They may not even be looking for make money opportunities. How would you find targeted lists which are interested in cashback websites, roadside services, and email service providers, even if we are talking about separate target lists?
Imagine spending $1K to buy your traffic, and having nobody convert into buyers of your offers. The losses will be significant.
Big ticket item – Wifi Wealth
The big ticket item, which you have to purchase at $997 in order to start promoting it, is just another hyped up product, with lots of random stuff thrown in, promising instant big earnings with minimum work. It's got some sales funnels, a six figure funnels secret training, $100K blueprint, traffic mastery training, etc.
Lots of stuff thrown in to make you think that you're getting your money's worth, for the $997 spent. But in fact these are all not going to deliver. Instead, they simply distract and throw you off course from the real work that you need to do to succeed online.
The only people guaranteed to earn – Mark and friends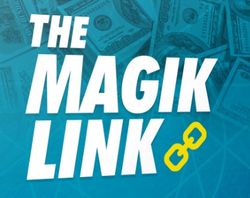 At the end of the day, if you take a step back and look at this product, it makes you spend and spend. The more you follow its training, the more you spend. Even with traffic, you have to spend to get your offers across to them. And where does it get you? Any guarantee in a single cent of earnings? NO.
Solo Ads traffic vary a lot in its quality. If you really want to buy targeted traffic, meaning people who specifically requested for promotions and information to be sent to them in a specific niche area, like make money online, then you have to spend a lot more than the 50 cents per click.
As a beginner, if you do not know what you are doing, with Magik Link, you are likely to end up much poorer than when you started off. So stay clear of it.
Bonuses to distract you even more
As if the product is not mixed up enough, bonuses are thrown in, to push you even further off course. All 3 bonuses are about traffic. If you try out everything they teach, it will take you years to implement everything properly. Each traffic source takes time, work and experience to master. You cannot be learning everything all at once.
The proper way to start making money online for beginners
The methods taught in Magik Link are not going to work. Because there is no foundation for your online presence. You are just trying things out, randomly sending the offers to people who will most likely see the emails as spam. By the time you finish all the training, you would have spent thousands of dollars. When originally you bought a $12.95 product thinking it will be your breakthrough.
Now, allow me to show you how simple the best traffic method is.
The best kind of traffic is in fact totally free. The traffic I get to my offers do not cost me a single cent. Because they are sent to me by the search engines.
But why would the search engines send free traffic to me?
Because I have a website that I build into an authority site within a niche. When people search for products or answers to their problems in that niche, my website shows up on page 1 of the search results, people click through and land on my site.
This is called free organic traffic. Not only is it free, it is of the best quality, because it is highly targeted. These are people actively searching for what I have to offer. So the conversion rates will be high.
This is the best way to start, for a beginner. There are too many things I want to show you. I have them all detailed in another blog post. Hop over by clicking the link below, and I will show you the proper way to start making money online:
---
Pros of Magik Link
1. Real owners
Yes, we know these people, Mark and his friends. They are real people in the internet marketing niche. So at least we do have some accountability for the product.
2. 30 day money back guarantee
This basic refund policy is in place, for people who are dissatisfied with the product.
3. There is some value in the training
If you know nothing about traffic sources, then the training can give you some idea. But if you are going to implement them, then do keep an eye on your pocket.
Cons of Magik Link
1. Limited to promote those few products
With affiliate marketing, the sky is the limit. You totally do not have to restrict yourself to promoting those random products in Magik Link. For instance, I can promote camping gear, or kitchen ware, or toys for autistic kids, etc. depending on what niche I want to work on. Anything under the sun goes. That is the beauty and exciting thing about affiliate marketing.
2. Not minimum effort like what it is made to sound
With minimum effort, you will not get results. For example, if you do not put in the work to learn more about Solo Ads, and how to get the good quality ones, then you will be throwing your money down the drain, buying traffic that never converts.
So whenever you see a product that promises huge instant earnings with minimum effort, your alarm bells should ring.
3. Very high investment as you follow the training
Frankly, I have never encountered another product that encourages you to spend so much as part of the training. It shows how much consideration the product creators have for your financial wellbeing.
4. Upsells
These are also called OTOs (one time offers), that will be presented to you right after you make the purchase of the front end product, Magik Link. Even before you have a chance to try out the main product, find out what is inside, whether it even works for you or not, they continue to dig even deeper into your pocket.
Upsell 1: $27 – 10x traffic secrets
Upsell 2: $67 – Done for you sales package
Upsell 3: $197 – Masterclass series
---
I do not recommend Magik Link, because it will not deliver. And it has you spending too much money.
Put all the noise aside, because there is no easy way if you really want to succeed in life. Even more so, on the internet. There is no get rich quick scheme that will work, because those are made to work for their creators.
You will not find one single successful online income maker who made it by doing nothing, zero effort. No, it will never happen like that. They are the ones who are willing to work their butts off, not expecting instant gratification, but having the foresight that they are working for future income, one that will eventually become a passive income stream.
So, you can't get rich quick. But you can get rich gradually, by putting in consistent hard work.
Are you game for it?
If you are, click on the button below and I will show you the way:

If you have any concerns or questions regarding this Magik Link review, do comment below, and we will start a conversation from there.
---