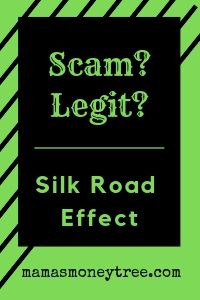 Is it really the quickest way to make $1800 everyday? Or the sure-proof way to get scammed? Here, we reveal everything they wish you never knew about the Silk Road Effect scam, explaining in detail how it will not work for you.
It's great that you are digging around, trying to find out more about it before deciding whether to go ahead with the purchase or not. Especially with the flood of useless products on the internet these days, it pays to watch your wallet carefully.
You have landed at the right place, because I have no association whatsoever with this product, so you can be assured my views are honest and unbiased, brought to you so you can make the best informed decision.
In this article, I will provide an in-depth review of Silk Road Effect, through the following sections:
---
Silk Road Effect: Review Summary
Product: Silk Road Effect
URL: https://silkroadeffect.com/?hop=0
Creator: "Steven Jenkins", as seen from his income statement in the sales video
Product type: Ecommerce – dropshipping training
Price: $37 + upsells
Scam / Legit? : Scam
Recommended or not? : NOT recommended
Silk Road Effect is basically some outdated PDF files and videos that teach the method of dropshipping, a business model under Ecommerce. Though totally legitimate, the training is too general and inadequate for any beginner to get started, with very little value added. Much more great training can be found on the internet, for free.
Dropshipping also poses many potential problems that I get to avoid with the way I am making my online income.
If you do not want to waste anymore time and money on useless products, check out my #1 recommendation to making money online, by clicking on the button below:

Read on for the detailed review of Silk Road Effect, and why I do not recommend it.
---
What is Silk Road Effect
Information presented in sales video
So the person in the video guarantees that you will be a millionaire within 12 months from now. A big red flag immediately comes up. Who can make such a bold claim? Does it mean every single person who watches this video will become a millionaire? You and I know it's not possible. So my trust level for this product goes right down, and continues to dip as I hear all the hype in it.
There is supposedly an ancient secret that has been hidden from you for centuries, by the western world. Now, he is exposing it, which has made him almost $1.4 million in the last year. He, who does not even bother to identify himself throughout the sales video, but I caught his name "Steven Jenkins" on his income statement that he showed. But of course that name might not even be real.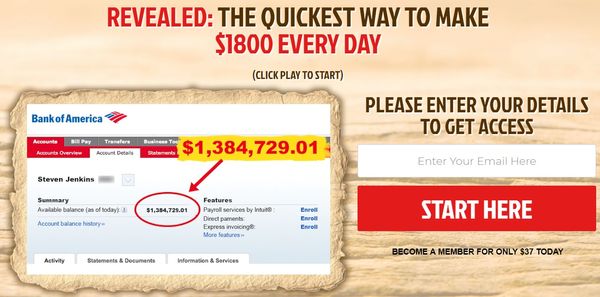 "Steven" goes on to say Silk Road is where people in the east went, if they wanted to get rich in the past. Now, you can get rich in the comforts of your home. But the Silk Road Effect stays, and is something we should tap on for our business. In the east, cost of production is low. That is how even giants like Apple and Amazon make it big, by harnessing the low cost production opportunities in the east.
According to "Steven", after tons of studying and researching, he has finally come up with a system that can allow you to earn 10 times the cost of products, without ever owning a single product, or even seeing it. This is the power of Ecommerce.
It all sounds so good so far. Easy way to make money even in your sleep, averaging $34K per month. And you do not even have to go to work! You can make all these money by doing very little.
We see all the exact ingredients here, of a product that is targeted at beginners who have not fully grasped how the business model works, also targeting at the human weakness of being easily tempted by fast results with minimum effort. I will now go on to burst the bubble…
Why Silk Road Effect will not work for you
The business model taught in Silk Road Effect is nothing more than dropshipping, which is one of the various ways to do Ecommerce, which has been the hot thing in these years. This is nothing new, no secret at all. Many people have tried it. Some have succeeded, others have failed, just like any other money making method.
But the biggest thing that the sales video is misleading and trying to misrepresent: dropshipping is certainly not as easy as "Steven" made it sound. You will not become a millionaire within the first year.
To explain in simple terms how dropshipping works: You open an online store, offering various items for sale. Customers arrive at your store to make purchases. You then liaise with your supplier to deliver the goods. Your profit is the difference between your retail price and what you pay to the supplier.
Middleman Woes
Basically you act like a middleman, but you would be a busy one. Because the sales transaction takes place between you and your customer, and yet you have to liaise with your supplier to make sure the goods are being delivered on time, to the right place, and in good condition.
You have to deal with any customer complaints in late delivery, or damage during handling, or feedback about the quality of the products. And at the back end, you have to get back to the supplier to ensure he or she is answerable for the issues. It is no easy job!
Low Profit Margin
Since competition is stiff, anyone can set up an online store to sell the same items as you, not to mention the regular retailers already in the market. This means you cannot price your items too high, otherwise you get zero business.
You would also have to reach an agreement with your supplier on a discounted price, so that you can earn off the difference between your selling price and the price at which you purchase from the supplier.
Since everyone is out there to make money, and customers obviously will look for the lowest price, so you are squeezed right in the middle, with very little potential for huge earnings.
Paid Traffic
The core to any business is its customers. Where will you find people to come to your online store? The most straightforward method will be to pay for advertisements. But paid traffic is an art in itself, depending on the platform on which you put up the ads. It takes time and experience, and lots of money thrown in of course, to master paid traffic on any platform.
For instance, with FaceBook, you need to know which criteria to set, for the advertisements to be seen by a group of people that will highly likely respond to your advertisements. That also depends on your niche. No matter which niche, you have to know your customers well, their behavioural pattern, and where to find them, etc. in order for your marketing campaigns to work.
So if you are a complete newbie without any experience, be prepared to make losses at the start. We are talking about thousands of dollars here, in order for you to learn and see the trends that your potential customers have, and to figure out how to find them.
Difficult to establish a brand for yourself
With products that are not your own, it is not easy to establish any brand for yourself, and build up a loyal fan base. If the product is good, people will promote it to family and friends by its original brand of the product, not via your online store name.
These are the practical considerations you must think through carefully, before embarking on a dropshipping venture. It is not going to be a bed of roses like that "Steven" would have to believe. Yes, there are people who are making lots of money on it, but they are passionate and driven entrepreneurs, with great negotiation and social skills, able to handle customer complaints, able to get their suppliers to rectify the problems, able to keep getting up despite failing time and time again, to finally succeed in it.
I know myself, I do not want to deal with issues like these, so I did not choose dropshipping as the method to make my online income. What I am doing instead, is a neat and hassle-free way to earn.
How I avoid all the dropshipping issues
The business model I adopt to make my online income is quite different from dropshipping, and to me this is the best method. I will explain why.
With my business model, I do not have to handle any customers complaints, or get back to the supplier to make sure they fix it. The sales transaction is between customer and supplier directly, I'm simply bringing the customers to the doorstep of the suppliers. And for that, the suppliers or the retailers will reward me with a commission, for bringing them more business.
My profit margin can be high, depending on the niche I choose, and depending on the commission that the supplier or retailer gives. Or even if my profit margin is low, I can compensate for it by huge sales volume, which is highly possible because of my traffic method.
Instead of using paid traffic, I use free traffic. I do not have to spend a single cent to get traffic, but I need to put in the work. When I build up my online presence such that the search engines see me as the authority in my niche, they will start to send free organic traffic to me. This kind of traffic is the best, because these people are searching for what I am offering, exactly. So they will most likely convert into buyers.
Does this sound good to you? This business model does not have all the issues of the dropshipping model. It is neat a hassle-free, and even has the potential to be built into a passive income stream, because once you get free organic traffic, it is unstoppable.
To learn how you can start earning using this business model, click on the link below:
---
Pros of Silk Road Effect
1. 30 day money back guarantee
This basic refund policy is in place, for people who are dissatisfied with the product.
Sadly, this is about the only pro I can think of for this product.
Cons of Silk Road Effect
1. No real owner
When there is no one who is able to claim responsibility for the product except a "Steven", I cannot trust it a single bit.
2. Not minimum effort like what it is made to sound
It is all hype, making you believe this is such an easy way to make tons of money. Which is entirely different from real life. Dropshipping can be a worthwhile venture for those with an entrepreneurial spirit, but it's not for everyone.
You need a strong heart to deal with all the middleman woes of handling customer complaints, requests for refunds, dealing with suppliers who may or may not be reliable, etc. And even after all this time and effort into your business, the earnings may be very little.
3. Hidden costs
To do dropshipping, there are substantial costs involved to even set up your online store. First, you need to buy a domain name, which is the website address of your store. The cost for that is affordable, usually in the range of $15 per year.
Then you need a commerce platform to start, build and grow your business. This will allow you to manage your products, inventory, payments, and so on. A popular dropshipping platform is Shopify. The monthly subscription ranges from $29/month to $299/month, depending on the level of features you require for your business.
All these, on top of whatever you need to pay for traffic to arrive at your store, and start browsing through your products, as they may or may not convert into buyers, and hence profits.
So there is a real recurring cost, which can add up significantly and result in losses, if you do not have the skills and expertise to manage this business well.
4. Low quality training
The training provided in Silk Road Effect are nothing close enough to getting you started confidently. The PDF files give very general guides on marketing your products, finding traffic, etc. without going into any detail at all. There is no real substance. It's much worse than your college marketing textbooks.
Just go on the internet to do a proper search for dropshipping, and you will be able to find lots of great quality stuff around for free. From people who serve out information for free, many will also give much in-depth information and guides in their ebooks or training videos which you can buy for a fee. But at least you know those will be great stuff, by looking at the authentic free information they provide.
5. Upsells
As with any other product that aims solely to line its owners pockets, Silk Road Effect is no different. Its pricey upsells will be bombarded in your face, right after you purchase the front end product, even before you have a chance to try it out for yourself.
Upsell 1: Shopify ($29 to $299/month) – the owner of Silk Road Effect will earn a commission when you click through their affiliate links to subscribe to Shopify.
Upsell 2: $197 – Silk Road Effect Deluxe Club, which consists of two ebooks, one of which can be bought from Amazon for less than $10.
Upsell 3: $197 – Marco Polo Secret, yet another ebook, the likes of which can be downloaded for free on this resource website: Oberlo.com.
---
I absolutely do not recommend Silk Road Effect. It will not deliver what it claims, like these other products that I have reviewed before: Freedom Profits, WP Auto Ranker, and Ecom Cash Crusher, to name just a few.
If you want to make some serious money online, you have to first stay far away from anything that promises fast cash with little work.
Then I can show you the business model that I am using to make my online income, which is a hassle-free way to promote other people's products, because I do not have to own the products, or deal with any delivery, refunds, complaints, etc.
What's even better is how I get free organic traffic to my offers, which actually allows me to build up a passive income stream over time. This means I can leave the business aside, not build it actively for a few months or even years, but simply manage it in the maintenance mode, and it will continue to reap the same kind of profits for me.
Would you like to learn the exact method to make this work? Click on the button below:

If you have any concerns or questions regarding this Silk Road Effect review, do comment below, and we will start a conversation from there.
---