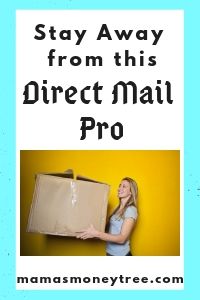 Why are there so many people promoting this Direct Mail Pro scam? It's makes me quite mad to see people willing to sacrifice their ethics and take advantage of the ill-informed, all for their own greed.
Welcome to my Direct Mail Pro review.
I'm glad you are here researching and trying to find out more about this product, and hopefully this is before you had lost your money to it.
In this honest and in-depth review of Direct Mail Pro, I will be walking you through what it entails exactly when you sign up, why I do not think this is even legal, and why such schemes are such a shame on humanity.
Without further ado, let's dive right in now!
---
Direct Mail Pro Review Summary
Product: Direct Mail Pro
URL: https://directmailpro.com
Creator: Peter Wolfing
Product type: cash gifting
Price: $250 to $5000
Scam / Legit? : Possible to make money, but it's illegal. So I'd call it a scam.
Recommended or not? : Absolutely NOT recommended
Direct Mail Pro is a cash gifting scheme that has no product attached to it. You would be just selling varying levels of membership into the scheme, profiting off people who join under you.
If you do not want to waste anymore time and money on scams, check out my #1 recommendation to making money online:


Read on for the detailed review of Direct Mail Pro, and why I call it a scam.
---
What is Direct Mail Pro
To find out what is Direct Mail Pro, let us first check out its website.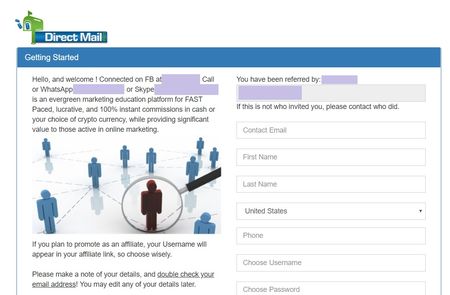 As you can see, there is no information on what this program is all about, except for it being some marketing education platform, and that you get to make lucrative instant commissions.
As a matter of fact, many illegal schemes use some marketing tools as the products they are selling, just to appear legit in the eyes of the law. Those are usually stuff that members use to promote the program itself, which have no value outside of that.
If it were really a marketing education platform, it would readily provide more details about the training. How else would they expect customers to make a decision, right?

Who is the owner of Direct Mail Pro
Though this information is again not offered before you sign up for the program, it is not difficult to figure out that the owner of Direct Mail Pro is none other than Peter Wolfing.
He is a well known figure in his field of network marketing, specifically (and unfortunately) pyramid schemes and cash gifting schemes.
Prior to Direct Mail Pro, Peter Wolfing was running Easy 1 Up, which had apparently been a success (for him and his group of loyal followers).
Expectedly, it's a matter of time before it winds up. And it seems like the time is now, that is why Peter Wolfing is setting up this Direct Mail Pro, to continue his money-sucking ways.

Inside Direct Mail Pro
Now, let's get right into the thick of it, to examine what this scheme is all about.
The concept is a very simple one.
You join the cash gifting scheme by paying a fee at your chosen level of membership. Part of it goes upward to the person who referred you into the program, the remaining to the company (that's Peter himself, of course).
You do this with the hope of getting others to do the same: joining under you, as your referral, so that you make a commission.

Membership levels in Direct Mail Pro
There are 5 membership levels, and this is how much each one costs:
Kickstarter level $250
Amateur level $500
Elite level $1,000
Pro level $2,500
VIP level $5,000
After paying for the membership, you will actually receive a physical box, which contains some stuff like a ticket to some live event, some books and magazines, some introductory material, and a USB drive with videos and PDF training on promoting this program.

Compensation Plan of Direct Mail Pro
When your direct referral joins the game, you get 40% of the membership fee that he or she pays. This is called Level 1 commission.
When your referral's referral enters the game, 40% goes to your referral in a similar fashion, while you get to make commissions at Level 2, which is 20% of the membership fee.
And as you can guess, the remaining amount goes to the company.
The caveat here is that you are entitled to only the full commission (40% or 20%) if your membership is at a higher or the same level as the person who joins.
To illustrate this point, say one of your referrals joins Direct Mail Pro at the Elite level, while you are only at the Amateur level. You get to only make 40% of $500 (works out to be $200), instead of 40% of $1,000 (which works out to be $400).
The difference gets passed up to the next sponsor in line who holds the Elite level membership.

Why is such a scheme not ethical?
The people who are promoting Direct Mail Pro are going to tell you how lucrative this is, how you can make a life-changing income, etc.
Where do all those earnings come from?
Money does not just drop from the sky. So imagine if you were to make a fortune out of this, whose pocket is it coming out from?
It comes from all those referrals who join under you, and their referrals too.
For you to recoup your initial investment of your membership fee, you need to rope in at least two referrals who join you at the same membership level.
It may not sound difficult, but do you see where it is leading?
With this structure, for each person to break even, there will be two who are making losses from their initial investments.
And imagine those top earners making loads of cash, how many more innocent people will be making losses?
At any one time, whenever you examine Direct Mail Pro, you will find that the largest group of members are making losses, and this is how they are allowing people above them to earn.
Hence the question of ethics and moral values comes in.
These people are sold an opportunity of a lifetime, and yet there are so many more who are making losses than profiting. The market is going to get saturated, and that is the day the entire pyramid scheme collapses on itself.
Peter and his gang will go laughing all the way to the bank, while possibly thousands will be cursing and swearing at their misfortune of having fallen for their scheme.

Will you really make money out of Direct Mail Pro?
It may seem easy to make a quick killing out of such a scheme, but let me assure you the truth is far from that.
Firstly, the people who know how to play the game are skilled in their marketing techniques. They probably have their own email list that they would send the promotion of Direct Mail Pro to.
Since their audience know them and trust them, these internet marketers would have a whole trail of referrals pouncing on the opportunity.
So if you do not have the expertise and resources to find your own traffic to bite the bait, then it would be a losing battle right from the start.
Another successful form of marketing would be those websites that you find on page 1 of the search results, when you were trying to uncover the legitimacy of this Direct Mail Pro scheme.
Those website owners have a constant stream of free traffic from the search engines. If their website visitors are convinced by their marketing pitch, and end up 'buying' from them by signing up as their referrals, then they are going to make loads of money.
The fact that you landed on my website shows that I am also in the position to sell you this Direct Mail Pro, if I had wanted to.
It would make me a generous income. But I will never do it.
I value my ethics and integrity more than anything, and will never promote to my readers stuff that do not add real value to their lives, just for the sake of my own benefits.
There are too many legit ways to make money online. I never have to go the low-down way.
And neither should you.

The proper way to make money online
I guess everyone starts off wanting to make it rich fast and by doing very little work. It's a very natural thing, that's just human nature. I wasn't spared of all the temptations on the internet myself.
Unfortunately, the quick, easy way is NOT the way to make money online.
Such a way simply does not exist. These are gimmicks used by scammers to get your money.
When I realised those empty promises are only going to make other people rich, and not me, I stopped looking for shiny objects.
I found a dull-looking object, but I knew in my heart that is the real deal. From then on, I have never looked back.
I am now working full time from home, growing my internet business, and making an online income. I started from scratch with zero knowledge in this area. If I can do it, you can, too.
Here's a peek into my earnings on a recent day:



That's almost $200 in just one single day. It's nothing to boast about, though, as it's just a small fraction of its full potential. I just wanted to show you the possibilities.
Check out this training platform that provides all the resources, tools, along with an entire community of aspiring as well as already successful online income earners. The best part is, you get to start for free:
---
To round up this article, let me recap and summarise the pros and cons, before I finally make my conclusion.
Pros of Direct Mail Pro
1. Possible to make money
Yes, it is possible to make money with this, provided you have some marketing skills and knowledge that you can put into practice to get a constant stream of traffic.
But note that your reputation and name will suffer, because people who sign up under you very likely do not have the means to succeed at it.
The decision is totally yours, but personally I will never do this.

Cons of Direct Mail Pro
1. Not legit
Such cash gifting schemes are not legitimate. In fact, they are illegal in many countries.
The fact that it exists and is running does not mean it abides by the law. The law enforcers are probably busy investigating much larger-scale scams, that could be why Peter Wolfing has been off the hook so far.
2. At any one time there will always be the largest group of people losing money
In order to support the earnings of those above them in the scheme, new members are always the largest group, no matter when you examine the scheme.
When it collapses (it will, sooner or later), these people will be left in the red, unable to ever recover their initial investment which is the exorbitant membership fee.
---
Is Direct Mail Pro Scam or legit? 
This is most definitely a scam. I'd strongly advise you to stay far away from it.
This kind of scheme does more harm than good to society, just like Club Cash Fund, Six Figure Stamp Club, and Cents for Freedom, to name just a few.
---
Recommendation
If you will allow me, I would like to show you how I am making my online income.
This real deal does not promise instant results, but instead provides the knowledge and lifelong skills required to grow a successful online business, which is exactly what I have done. Check it out by clicking on the button below:


And for reading all the way to the end of the post, I believe you have it in you to make this work. Here is your FREE PDF Guide: 4 Simple Steps to Making Money Online. Fill in your details to claim it:


If you have any concerns or questions regarding this Direct Mail Pro review, do comment below, and we will start a conversation from there.
---