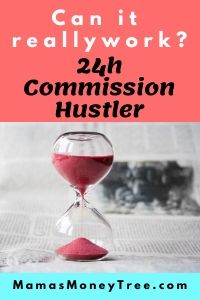 Welcome to my 24h Commission Hustler review.
What is this copy and paste method that draws on a brand new traffic source to make you $300+ in the first 24 hours?
Does such a system really exist? Or is this another crappy product that takes your money but never delivers any of its promises?
You will learn all about Art Flair's newest product here in my in-depth review, including what they are saying versus the real truth that they do not say. At the end of this post, my hope is that you will be able to make a better-informed and fairer decision for yourself, having seen balanced views on both sides of the coin.
One additional note: as you do your research, you will see raving reviews of 24h Commission Hustler all over the internet. Those are written by its affiliates, who will ride on every new product launch to make commissions. They speak highly of every single product, and they do not have your best interest at heart. So just be aware.

Without further ado, let's dive right into the review now!
---

24h Commission Hustler Review Summary

Product: 24h Commission Hustler
URL: http://artofmarketing.academy/24fe-liveds/
Creator: Art Flair, Pallab Ghosal, and Ram Rawat
Product type: training on using paid ads in Snapchat
Price: $9.97 (Lite) or $12.77 (Pro)
Rating: 3 out of 5
Scam / Legit? : Legit
Recommended or not? : Not recommended (unless you are an experienced marketer, with excess cash to spare, who specifically wants to do Snapchat paid advertising)
24h Commission Hustler teaches a paid traffic method to drive sales to your affiliate offers – through the Snapchat platform. Though the method is totally legitimate, I find the Snapchat audience to be not ready buyers.
This also means you could be throwing money down the drain, and end up worse off than before you started. There is always a risk and a steep learning curve to doing any form of paid ads that you need to be mentally prepared for.
---
---

What is 24h Commission Hustler

To find out what is 24h Commission Hustler, let us first take a look at its website: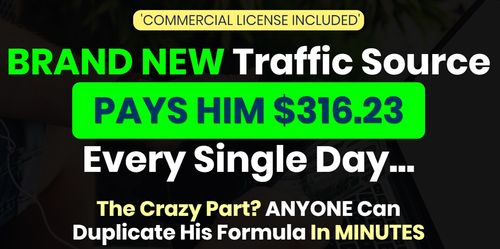 Even without a single online asset (website, email list, search engine optimization, etc.) you can supposedly duplicate this method in minutes, to tap into a brand new traffic source and start earning within the first 24 hours.
That is why it is called 24h Commission Hustler.

Snapchat Paid Ads
Basically, what you will get inside this product are a case study and video training on how to use paid advertising in Snapchat to drive traffic from the platform to your affiliate offers, hence earning affiliate commissions.
Well, there is some truth in the marketing script of this product. With paid ads, it is possible (if you're lucky) to start making a few sales. It also depends on how large a budget you're putting in.
What they fail to inform you is that even with those few sales, you could be making huge losses, because of what you would have invested into running those advertising campaigns.
There are other issues with this method that I will dwell into in more detail further along in this article.
For now, let's take a quick look at what else you will be getting if you buy this product.
On top of the main training (which consists of 7 modules), you will get some peripherals like cheat sheets, done-for-you images that you can use in those ads, along with some bonuses.
Bonuses
There are 8 bonuses that come with the front end product, mostly having nothing to do with the main topic. Examples are Facebook Mastermind, outsourcing, and DFY newsletter series.
I wouldn't bank on the bonuses, as I find that they tend to distract more than anything else. They make you feel like you are getting a ton of value for what your money's worth, so that you wouldn't ask for a refund.
But these bonuses are often snippets of information that barely scrape the surface of all the random topics haphazardly put together. They rarely add any value to your learning.
So that's what you will get in the Lite version.
In the Pro version, which is just $3 more than the Lite, you will get these additional stuff: image creation software, watermark software, a bonus case study, and commercial license.
---
---

Red Flags in 24h Commission Hustler

The single most important thing I want to highlight here is that you could start making sales within the first 24 hours if your lucky stars are shining. But at the same time, you could still be suffering financial losses.
There is no guarantee when it comes to paid traffic.
Even for the most experienced internet marketers who have mastered the art of paid traffic, when they switch to a new platform to target a new group of audience, they have to start a new learning curve.
They need to get to know their audience's behavior, their preferences, what kind of dialogue clicks, what their pain points are, and where to find them, etc.
In the beginning, you should expect to make losses.
That is why you need a healthy cash reserve to even think about getting started with paid ads.
Depending on your budget, you can be looking at hundreds or even thousands of dollars a day, if you want to learn fast.
You see, paid ads is something where you learn while you do.
At the end of each advertising campaign, you should analyze the results, study the data collected, and decide how to tweak the parameters to increase the conversion rates.
Without any experience, how will you know what those figures even mean, except that you are swimming into deeper and deeper waters with each passing day of running your ads?
That is why paid ads is a steep learning curve.
And if you budget say $50 per day, the data you collect may not be sufficient to see meaningful trends and patterns.
Hence it does yourself no good to jump right into paid traffic if you do not have the financial means to pay as you learn, and learn as you do.
I will never ever recommend any beginner in the internet marketing space to start with using paid traffic. You would be setting yourself up for failure.
Use free traffic to finance your ads
When you are just starting out, getting free traffic is always the best bet. Whatever sales you make, they are pure profits.
But the catch is this: free traffic is hard work.
And that is exactly why most people fail when they try to make money on the internet.
There are proven methods that work, but they do not stick around long enough to see results. Being impatient, they hop from one shiny object to another, and then feel frustrated that nothing works.
Of course, because those shiny objects are created to get your money, not to help you.
But if you're willing to be different from the rest, willing to put in the hours and the hard work, then the earnings you make from free traffic can be re-invested back into your business, allowing you to scale it up with paid traffic.
If that's you I'm talking about, then you have to check this out:

The issue with Snapchat traffic
Snapchat is an app that helps people to socialize and have fun with snapping photographs, using filters and lenses, sharing them with friends, etc.
Engagement level is high, with more female users than males, and the vast majority of its users falling into the 13 to 24 year old age group.
The first thing that comes to mind is spending power of this audience group. Since most are schooling, they may not have the financial means to buy whatever you are promoting. Or what you're selling may be more suitable for the middle aged group.
In other words, it could be a wrong target group for your business.
Secondly, if I were a Snapchat user, using the app to take pictures, engaged in trying out the filters and other features, or engaged with friends, I wouldn't really have the patience for advertisements.
These are just some factors to consider about the relevance of this social media platform to your business before you decide if 24h Commission Hustler is good for you.

What 24h Commission Hustler Does Exactly

With this training product, you will be able to gain some insights into running advertising campaigns on Snapchat, and how to set things up (the technicalities of it).
No one can guarantee your profits will cover the costs incurred, not even the best marketer.
But you should get better with months and years of experience, personalized coaching from a paid traffic guru, and studying top-notch courses in this area of advertising.
This is the reality, not something that the creators of this product will want to tell you.
If paid ads can be such a sure-win, everyone would be doing it. And you wouldn't hear of newbies complaining about how they had been burnt badly by it.
---
---

To round up this article, let me recap and summarize the pros and cons, before I finally make my conclusion.

Pros of 24h Commission Hustler

1. Real owners
It is always assuring to see product creators who are willing to put their faces in front of what they are selling. It says a lot about accountability.

2. 30 day money back guarantee
This basic refund policy is in place, for people who are dissatisfied with the product.

3. There is some value in the training
If you have considered the various factors discussed in this article, have excess funds to spare (knowing you could possibly lose it all), and understand your target audience well enough to know that Snapchat could work for you, then the training in 24h Commission Hustler can add value for your business.

Cons of 24h Commission Hustler

1. Paid traffic takes a steep and expensive learning curve
A $10 training product will get you nowhere near mastering paid ads on Snapchat. Setting up your account, going through the technicalities of running a campaign such that it will get approved, and even selecting offers to promote, yes.
But do understand that the actual learning and gaining a deep understanding of your audience on any specific platform lies in the actual doing – running of the ads campaigns, reading the data, tweaking and running more campaigns, and so on.

2. Not minimum effort like what it is made to sound
Nothing is easy when you're trying to make money. In fact, trying to make money online is tough! It's tougher than offline, in a regular job.
If anyone tells you earning an income on the internet is easy, you've got to run in the opposite direction, because that person is most likely just trying to get your money.

3. Upsells
I'm not comfortable with any product that tries to sell you one-time-offers even before you had a chance to try out the front end product that you just bought.
Those are just scarcity tactics. The upgrades will always be there, there is no rush to get them. Try out the front end product, if it doesn't work, do not waste more money on any upgrade.
Moreover, these upsells in 24h Commission Hustler are expensive, and that is where they will try to sell very aggressively, it's where the money is.
Upsell 1: $27 – Case studies
Upsell 2: $37 – DFY Pack
Upsell 3: $197 – Resellers License
Upsell 4: $147 – WSOTD product
Upsell 5: $47 – 100K exclusive training
Upsell 6: $27 – Software bundle
---

Is 24h Commission Hustler Scam or Legit?

24h Commission Hustler is definitely a legitimate training program that teaches you to drive traffic with Snapchat ads.
In fact, it is one of the better products that I have seen from Art Flair.
His earlier products include Speedly, Traffic Trapper, Flipp Ninja, Traffic Xtractor, and Profit Robot, to name just a few.
---

An Alternative

Everyone wants to be rich, but guess who will make it?
It's a very natural thing, that's just human nature. I mean, find me someone who doesn't want to get rich fast, and with minimum effort.
I wasn't spared of all the temptations on the internet, hopping from one shiny object to the next.
But when I realized those empty promises are only going to make other people rich, and not me, I stopped looking for shiny objects.
I found a dull-looking object, but I knew in my heart that is the real deal. And from then on, I have never looked back.
An honest, down-to-earth method that will get you there. It's not going to be easy, but it will get you there.
Versus the fast and easy way to empty your pockets and get you nowhere.
Which would you choose?
I am now working full time from home, growing my internet business, and making an online income. I started from scratch with zero knowledge in this area. If I can do it, you can, too.
Here's a peek into my daily earnings:



That's almost $200 in just one single day. It's nothing to boast about, though, as it's just a small fraction of its full potential. I just wanted to show you the possibilities.
Check out this training platform that provides all the resources, tools, along with an entire community of aspiring as well as already successful online income earners:


This real deal does not promise instant results.
Instead, it provides the knowledge and lifelong skills required to grow a successful online business.
And for reading all the way to the end of the post, I believe you have it in you to make this work. Here is your FREE PDF Guide: 4 Simple Steps to Making Money Online. Fill in your details to claim it:


If you have any concerns or questions regarding this 24h Commission Hustler review, do comment below, and we will start a conversation from there.
---