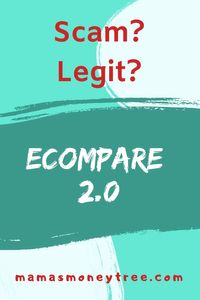 If you have received some promotional material in your inbox, and are checking out what is eCompare 2.0 by Mark Bishop, you have landed at the right place.
Here I will give my honest and unbiased review of this product, unlike the many affiliates out there, throwing in their extra bonuses so as to get a piece of the pie.
This is crazy:
This product is selling like hot cakes right now, but I'm not promoting it to complete newbies.
You might be wondering:
Why? But everyone is giving their raving reviews?
You know, those affiliates have never profited using the method taught in eCompare 2.0, and yet they are promoting it like their life depends on it. I know it because it will take time to see results if you're using eCompare.
Those affiliates actually make money by riding on the waves of product launches, they promote every single product that is newly launched, without consideration for whether it is in the best interest of their viewers.
Ok, let's get down to work and dive right into the inner workings in this in-depth review of eCompare 2.0, through the following sections:
---
eCompare 2.0: Review Summary
Product: eCompare 2.0
URL: http://ecompareengine.com/ec2/live/
Creator: Mark Bishop
Product type: Price comparison affiliate app
Price: $23.57 for 3 site license / $28.57 for 10 site license
Scam / Legit? : Legit
Recommended or not? : Not recommended for complete beginners, recommended if you already have an established website.
eCompare 2.0 is a WordPress plugin that allows your website visitors to compare prices of products across a maximum of 7 online shopping platforms. It is a great software for comparison shopping, as it gives users the assurance that they are getting the best buy, and you get to profit from whichever platform they buy from, as long as you are an approved affiliate of those platforms.
It's a great idea, but not recommended for complete beginners, because you won't have traffic coming to your website.
Instead of being distracted by strategies that are suited for more advanced marketers, beginners should focus on building the foundation of their online business.
Check out my #1 recommendation for doing just that:

Read on for the detailed review of eCompare 2.0, and why I do not recommend it for beginners.
---
What is eCompare 2.0
To check out exactly what is eCompare 2.0 and how it works, we first take a look at its sales video and landing page.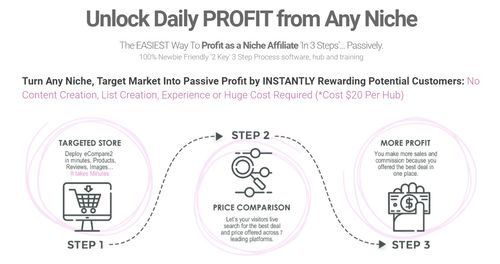 So it rewards your customers by allowing them to do a live search for the cheapest deals of the products related to your niche affiliate store, so that you will earn a commission, no matter which shopping platform they eventually use to purchase the product.
It all sounds very good, as you are taking care of your customers' needs, by allowing them to do what people love to when they shop: compare prices! And because they get to do this price comparison all on your site, you are ethically making them buy from there.
These are the 7 platforms that can be integrated into your affiliate store:
Amazon
eBay
Ali Express
Walmart
CDiscount
Shop.com
Best Buy
Since you can get to choose from the various categories of the stores, and also by entering your keyword, you simply decide on the niche that you would like your store to center around, and select products that you want to sell on there.
Visitors to your site get to do a live search of the different pricing for each product.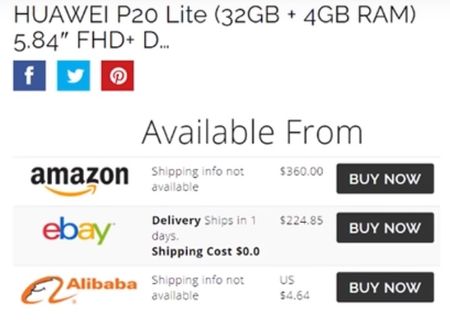 When people buy from any of those platforms, you earn a commission based on the terms and conditions set out in the affiliate program of each platform.
So far, it sounds good.
And what I really like about their sales page is that they are not promising that you will start earning thousands in the first week, or hundreds in the first 24 hours. There are no empty promises that will fail you.
And they present the entire product, what it is all about, the exact method, how it works, what are its features, etc. It has lots of information there that can help you make an informed decision.
Despite these great points, before you buy it, do read on to find out why I say it's not suitable for complete beginners in the internet marketing space.
Why eCompare 2.0 will not work for the beginner
Some prerequisites that you need
As it turns out, it is a WordPress plugin that allows you to incorporate your affiliate accounts from the various shopping platforms. That means 2 things that will directly concern you:
You need to already have your own WordPress website, with hosting and domain name. All these are hidden cost that you may not be aware of, if you do not already own a site.
You will need to apply to be an affiliate with each of the shopping platforms in this eCompare 2.0. Of course, you can choose to apply to just some of them, not all seven, that's your choice.
Now:
The thing is, to be approved as an affiliate, those companies will first check your website, to see if it looks shady, and if it is a good fit for their products, and their company branding and image. I know Amazon does that, and they do not simply accept anyone.
This also means you need to first build up some content on your website, otherwise it is difficult to get approved. Take a look at this: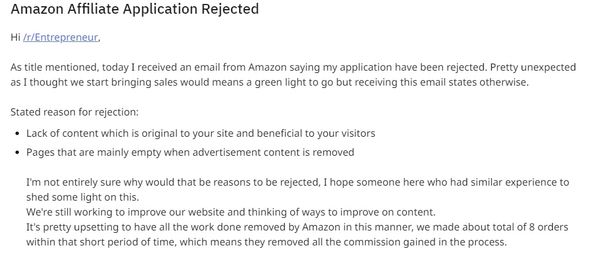 To get rejected by Amazon because of lack of content is a very common occurrence. So if you are setting up a website just to use this eCompare plugin, then NO, don't do it because it just won't work.
No traffic, no sales
Ok, even if you did manage to get approved on all your affiliate programs, there is also the big hurdle of traffic.
Here's the kicker:
If there is no one coming to your site, then there is no sales. Full stop. It is as simple as that.
As a newbie, where are you to find traffic?
People will say, use advertising. I would say, it is totally not recommended for beginners.
Because paid traffic is a steep learning curve. Depending on which platform you want to advertise on, you need to know the demographics of your potential customers, which also means you need to know your niche really well. Otherwise you won't be able to find them. Then you are wasting your money, showing your ads to people who do not convert into buyers.
Because the learning curve for paid traffic is so steep, you could be spending thousands of dollars on advertisements before your first sale comes in. Yes, it's not for the faint hearted.
Then others will say, use social media, it's free.
The thing about social media traffic is that it is not targeted, meaning the conversion rates are naturally quite low. Because people go on social media to relax, catch up with friends, watch some funny videos, etc. basically to relax after a hard day's work.
They do not have buyers' intent. So if you work on social media, your traffic may increase slightly, but those are not going to lead to too much sales.
The kind of traffic I use, which is also laser targeted, is totally free too. It is called organic traffic.
It is traffic driven to my site by the search engines. When people search for answers related to my niche, my content and offers may show up, if it is the perfect match for what they are looking for.
Traffic like this is free and conversion rate will be the highest, because these people are actively searching for what I am offering.
But how do we get free organic traffic to our site?
It doesn't take a single cent, but it takes your time and hard work. As we build up content on our website, and stay long enough in the game to prove our worth to the search engines, they will accord authority and hence page ranking to us.
Once we get the trust of the search engines, we will be given unstoppable free organic traffic, and that is how it can become a passive income stream.
Not simply by installing eCompare on our website, that will not make it a passive income stream just like that.
I want to show you a training platform, which offers a free members area, where you will get
2 free websites (that comes with hosting and you get to choose your domain name, absolutely free)
10 free lessons on affiliate marketing (this is so authentic and useful that it is better than many of the paid courses out there)
It is also the exact platform where I learnt how to write content that ranks well in search engines, and it works. I know because I am getting free organic traffic. I don't have to spend a cent on paid traffic, neither do I spend unproductive time on social media.
I focus all my efforts on building up content and establishing my website, and get rewarded with unstoppable free traffic that converts at the highest rate.
Check out this training platform now:
---
Pros of eCompare 2.0
1. Real owners
Mark Bishop and his friends are real people, known in the internet marketing space. So at least we can hope for some credibility and accountability to their product.
2. 30 day money back guarantee
This basic refund policy is in place, for people who are dissatisfied with the product.
3. It is a useful tool for an established website 
If you already have an established website, and have experience with affiliate marketing, then this can be good for your business. It really takes care of the human need to compare prices for the products they want to buy. So with your existing fan base and email list, there will be customers who will love this.
Cons of eCompare 2.0
1. You need a WordPress site
As this is a WordPress plugin, you do need to get your website up and running, before you can install eCompare 2.0.
2. You need to get approved on the affiliate programs
This is something not explicitly mentioned in the sales page: you have to apply to the individual affiliate programs separately, on your own, and then place all your affiliate links into the pluging, before it will work for you.
Approval is not automatic with some shopping platforms like Amazon, especially if the site is seen to lack content, chances are it will be rejected.
3. Traffic 
You need to figure out where to find the traffic that will come and shop at your affiliate store.
Paid traffic can be very draining on your financial resources. Social media traffic tends to not convert too well. The best option is free organic traffic, but you need to commit time and effort to build up content, and establish the authority of your website. It can be done, and it will be worth it.
4. Upsells
Like any other digital product, eCompare 2.0 comes with its own set of upsells, that give additional features and value.
Upsell 1: $37 – eCompare Pro, for installing on unlimited sites, 3 additional store themes, FB compatible theme, add your own review videos, and email lead collection (but you will need your own email autoresponder for this).
Upsell 2: $47 – eCompare Master, set up eCompare stores for clients, training video on flipping.
Upsell 3: $77 – Reseller rights
---
If you are a beginner trying to make money online, or if your website is very new, I do not recommend getting eCompare 2.0 just yet.
I would strongly recommend that you spend some time and effort to build up your website's content, because it will benefit you in many ways in the long run.
Firstly, a website is an online asset that everyone trying to make money online must have. It is yours to own, and whatever work you put into it stays there, and in fact it accumulates.
It allows you to establish your brand, build your email list, nurture relationships because your readers find value in your content.
By doing all these, you do not have to pay a single cent or spend more time on getting traffic. Because the search engines will naturally come to see you as the authority in the niche, and award you the recognition through good rankings.
Then your free organic traffic will explode, and so will your sales.
Take the first step now.
Start by setting up your website (with easy to follow, step by step instructions, you can do it in 15 minutes), and when you look back years later, you will be glad for it.
Click on the button below, and you will get to see the training platform that will teach you everything from setting up a website, and choosing your niche, to writing content that ranks, and monetising the free traffic.

If you have any concerns or questions regarding this eCompare 2.0 review, do comment below, and we will start a conversation from there.
---