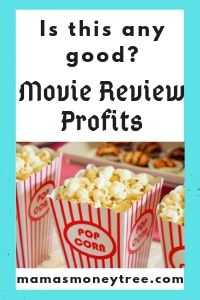 If you are looking to make some extra money, and have chanced upon the ClickBank product that makes you wonder how real is the Movie Review Profits scam, then you have landed at the right place.
Welcome to my Movie Review Profits review.
I will be upfront here. I will not call this a scam, because the methods covered in this training product are legitimate, and will work if you put in your time and effort.
But I do not like its marketing tactics, which I will be pointing out in a part of the review.
So join me in this honest and in-depth review of Movie Review Profits, as we discuss its training content, the realistic earning potential behind all that hype, so that you can make a better-informed decision about whether to purchase this product.
---
Movie Review Profits Review Summary
Product: Movie Review Profits
URL: https://www.moviereviewprofits.com/
Creator: "Jeff"
Product type: training on reviewing movies to make money
Price: $$37 + upsells
Scam / Legit? : Legit
Recommended or not? : It really depends on whether this method resonates with you
Movie Review Profits is a genuine training (includes video clips and transcripts) that teaches you two main methods of making money by reviewing movies: get paid per review on movie review sites, or set up your own movie review blog or website.
This method can work to make you some extra cash, it won't be the easy money like what their sales video makes it seem like. I do not like the hype on there, and some of its marketing tactics.
If you want to check out how I am making my online income, click on the button below to see my #1 recommendation for making money online:


Read on for the detailed review of Movie Review Profits, and why I am sitting on the fence about recommending it.
---
What is Movie Review Profits
To find out what is Movie Review Profits, let us first take a look at its home page.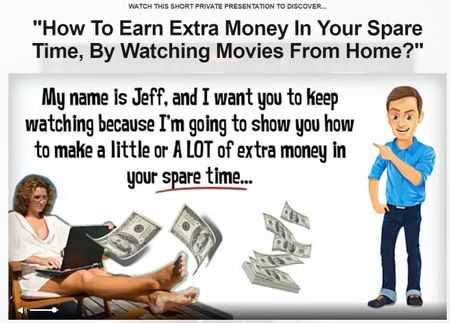 I like it that they introduce the money-making method as reviewing movies while doing something that you love, and will be doing anyway, with or without the money.
Being upfront about the method is important to me, as I can then tell whether it is something I would like to take on, rather than many other products (like Your Income Profits, Secret Profit Club, and Auto Traffic Machine) that shroud themselves in secrecy, and expect customers to buy a black box, having no idea what they are buying themselves into.

The sales tactics that I do not like about Movie Review Profits
Unrealistic income claims
Firstly, I see a lot of hype in its sales video, something that I never appreciated. With the story told about "Harry", you are misled to think this could be making you enough to solve some financial crisis.
Fake scarcity
You are also told that the video will not be here forever, it can be taken down anytime soon. This creates a false sense of urgency, making you buy on impulse without having given it some calm thought, or done your due diligence in researching it up.
Who is "Jeff"?
Jeff is just a name. The real owner behind Movie Review Profits has not made a single appearance in the entire sales video. You will not find him anywhere, because he has not intended to stand for his product.
I do not get good vibes when the creator of a product is not willing to be sincere in presenting himself in front of his audience, and yet he wants to earn their money. It affects the trust level, at least for me.
In fact, I find this product quite a good one, its just the marketing tactics that put me off. So it really is quite a shame.

What Movie Review Profits is all about
In the members' area, you will get 6 video training, together with their transcripts.
The content covers two main methods of making money by reviewing movies.
Method 1: Get paid directly
This method is about finding movie review websites that pay people per movie review. When you submit your review that meets their requirements, you get paid.
This sound fairly simple, but the disadvantage is limited earnings.
Watching each movie is going to take you an average of 1 to 2 hours, possibly even more, especially for some blockbuster movies.
The average payout rate ranges from a few dollars to about $20 per review. And depending on the website, they may limit the number of reviews that you can submit each month.
So yes, this method works, but it is just going to top up your pocket money, it won't be anything substantial.
The value of the training in Movie Review Profits is supposedly the list of websites (6 of them) that they provide, which allows you to get paid per review.
They also provide a writeup for each movie review website, so that you know what to look out for, what their requirements are, etc.
This would have been useful, if not for the fact that most of the links do not work anymore.
Oh, well…
Method 2: Get paid indirectly – have your own website
This method is different from trading your time for money, which is the first method.
This second way is about creating your very own movie review website, which is hard work at the start, but it allows you to scale up. Ultimately you are building a business, because your website is your online property.
There are a few ways to monetise with this method: you can allow advertising networks to place ads on your website, you can promote products like books, movie DVDs, movie merchandise, disney tickets, etc. and earn affiliate commissions.
There are so many ways you can monetise your own website, the sky is the limit. It is the way to build a passive income stream.
Don't expect instant results with this, though.
And the training in Movie Review Profits is very realistic about this fact. They make this point in more than one instance.
So I enjoy how practical and down-to-earth this set of training materials is. It's just the marketing hype that puts me off.
It's your choice
At the end of the day, I find this product to be alright. There is value to it. It's just not going to make you rich instantly (in fact, nothing will). As long as you manage your expectations, it is not too bad a product to buy.
Do you know I'm actually using their method 2 to make my online income? Except that my business has nothing to do with movies.

How I make my online income
I own some websites (this is one of them) which I monetise through various means. My main income source is through affiliate marketing, in the specific niche that I have chosen for each website (movies in the case of the method taught by Movie Review Profits).
It can be anything under the sun, as long as there are enough people interested in a particular niche, it can become a profitable website. It can be a hobby, a health issue, parenting, pets, etc.
Owning websites is nothing new. What is so precious to me about the model I am using is that it allows me to drive targeted free organic traffic to my websites.
It means I do not have to spend a single cent on advertising. Most of what I earn is all profits.
Here's a peek into my earnings on a recent day:



That's almost $200 in just one single day. It's nothing to boast about, though, as it's just a small fraction of its full potential. I just wanted to show you the possibilities.
To see how to get started, check out this training platform that provides all the resources, tools, along with an entire community of aspiring as well as already successful online income earners. The best part is, you get to start for free:
---
To round up this article, let me recap and summarise the pros and cons, before I finally make my conclusion.
Pros of Movie Review Profits
1. 30 day money back guarantee
This basic refund policy is in place, for people who are dissatisfied with the product.
2. There is value in the training
The methods taught will work if you put in the time and effort, the information in the training is alright (though a bit outdated), and realistic expectations are set.

Cons of Movie Review Profits
1. Owner does not show up
The real creator behind Movie Review Profits does not show up, so this is a minus point for me.
2. Lots of marketing hype
Everything is made to seem easy on its sales video. You only get the real version of the story after buying the product, as you go through the training materials.
3. Upsell
There is an upsell right after you make the purchase. Do not buy it, until you are convinced that the front end product has delivered up to your expectations. Don't worry about the upsell offer not being there forever, it's again a fake scarcity tactic.
The upsell is called Extreme Music Profits Course. So if you are interested in the music niche, then maybe you can consider it (I have not reviewed this, so you will have to look into it yourself, do your own research before deciding to buy it).
It costs another $37, then followed by $17 per month.
---
Is the Movie Review Profits Scam real or not? 
No, I wouldn't call Movie Review Profits a scam. It is an alright product, provided writing movie reviews is really something that you would like to do.
---
Recommendation
If you would like a sustainable online income that can be scaled up into something that draws in passive income, owning a website is the way to go.
Since it is your online property, you call the shots, and can decide how you want to monetise it.
I started from scratch with this awesome training platform that I'm about to show you. It is a space where all the elite internet marketers are.
This real deal does not promise instant results, but instead provides the knowledge and lifelong skills required to grow a successful online business, which is exactly what I have done. Check it out by clicking on the button below:


And for reading all the way to the end of the post, I believe you have it in you to make this work. Here is your FREE PDF Guide: 4 Simple Steps to Making Money Online. Fill in your details to claim it:


If you have any concerns or questions regarding this Movie Review Profits review, do comment below, and we will start a conversation from there.
---