If you are wondering about this high ticket affiliate marketing training program, and looking for an honest Super Affiliate Accelerator review that tells you whether Jacob Caris is legitimate or not, you have come to the right place.
I am not promoting this program, not because it is bad, but simply because I do not believe this is the best course for beginners.
However, if you are already experiencing some level of success in your affiliate marketing business, then this is something worth considering.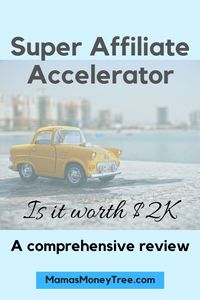 Join me as I show you exactly what will be taught in this program, and at the same time point out its pros and cons.
By the end of this article, you will be able to make a better-informed decision regarding whether or not to part with your hard-earned money.

Without further ado, let's dive right in now!
---

Super Affiliate Accelerator Review Summary

Product: Super Affiliate Accelerator
URL: https://www.superaffiliateaccelerator.com/
Creator: Jacob Caris
Product type: affiliate marketing training for high ticket products
Price: $2,000
Rating: 4 out of 5 (if you are an experienced marketer)
Scam / Legit? : Legitimate
Recommended or not? : Recommended if you are seeing some success in affiliate marketing. Not recommended if you are a beginner.
Super Affiliate Accelerator is a good training program that teaches you the model for selling high ticket items through affiliate marketing.
Just as with anything else, there is no guarantee for success. If you do not yet know the basics of affiliate marketing, but simply dive into this hoping to make it big, you may be in for some disappointment. There are many other moving parts that should be established first, as you build your foundation in internet marketing.
---
---

What is Super Affiliate Accelerator

To find out what is Super Affiliate Accelerator, let us first take a look at its website: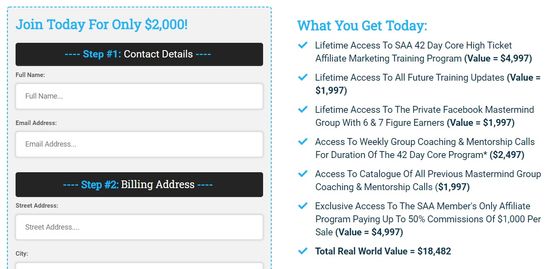 In gist, it is an affiliate marketing training program that specializes in a model targeting high ticket sales.
It is something that the founder of the program, Jacob Caris, has been highly successful in. He is the top seller for ClickFunnels and Legendary Marketer, both of which are very competitive products among affiliate marketers.
Hence I firmly believe Jacob is one who walks the talk, and knows what he is teaching, unlike many self-proclaimed gurus out there.
If you are looking for affiliate marketing training, you probably already know how it works – promote some companies' products, and if someone makes a purchase by clicking through your affiliate links, then you earn a commission.
It's a simple model, and takes almost no capital to start.
How, and why, then, is Jacob charging such a high price for his course?

How Super Affiliate Accelerator Works

$2K for a training program is not a small sum to most people out there. What is in its awesome content that makes it marketable despite the exorbitant price?
This is what you will get if you buy Super Affiliate Accelerator:
Module 1: Welcome and introduction
Module 2: Success mindset
Module 3: Choosing your niche and target customer
Module 4: Fast start process
Module 5: Monetization
Module 6: How to sell one-to-one
Module 7: How to sell one-to-many
Module 8: Networking
Module 9: How to build your Facebook Group
Module 10: Branding through Facebook profile
Module 11: Facebook messenger ads training
Module 12: Ad-hoc branding, marketing and sales
Module 13: Done for you resources
Module 14: Top earner training
14 modules of video training, along with weekly live training calls, and access to a private Facebook group where you will get support and inspiration from its community.
The training focuses on Facebook networking and marketing to qualify your leads and eventually sell them a high-ticket product.
Even though you will be taught Facebook messenger ads, the paid traffic component will not be your major source of traffic. The bulk of your audience will come from free sources, and with authentic engagement and genuine help that offer tons of value to them, they will get to trust and like you, and will naturally be happy to take up your recommendations.
---
---

Is Super Affiliate Accelerator Really for You?

The main reason why I do not recommend Super Affiliate Accelerator to beginners, apart from its high price tag, is due to its heavy reliance on Facebook – a platform that does not belong to you, and for which you have no control over.
When you are just starting out, it pays to go slow by building a strong foundation – create your own website, populate it with awesome content, and get it ranked on the search engines.
This way, you will get free organic traffic for months and years down the road, for every post that you publish. Get your audience onto your email list, and you will be able to build trusting relationships with ready buyers.
With Super Affiliate Accelerator, you can build a Facebook community, but it will take ages to garner enough members and support that will make you consistent affiliate sales. Especially if the high-ticket product you are promoting is in the internet marketing niche, and when you are a beginner yourself, and do not (yet) have results to show, it will take that much more persuasion work for your audience to buy in.
When you are putting lots of time and effort on a platform where you do not call the shots, but have to abide by its rules and policies, a single mistake can be costly. You could get your account banned or suspended unintentionally, and all the work you put in would go down the drain.
On the other hand, if you are an experienced marketer, with your fortress all built up (website, email list, online presence on the social media platform where your target audience is), then building up a Facebook Group will be timely and effective.
That's my personal take on this, I hope it provides a perspective that helps you make a better decision for your own circumstances.
---

To round up this article, let me recap and summarize the pros and cons, before I finally make my conclusion.

Pros of Super Affiliate Accelerator

1. Real owner who knows what he is doing
Jacob is a hugely successful affiliate marketer of high-ticket products, that's without a doubt. And if you join his private Facebook group, you will see that he practices what he preaches.

2. Not just about promoting itself
So many training and programs these days are designed and geared towards getting its members to promote itself, offering no real value.
Super Affiliate Accelerator is not like that.
Equipped with the skills and knowledge picked up through Jacob's training, you will be able to choose anything you want to promote. It does not even have to be in the internet marketing niche.

Cons of Super Affiliate Accelerator

1. Expensive
$2K is a lot to invest, knowing there is no guarantee that this will work out for you.
But if you already have had prior experience in internet marketing, and are re-investing your earnings to educate yourself on Facebook marketing, then I'd say go for it.
If you are a beginner, or have been trying out affiliate marketing without any success, check out my #1 recommendation. I know it works, because I followed its training, and it has worked wonders for me.
What's even better is that it is one of the lowest cost training programs to get started with. It offers tremendous value for money, delivers world-class top notch training, and is a vibrant community of the most elite affiliate marketers in the world.

2. Heavy dependence on Facebook
Seeing how social media platforms can change their policies and even shift their whole operating philosophies at their whim and fancy, I wouldn't be comfortable to allow the survival of my business to hinge on it.
Thus Jacob's strategies are more suited for intermediate and advanced marketers who own established websites and have created an online presence over the years.

3. Strictly no refunds
This can be the deal breaker, considering it involves quite a big sum of money. So take this into careful consideration when you're deciding.
---

Is Super Affiliate Accelerator Scam or Legit?

Super Affiliate Accelerator is completely legitimate. In fact, it is a good program to pick up some important networking skills and sales knowledge from, if you're bringing your business onto Facebook.
However, if you're just starting out, implementing Jacob's strategies can be a major distraction from building a strong foundation for your affiliate marketing business from the ground up.
It is important to invest in yourself, but not with money that you cannot afford to lose.
Other legitimate internet marketing training programs with a higher-than-average price tag include Super Affiliate System, ClickBank University, and Grand Cardone University, to name just a few.
---

An Alternative

Affiliate marketing is truly the lowest-cost method to start an online business in any niche that you are passionate about.
You should not have to spend thousands of dollars on any training. There are fantastic ones that the best affiliate marketers have followed, and found their way to success, at a small fraction of the cost of Super Affiliate Accelerator.
When you start making money, you will be in a better position to re-invest in your own education, to scale up your business, sales and profits.
So now, let me extend my humble invitation for you to check out the method I used to get started.
I am now working full time from home, growing my internet business, and making an online income. I started from scratch with zero knowledge in this area.
You can do this too.
Here's a peek into my daily earnings: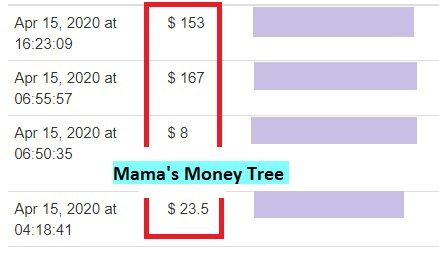 That's $350 in a day. Nothing to boast about, as it is still far from reaching its full potential. I just wanted to show you the vast possibilities here.
Check out this training platform that provides all the resources, tools, along with an entire community of aspiring as well as already successful online income earners:

This real deal does not promise instant results.
Instead, it provides the knowledge and lifelong skills required to grow a successful online business that will sustain itself in the long run.
And for reading all the way to the end of the post, I believe you have it in you to make this work. Here is your FREE PDF Guide: 4 Simple Steps to Making Money Online. Fill in your details to claim it:

If you have any concerns or questions regarding this Super Affiliate Accelerator review, do comment below, and we will start a conversation from there.
---