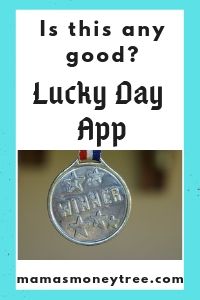 Apps like this are very common, and is a great way to earn a little extra pocket money. But does this really pay out, or is Lucky Day App scam for real?
Welcome to my Lucky Day App review.
How exactly does Lucky Day App work? Where do they find the money to pay their winners, if it is free to join and no one is paying any membership fee?
Most importantly, do they actually pay out when it's time to, or will this be a total waste of your precious time?
We will answer these questions and more, here in my honest and in-depth review of Lucky Day App, where I walk you through how things work in there, point out some potential earnings, and look at some real users' feedback.
Without further ado, let's dive right in now!
---
Lucky Day App Review Summary
Product: Lucky Day App
URL: https://luckyday.com/
Product type: an app that allows you to take part in activities to win money
Price: free to join
Scam / Legit? : Legit
Recommended or not? : Not recommended, only because there are too many negative reviews by users of the app, that can be found in many places.
Lucky Day App is similar to get-paid-to sites, except that instead of completing tasks to earn money, you simply take part in some games, contests, sweepstakes, lottery, etc. to WIN money.
Because a stroke of luck is needed, there is no guarantee that you will be able to make any money out of this, despite spending time on it. The odds are not in your favour, that's for sure.
The worse thing is the many negative reviews by its members, many of whom claim that their big wins are simply wiped off on the grounds of glitches in the system. Many also find their winnings slowing down drastically as they approach the minimum threshold for cashing out.
If you do not want to spend your precious time on chasing after that little bit of money, check out my #1 recommendation to making money online:


Read on for the detailed review of Lucky Day App, and why I do not recommend it.
---
What is Lucky Day App
Let's find out what is Lucky Day App by first taking a look at its home page: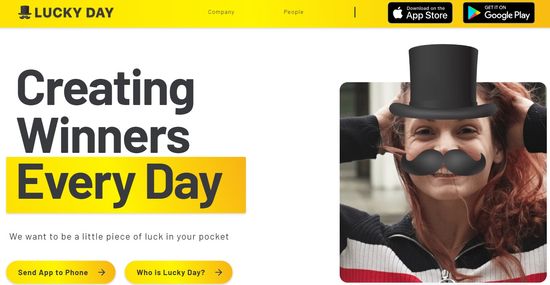 So, it's really all about luck, and winning, here on this app. The beautiful thing here is that you do not have to pay a single cent to enter into anything on the app, it's all free to play.
So to the users, it is completely risk-free. And that is important.
Where do they get the money to pay the winners, then? Well, the answer is simple, it's a concept used on many platforms.
Basically advertisers pay Lucky Day App to show their ads to members. It helps these brands with customer awareness and exposure, hence is a valuable marketing tool to them.
Lucky Day App then uses a portion of their ad revenue to finance their lotteries, sweepstakes and stuff.
Lucky Day is a legitimate company, owned by Lucky Day Entertainment, Inc.
Their support email is a valid one, though they seem to not be very responsive, resulting in members having to place their complaints elsewhere, on review sites, etc.

How to win on the Lucky Day App
There are numerous things that you can take part in, like playing on the jackpot, online scratcher, lotto, Blackjack, and raffle games. Everyday, 3 credits will go into your account for you to play.
You can win in cash or tokens, and tokens can be converted into cash. But it will take millions of tokens to get just a few dollars worth of cash.
Like any other form of gambling, you have to first accept that the odds will not be in your favour. Majority of the people playing any game will not win anything. The chances of winning also depends on the number of people playing the game at any one time.
But you have nothing to lose here, since you do not have to pay to play any game.
It's just the time and energy you would have to spend on the platform, if you want to win something that can help just very slightly with your fiances.

Cashing out on Lucky Day App
The minimum amount for cashing out your winnings is $10, if you want to be paid in cash (via PayPal). For gift cards, they usually come in $5 or $10 value.

Earning potential on Lucky Day App
The chances of winning any kind of game involving luck are already slim to start with. You could go on it 3 times a day, everyday, for months, before you are able to cash out that first $10.
Besides, look at all the complaints and negative reviews by dissatisfied users of the app:

Common complaints about Lucky Day App
There are definitely many people who have claimed their winnings from Lucky Day App. But I found it rather disturbing to see a considerable number of negative feedback from its users, many of which are all over review sites, while the star rating for the app is 4.5 out of 5. Something just does not seem to match up.
I have grouped its users' complaints into broad categories, and included some screenshots for just one or two typical feedback for each category.
Big wins are not paid out
Typically, when someone wins a large amount of cash, they get an email notification that they actually did not win it, it was due to some glitch. This definitely got people quite unhappy.


Prompted to give your star rating each time you win
This would naturally increase the star rating of this app. Especially since when you first join, the chances of winning seems to be much higher. So you can imagine the figure to be quite skewed.
And this could well explain the very high star rating despite the large number of unhappy users on the platform.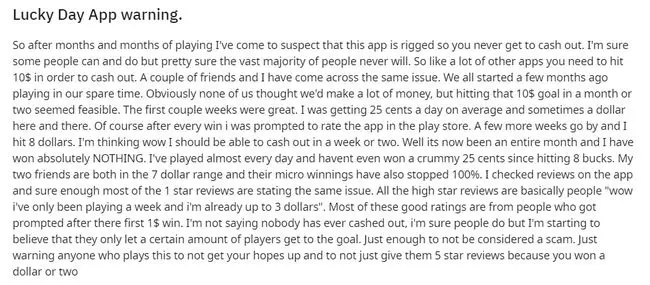 Winnings seem to slow down drastically when nearing cashing out threshold
This seems to be a fairly common complaint that it raises the question about fairness in this app. You can read the complaints from the frustrated users below.These are taken off ragstoniches.com.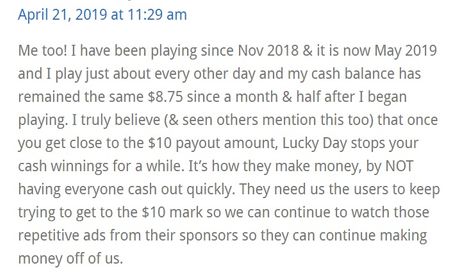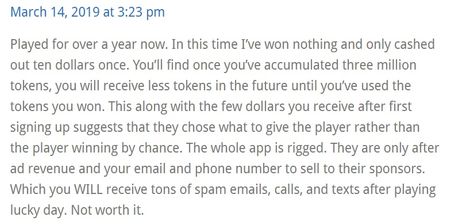 Support is slow to respond
And this one is taken from scamfinance.com, which is just one of the complaints where their support is slow to respond, or at times they do not even reply, until the users post their comments on review sites.


For now, my personal take on Lucky Day App is that it is a legitimate app, for sure. It does pay out to its members. But it seems that the way the games are run is not exactly in the fairest way. For this, I do not recommend Lucky Day App.
If you are still interested in making some extra pocket money with games, trivia, or completing small tasks or surveys on get-paid-to platforms, some good ones are Societi, Swagbucks, InstaGC, and PrizeRebel, to name just a few.
But if you want to make some serious money online, those will not get you anywhere.
The proper way to making money online
Trivia, get-paid-to and sweepstakes sites like Lucky Day App can make you a few dollars here and there. But in my opinion, none of them are worth all your precious time, because the earnings for every hour spent are just too small.
The internet is a great place, where opportunities abound. What you need is to find a trodden path that has consistently produced successful online income earners.
Then learn the ropes, implement what you learnt, and keep going at it until you see results.
It is never easy trying to make money on the internet, because of the low barrier to entry. But using whatever proven method, as long as you hang on, keep doing what you need to do, and outlast the rest, then you have the world at your feet, as you are finally free of a regular job that ties you down to fixed places and timing.
I am now working full time from home, growing my internet business, and making an online income. I started from scratch with zero knowledge in this area. If I can do it, you can, too.
Here's a peek into my earnings on a recent day:


As you can see, more than $100 a day is very do-able. And this is not even at its maximum potential yet, I'm still growing this business every single day.
Check out this training platform that provides all the resources, tools, along with an entire community of aspiring as well as already successful online income earners. The best part is, you get to start for free:
---
Pros of Lucky Day App
1. Legitimate company that pays out
We can't deny that there are many many people who get to cash out their winnings. So this is a legitimate company, a proper sweepstakes app where you can possibly earn if you get lucky.
2. Free to play
This is absolutely the best thing about the platform. So no matter what, you really can't lose any money, even if they do not pay you your winnings, since you were simply trying out your luck to begin with, at zero risk.
3. Activities are effortless
You can play mindlessly, there are no skills or effort required of you at all, to take part in those games.

Cons of Lucky Day App
1. Earnings seem to drop drastically beyond the first few dollars
For too many people, this seems to be the obvious trend. So of course we can't say for sure that this is something deliberate, but it does not change the fact nor the number of complaints about this issue.
2. Many negative comments, which does not seem to match up with its star rating
The star rating of Lucky Day App could possibly be skewed, as new members who just join their platform tend to experience higher chances of winning, hence will be giving high star ratings, as they are prompted to rate the app right after a win.
---
Is Lucky Day App Scam or legit? 
The Lucky Day App scam is NOT true, in my opinion. It does pay out its many members, so it is legitimate. Unfortunately, the fairness in the way it runs its games could be a completely different story.
---
Recommendation
Instead of spending your precious time chasing after those peanuts, the same time can actually be used to create something much bigger, that you can eventually build into a passive income stream.
If you are the type of person who is not afraid of hard work, then I want to show you something.
This real deal does not promise instant results, but instead provides the knowledge and lifelong skills required to grow a successful online business, which is exactly what I have done. Check it out by clicking on the button below:


And for reading all the way to the end of the post, I believe you have it in you to make this work. Here is your FREE PDF Guide: 4 Simple Steps to Making Money Online. Fill in your details to claim it:

If you have any concerns or questions regarding this Lucky Day App review, do comment below, and we will start a conversation from there..
---