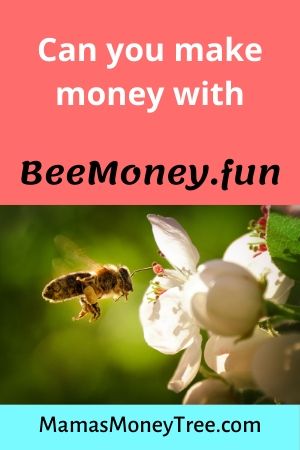 Welcome to my BeeMoney.fun review.
I must say this is a unique investment platform. It actually openly admits that it is a Ponzi scheme! It looks like the creators of this platform are really out to have some fun.
But I do not think it is fun if you have your hard-earned money taken from you.
In this article, let my walk you through all the red flags on the platform, so that you can see it for what it really is.
Ultimately, you will make the decision for yourself. And I do hope that my perspective on this program will at least help you make a better-informed choice.

Without further ado, let's dive right in now!
---

BeeMoney.fun Review Summary

Product: Bee Money
URL: http://beemoney.fun/
Creator: unknown
Product type: Ponzi scheme
Price: 10 Russian Ruble (minimum)
Rating: 1 out of 5
Scam / Legit? : Not legit
Recommended or not? : NOT recommended
BeeMoney.fun is an investment platform, with the website registered in Russia. It does not hide the fact that it is running a Ponzi scheme.
Though possible to make money, the risks are very high, as such a scheme can collapse anytime. And we really do not know these people. If they can operate such a shady scheme so openly, I bet they'd have no qualms about making off with your money.
---
---

What is BeeMoney.fun

To find out what is BeeMoney.fun, let us first take a look at its website:


There you have it. Loud and clear.
"Funds of participants who invest later are distributed among participants who invested earlier."
It's a Ponzi scheme, word for word.
Read the SEC's (Securities and Exchange Commission) definition here.
You will invest with the hope of getting your money back and more, when other people invest.
And look at the huge carrot they're dangling: increase your deposit by 100% in 24 hours.
How is this possible, unless you have an endless stream of people all rushing to give their money to earlier investors?
Its affiliate program sounds pretty attractive too. Earn 15% of your referrals' deposits. That's really easy money.
So on top of giving you 100% returns on your investment, BeeMoney is also paying your sponsor (the person who referred you to the program) another 15%.
Similarly, you earn 15% each time any of your referral makes a deposit.
Wait, do not get too excited to deposit your money yet.
Stick with me as I walk you through all the red flags on the platform, so that you understand it more completely.

Red Flags in BeeMoney.fun

1. Brand new platform
The BeeMoney.fun website domain was very newly registered on March 4, 2020. It is just a few days old, at the time of this writing.
Well, at least they are not hiding this fact. On its home page, it is stated clearly that this project was started on March 6, 2020.

2. Ponzi schemes are illegal
In most countries at least, Ponzi schemes will get the founders thrown in jail.
That is, provided the law enforcers have the resources to go after them in the first place.
In Russia where the BeeMoney.fun platform was registered, Ponzi schemes are illegal, but rife. Regulators are just not able to catch up with them.
Moreover, Bee Money deals with small change, not the big bucks. The largest deposit you can make is 5,000 Russian Ruble, which works out to about US$67 (based on the current exchange rate).
When the cats are too busy chasing the big mice, these small ones come out to party noisily and boldly, knowing they are safe by staying under the radar.

3. Who is behind the company?
The real people behind Bee Money are not showing themselves. But of course, since this is an illegal operation.
It also means you will be handing over your money blindly, having no idea who you are entrusting it to.
---
---

How BeeMoney.fun Really Works

There is no value to this scheme. You're not buying any product or service, there is not even any actual investment.
It's simply a game of passing the parcel. Money exchanging hands, that's it.
And everyone goes in with the hope that the money reaches their hands before the scheme collapses.
There is no guarantee to any earnings. When recruitment of new participants come to a standstill, the entire scheme collapses.
And collapse it will. It's just a matter of 'when', not 'if'.
Take a look at this:

The creators of BeeMoney themselves know this is doomed.
The math says it all.
Without any real investment, there is no ROI (returns on investment) to talk about.
Money does not fall from the sky. It simply gets passed from new investors to early investors.
For any one person to profit from this, there must be many more who are making losses.
At any one point in time, the vast majority of Bee Money participants are in the red.
---

To round up this article, let me recap and summarize the pros and cons, before I finally make my conclusion.

Pros of BeeMoney.fun

1. Possible to make money
If you're lucky, it is possible to profit with BeeMoney. But if you're unfortunate in that this scheme only lasts for a few weeks, then it is inevitable that you will not get your money back.
At the end of the day, you make the judgement call.
No matter what you do, be prudent.
NEVER invest with money that you cannot afford to lose, regardless of how high the yield is.

Cons of BeeMoney.fun

1. Illegal scheme
Bee Money is a fraudulent scheme, set up with the objective of taking people's money.

2. You can possibly lose all your capital
When there are no more new investors, the people behind Bee Money are going to take all the money in the system and run.
---
---

Is BeeMoney.fun Scam or Legit?

I wouldn't go as far as calling BeeMoney.fun a scam, since it does let early investors earn. But it is clear that this program is illegal, hence illegitimate.
Similar programs include Hourly Dollars, GSP Crypto, Yestor, GoFounders, and Infinity Residuals, to name just a few.
---

An Alternative

Everyone wants to be rich, but guess who will make it?
It's a very natural thing, that's just human nature. I mean, find me someone who doesn't want to get rich fast, and with minimum effort.
I wasn't spared of all the temptations on the internet, hopping from one shiny object to the next.
But when I realized those empty promises are only going to make other people rich, and not me, I stopped looking for shiny objects.
I found a dull-looking object, but I knew in my heart that is the real deal. And from then on, I have never looked back.
An honest, down-to-earth method that will get you there. It's not going to be easy, but it will get you there.
Versus the fast and easy way to empty your pockets and get you nowhere.
Which would you choose?
I am now working full time from home, growing my internet business, and making an online income. I started from scratch with zero knowledge in this area. If I can do it, you can, too.
Here's a peek into my daily earnings:



That's almost $200 in just one single day. It's nothing to boast about, though, as it's just a small fraction of its full potential. I just wanted to show you the possibilities.
Check out this training platform that provides all the resources, tools, along with an entire community of aspiring as well as already successful online income earners:


This real deal does not promise instant results.
Instead, it provides the knowledge and lifelong skills required to grow a successful online business.
And for reading all the way to the end of the post, I believe you have it in you to make this work. Here is your FREE PDF Guide: 4 Simple Steps to Making Money Online. Fill in your details to claim it:


If you have any concerns or questions regarding this BeeMoney.fun review, do comment below, and we will start a conversation from there.
---