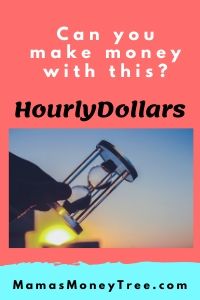 In this post I am going to give my honest and in-depth HourlyDollars.com review.
If you are thinking of investing on this platform, I would strongly suggest that you finish reading this article before deciding whether or not to part with your hard-earned money.
There are too many red flags that tell me this is not much different from one of those hurriedly set-up websites that are out to scam people.
Unfortunately, I do not trust it at all.
And I will explain why.

Without further ado, let's dive right in now!
---

HourlyDollars.com Review Summary

Product: HourlyDollars Trade
URL: https://hourlydollars.com
Creator: Unknown
Product type: investment platform
Price: free to join, profit on investment
Scam / Legit? : most likely SCAM
Recommended or not? : NOT recommended
HourlyDollars.com is not honest about some things, and does not seem to make sense in their 'about us' description. The website uses poor English, something that we would not expect of an investment platform run by professionals.
This does not seem like a legitimate investment platform to me at all, and I absolutely do not trust it.
---
---

What is HourlyDollars.com

To find out what is HourlyDollars.com, let us first take a look at its website. Here are its investment plans:



To be frank, I am no expert in investment, but I have reviewed hundreds of programs and platforms on my site.
I believe my scam detection skills have been honed well.
This investment plan looks too good to be true. If it were legit, it would be so easy to get rich. If I had $10,000 to invest, right the following day, I would have earned 120% in interest?!
I wonder if they know what they are saying. Even a 20% interest the very next day is already unbelievably high.
I kept doubting my own intelligence, and just kept looking at the numbers. Surely this can't be right. They will go bankrupt the moment they start running their business.
Is there something I am missing? If so, please drop your comment at the end of the article to enlighten me.
Besides this obviously strong fishy smell, there are other red flags that I wish to point out.

Other red flags on HourlyDollars.com

1. They lie about their age
On their 'about us' page, they claim they have existed since 2010. See the information boxed in red.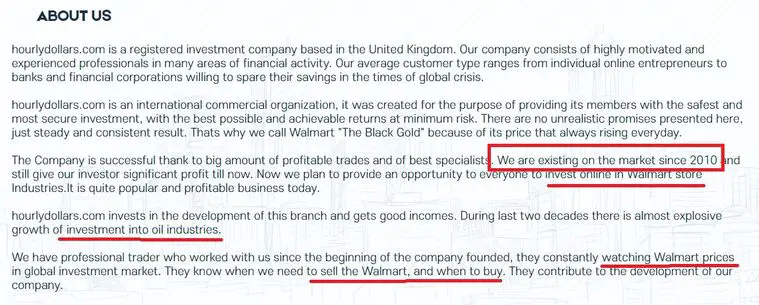 But a simple check on their domain shows that they were very newly registered on October 24, 2019. That's less than a week old from the time of this writing!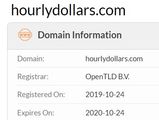 The fact that this platform is in its infancy stage already makes it not trustworthy as an investment platform.
To make it 100 times worse, they lie about it.
Just to appear credible.

2. Gibberish on 'About Us' page
I read the page a few times, and still could not quite figure out what they are all about, or what they were trying to say.
First it's Walmart. Then it's about the oil industry. Then back to Walmart again.
Again, it could be me.
If you have some insights as to what they are actually talking about, please drop a comment at the end of this article to help me make sense of it.

3. Poor standard of language use
I have nothing personal against people for whom English is not their first language. Neither is it for me.
What I can't accept is a supposedly well-established investment company that cannot even communicate clearly to its clients.
If they are running a legitimate investment platform, they'd better engage someone to do a much more proper job of their website.
---
---

4. Shoddy work of their terms and conditions page
This is a very basic thing. I supposed they would have some in-house lawyer, or some financial advisor to draft this.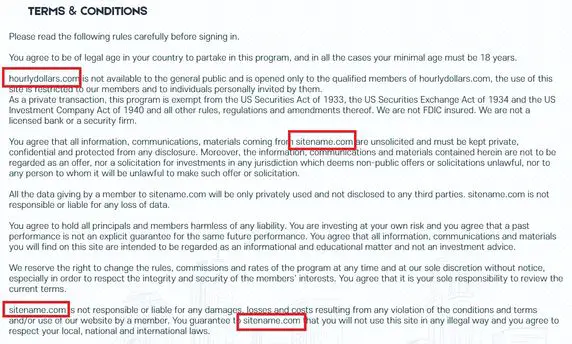 It should not take more than an hour to get this page properly done up.
But apparently they are not able to accomplish this very simple task.
Why would anyone entrust their money to this company, then?

5. Spartan FAQ page
Take a look at their frequently answered questions section.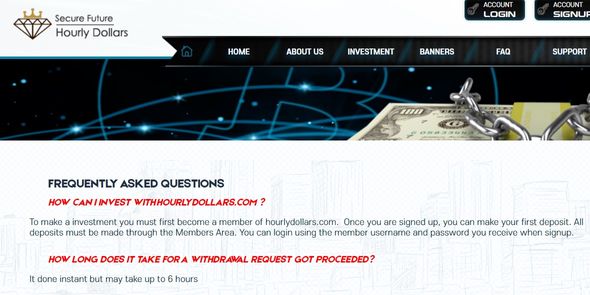 To me, it reads, "I want your money. Give it to me now.".
It is rare to find such a shoddily done FAQ page on any legitimate website.

"But I have been paid out by HourlyDollars"

Yes, it is possible that you could have seen the real payment proof of other people. Better yet, you could have received the payout for your own investment!
That makes them legit without a doubt, doesn't it?
Well, not so fast…
Many scam investment platforms use the small fish as bait to lure in the big fish.
Everyone will start small to play safe, since nobody knows anything about the legitimacy of the platform yet.
When people get paid, they feel more confident to recommend this service to family and friends as a great opportunity to make some quick and easy cash.
Some may even borrow money, or use their entire savings, to place all their hopes on those investment sites.
When the big money starts coming in, that is when these scam sites will no longer pay out, and their owners boot from the system, disappearing without a trace from the face of this earth.
Since HourlyDollars.com is such a new website, with no user feedback yet, I do not have the evidence that they are a scam.
But my gut sense tells me to stay far away.
---
---

To round up this article, let me recap and summarize the pros and cons, before I finally make my conclusion.

Pros of HourlyDollars.com

1. Possible to make some money
Even if HourlyDollars.com were a scam site, it is still possible to make some money, especially in the beginning few months of the platform's existence, if the owners do decide to pay out.
Personally I wouldn't take such a risk.
If you really want to try it out, please make sure you only use money that you can afford to lose 100% of.

Cons of HourlyDollars.com

1. You may lose all your investment
If this dubious website turns out to be a scam, you may lose all that you invested onto the platform.
This is the only con of HourlyDollars.
But I hope it provides strong enough reason for you to avoid it like the plague. I'm sure there is much better use for your money.
---

Is HourlyDollars.com Scam or legit? 

I very much want to call it a scam, but I cannot be sure until users' feedback can be found on the internet.
If you have had any experience with them, do share your experience in the comments section at the end of this article.
I definitely do not recommend HourlyDollars.
Other shady investment sites I have reviewed before include GSP Crypto and Yestor.net, to name just a few.
---

An Alternative

Everyone wants to be rich, but guess who will make it?
It's a very natural thing, that's just human nature. I mean, find me someone who doesn't want to get rich fast, and with minimum effort.
I wasn't spared of all the temptations on the internet, hopping from one shiny object to the next.
But when I realized those empty promises are only going to make other people rich, and not me, I stopped looking for shiny objects.
I found a dull-looking object, but I knew in my heart that is the real deal. And from then on, I have never looked back.
An honest, down-to-earth method that will get you there. It's not going to be easy, but it will get you there.
Versus the fast and easy way to empty your pockets and get you nowhere.
Which would you choose?
I am now working full time from home, growing my internet business, and making an online income. I started from scratch with zero knowledge in this area. If I can do it, you can, too.
Here's a peek into my daily earnings:



That's almost $200 in just one single day. It's nothing to boast about, though, as it's just a small fraction of its full potential. I just wanted to show you the possibilities.
Check out this training platform that provides all the resources, tools, along with an entire community of aspiring as well as already successful online income earners:


This real deal does not promise instant results.
Instead, it provides the knowledge and lifelong skills required to grow a successful online business.
And for reading all the way to the end of the post, I believe you have it in you to make this work. Here is your FREE PDF Guide: 4 Simple Steps to Making Money Online. Fill in your details to claim it:


If you have any concerns or questions regarding this HourlyDollars.com review, do comment below, and we will start a conversation from there.
---