If you are wondering what is Gold Opinions, why it seems much more pushy than other survey sites, and what exactly is behind the veil of hype, then you have landed at the right place.
Welcome to my Gold Opinions review.
You might be wondering:
Can Gold Opinions really let you enjoy the good life and make money in the comfort of your own home with just your laptop as they claim? How do they pay so much for their surveys? Is it legitimate?
We will be answering these questions and more, as we peel off its promises of the moon, and show you some red flags that they do not want you to know.
Without further ado, let's dive right in now!
---
Gold Opinions Review Summary
Product: Gold Opinions
URL: https://www.goldopinions.com/
Product type: member site that links you to other survey sites
Price: $1 for first 7 days, then $27/month
Scam / Legit? : I wouldn't call it a scam, but it does not have your best interest at heart
Recommended or not? : NOT recommended
Gold Opinions is a paid membership site that provides the bridge to other survey sites. It is all hyped up about how much you can earn, with unrealistic income claims.
You really do not need Gold Opinions, since there are so many legitimate survey sites out there, that are completely free to join and start making some extra pocket money.
If you do not want to waste anymore time and money on products that are of no value to you, check out my #1 recommendation to making some serious money online:



Read on for the detailed review of Gold Opinioins, and why I do not recommend it.
---
What is Gold Opinions
To find out what is Gold Opinions, let us first take a look at its home page.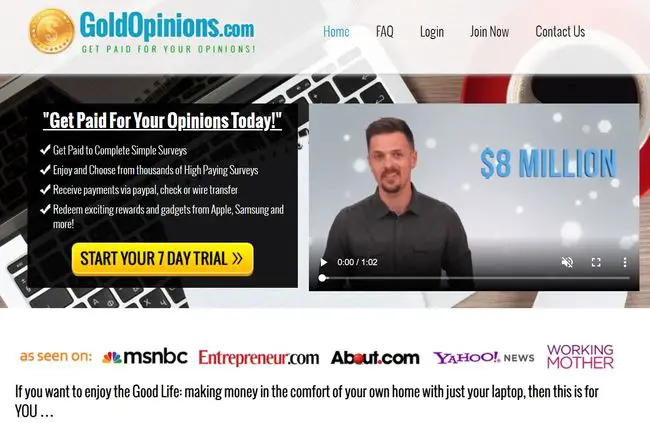 At first glance, it looks like any other normal survey site, where you get paid to complete surveys.
But then something caught my attention.

What is wrong with Gold Opinions
What first struck me as something not quite right was the 7 day trial. That does not seem like anything a typical survey site would have. Curious, I clicked on it, expecting some free 7 day access. But this is what I got:



Looks like lucky me chanced upon the last day of a 3 day sale! Woohoo!
Well, too bad that's just their marketing gimmick that is not very honest.
This 'sale' will still be there even as you are reading this review, whatever date it will be. It is a scarcity tactic that gives you the sense of urgency, having you believe that you should not let this rare opportunity slip by you.
Afterall, what is $1? Surely you can afford to lose that, if you really do not like what you see, then just cancel it.
Well, they are banking on people thinking like that, thus signing up for it, entering their credit card or other payment details, and then hoping that people forget to cancel the membership even if they do not like what they are getting on the site.
So, do not think that it is just $1. It is about getting you to link up a payment mode to them, and this is how they get unsuspecting people to bite their bait.

You should not have to pay to take surveys
Survey platforms make money from the marketing research companies, or some brands themselves, who hope to get customers' feedback on their products and services, collect data to see trends, get consumer indication about a product launch, etc.
By completing surveys, you are helping these survey sites do the work, so that they can get paid by those brands and marketing research companies. That is how they can pay you.
You should never have to pay them to work for them.
There are too many legitimate survey sites that are completely free to join.
And $27/month is a lot of money, for getting not much value out of it at all. Does it get you exclusive access to premium surveys that pay highly?
Well, that's what they claim.

What you are paying for in Gold Opinions
To entice you to take up their membership, they claim to pay up to $5 for 10 to 15 minutes surveys (which works out to be $20 to $30 per hour!), and up to $50 for premium surveys!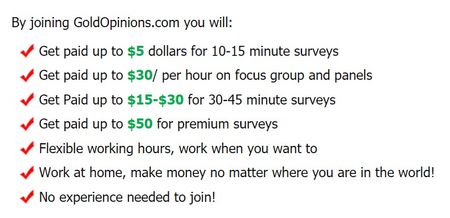 Is this real? Do they really pay you that much for doing surveys?
Unfortunately, the answer is no.
Gold Opinions is not a survey site per say. They do not have their own surveys for you to complete on the platform.
They are nothing more than a membership site, to get your money, and show you surveys that you can do on other actual survey sites.
So you really have no need for Gold Opinions at all.
You can look for those legitimate survey platforms yourself, in fact, I can recommend a few great ones here: Swagbucks, InstaGC, and Inbox Dollars, to name just a few.
Even the most legitimate and highest paying survey sites will barely make you $5 an hour, a more average figure would be around $2 to $3.
And since Gold Opinions simply shows you those sites, it is not possible for you to be making those income claims stated on their site. It is totally hyped up, just to get you to sign up with them.



They don't make commissions off your earnings? That's for sure, because they are not even the ones paying you! What skewed logic is that…

Gold Opinions is a ClickBank product
ClickBank is an affiliate marketing network. It means product vendors create their softwares and programs, and put them up on ClickBank for affiliates to promote, who earn a commission when people buy through their affiliate links.
Nothing wrong with ClickBank per say, but this points to Gold Opinions being nothing close to a survey site. I have never seen a real survey site putting itself up on ClickBank to be promoted, their paths just do not cross.
So the truth is: Gold Opinions is a money-making product that misleads the public into thinking that it is a survey site, and then happily shares its earnings with its affiliates who help to promote it, while offering zero value to its customers.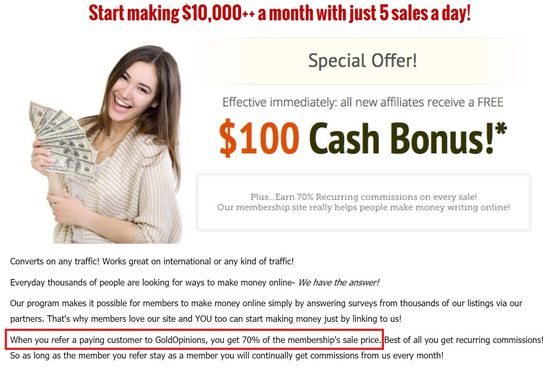 Their affiliates make 70% off the membership's price, how does that sound for a lucrative business?
Look at the income projection for their affiliates:



$10K in month 5? Where is anyone going to get 750 members into Gold Opinions in 5 months? Isn't this income projection way too optimistic?
Why am I not surprised by now?

Feedback from real user
Apparently, even though they have a refund policy, it looks like they are not making it easy for you to get back your money. Take a look at this user's feedback, taken from smartaffiliatesuccess.com.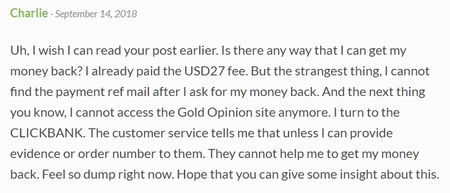 So would you go for Gold Opinions?

The proper way to make some serious money online
There are many legitimate survey sites if you want to make a few quick dollars, but you can never make a full time, or even part time income out of it.
I always find that the hours required to earn that money on survey sites is simply not worth it.
With this time, there is a lot more that I can do, much bigger things that I can create.
I do not have to depend on any survey site, because I have my own websites, in niche areas of my own choice, that I am passionate about.
Armed with the knowledge to drive free traffic to my sites, I will have the ability to monetise them, and there will be no limit to my income. It all depends on how far and how high I want to bring it.
I am now working full time from home, growing my internet business, and making an online income. I started from scratch with zero knowledge in this area. If I can do it, you can, too.
Here's a peek into my earnings on a recent day:



As you can see, more than $100 a day is very do-able. And this is not even at its maximum potential yet, I'm still growing this business every single day.
Check out this training platform that provides all the resources, tools, along with an entire community of aspiring as well as already successful online income earners. The best part is, you get to start for free:
---
Pros of Gold Opinions
1. There is a refund policy
If you purchase the product through ClickBank, it should be more straightforward in getting your refund back, they should be much more helpful about this than if you go through the Gold Opinions website itself.
Other than this, I do not see any pro for this site, since I cannot see the value that will be provided to you.

Cons of Gold Opinions
1. It is not an actual survey site
You do not take surveys on the site, and they are not the ones who pay you.
2. Lots of hype
Potential earnings for completing each survey is way too high and unrealistic, I have never seen any legitimate survey site able to pay that much.
3. Monthly membership fee is expensive
You do not have to pay a single cent to find good, legitimate survey sites to start making some extra bit of money.
---
Is Gold Opinions Scam or legit? 
They do link you up to survey sites, and they do offer refunds, otherwise I would be really tempted to call them a scam.
Still, you have no need for Gold Opinions.
---
Recommendation
To make some serious money online, take the time you are spending on survey sites, and work to create something big for yourself, an internet business that you can call your very own, and grow it into a full time income and beyond.
With the noise and chaos on the internet, it can be difficult to tell which method is good for you.
I want to show you a path that countless successful online income earners have taken. If the business model speaks to you, then what you have to do is learn the ropes, implement what you learn, and stick with it until you see results.
This real deal does not promise instant results, but instead provides the knowledge and lifelong skills required to grow a successful online business, which is exactly what I have done. Check it out by clicking on the button below:



And for reading all the way to the end of the post, I believe you have it in you to make this work. Here is your FREE PDF Guide: 4 Simple Steps to Making Money Online. Fill in your details to claim it:


If you have any concerns or questions regarding this Gold Opinions review, do comment below, and we will start a conversation from there.
---