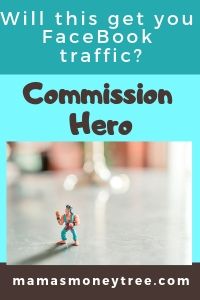 What is Commission Hero, that is promising you $1000 per day in the next 30 days, with ClickBank and FaceBook? Is it yet another scam that is out to get your money?
This is crazy:
ClickBank's #1 affiliate in the world has created his very own training course, and will be revealing how he earns $1 million a month, with his 3 step system that anyone can use, even people with zero online experience.
With this, you only have to work 1 hour a day, putting up ads on FaceBook, to bring traffic to your ClickBank affiliate offers, and earn much more than a full time income!
You must be wondering:
Is this product worth the $997 that it costs? Such an expensive product, will it really make you such big bucks within a month? Is there any catch? Or is it just too good to be true?
We will answer these and more, in this honest, unbiased, and in-depth Commission Hero review. Let's dive right in to discover what lies within this hyped up product.
---
Commission Hero Review Summary
Product: Commission Hero
URL: https://www.commissionhero.com/home
Creator: Robby Blanchard
Product type: affiliate marketing of ClickBank products using FaceBook ads to drive traffic
Price: $997
Scam / Legit? : Legit
Recommended or not? : Not recommended (especially if you are a beginner)
Commission Hero teaches you to promote ClickBank products by using paid advertisements on FaceBook, to drive sales to your affiliate offers. It is overhyped.
Paid traffic is a very high risk method, you could end up losing much more than you imagine. Moreover, ClickBank, as an affiliate network, is seeing more low quality products these days, so it may not be in your best interest to be promoting them.
If you do not want to waste anymore time and money on products that do not deliver, check out my #1 recommendation to making money online:



Read on for the detailed review of Commission Hero, and why I do not recommend it.
---
What is Commission Hero
Let's find out what is Commission Hero by first looking at the information presented in its sales video and landing page: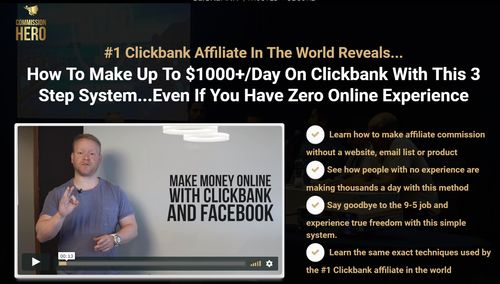 Basically it teaches you how to make affiliate commissions without a website, email list, or product. It focuses on ClickBank affiliate products, and using paid traffic from FaceBook to land on your affiliate offers.
It is made to sound so easy, like you could quit your 9 to 5 job, and gain financial freedom, simply by using Robby's 3 step system, even if you have zero online experience.
If only…
Then everyone would be millionaires by now, Robby.
Robby went on to show his ClickBank affiliate dashboard, where he was making $20K, $30K, $40K, every single day.
It does look good, and it really works at getting people's hopes up. I mean, who wouldn't want pay days like that?
But always remember this: if a successful person teaches his current method of doing things to a newbie, then it's totally off.
It's like a master chef telling a new, young cook in the kitchen to just use his gut feel for the amount of each ingredient to be used. I believe the dish will turn out to be a disaster!
Yes, Robby is highly successful, there is no doubt about that. Everyone will look up to him, seeing all those unimaginable figures that he is earning each day. He is making use of this exact human emotions for money, to lure people in to buy this product that is priced over the top.
You see:
The biggest issue here is that paid traffic is not for beginning internet marketers. And yet he is saying it as though it is your only ticket to success.

Paid Traffic
Paid traffic is an art and a science. It is not easy to master. You can take the blueprint of an expert, follow what he does, and not get any results.
Why is that so?
There are so many uncertainties when you want to implement your advertising campaign on any social media platform. So many factors come into play: what is trending in the news and on the social media platform at that time, the total number of people placing ads in the same niche as you, etc.
There is no guarantee in paid traffic. What works for some may not work for others.
If everyone can get results using his FaceBook ads blueprint, then it doesn't make sense, does it? Where will the avalanche of customers come from, when everyone starts implementing his FaceBook ads strategies?
With paid ads, it's a matter of putting in the money to run your campaigns, learn from the results, tweak some parameters, run it again to test things out, tweak again, run again, and so on. It is something that you learn while you do. And you pay while you learn.
So at the start, you could be running into thousands of dollars in the red, before you finally understand how to find the most targeted group of audience to show your ads, what kind of ads they will respond to, and so on.
If you do not have some excess cash to start with, and a strong heart that is able to take it when the money just goes down the drain, then it is definitely not advisable to begin your online journey with paid traffic which is such a high-risk method.
Do you know I get my traffic completely for free? I will go into that later in this article. For now, let's just focus on Commission Hero.

The issue with ClickBank products
In this section, I want to help you understand why a product sold on ClickBank may not be what's best for you.
First, let me quickly explain what is affiliate marketing. You basically promote other people's products. When customers click through your affiliate links to buy those products, you earn a commission from the retailer.
It's a completely legitimate business model, in fact, it's how I make my online income as well.
The problem arises when an affiliate promotes some poor quality product just because it can make him or her the highest commissions.
ClickBank is a great affiliate network, that allows vendors who create digital products to put up their items on the platform. Affiliates will can choose which products they want to help promote.
There is nothing wrong with ClickBank per say, it's just that in recent years, the products on there seem to be not screened for quality. I guess it boils down to supply and demand.
Vendors offering high commissions may not be offering the best products.
On ClickBank, the products that sell like hot cakes more often than not are offering their affiliates high commissions, so people will be promoting them like their lives depend on these.
Of course there are also legitimate and great products on the affiliate network. Such products will be there for the long term, making relatively slower but sustainable sales, so you won't see huge sales volumes in a short space of time.
Whereas the scammy ones are created to make a bang with all the hype in their promotional campaigns, and then disappear as quickly as they appeared.
If you want to get yourself onto ClickBank, while still keeping your integrity, you will need a high volume of sales on great quality products that perhaps are not much hyped up, and possibly do not pay as much.
You also have to be able to discern between low-quality and high-quality products in your niche.

Do not be misled by the numbers
Robby's earnings are extraordinary, that's for sure. But would anyone know how much cost he put into advertising? To earn this kind of money with paid traffic, his advertising fees must be quite humongous.
How about refunds? Depending on the quality of the products that sell, some have surprisingly high refund rates of 30%, or 40%, or even 50%.
So we should not just look at earnings, without factoring refunds which can be a prominent amount, as well as the huge expense of advertising.

What you actually get inside Commission Hero
Here is what you will get within Commission Hero: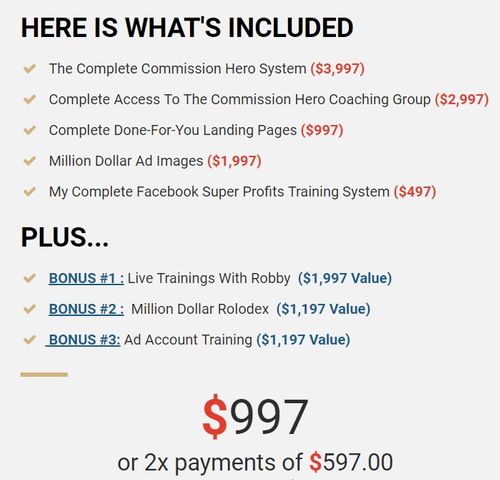 The value I see here is the FaceBook ads training, provided you are a seasoned internet marketer, and are ready financially and mentally to try out paid traffic on FaceBook.
The other things are all done for you, which I do not really like.
Imagine everyone buying this Commission Hero launching identical FaceBook ad images? How much value does that give to you? And the customers all channeled to identical landing pages?
And to slap a $2K value to the ad images, to me it's just hype, and it reduces the credibility of the product.
And if Robby is earning $1 million a month, why does he want to spend the time and effort on live training? Shouldn't he just continue being ClickBank's #1 affiliate with his FaceBook ads method, and enjoy his dream life?
You see, the thing with running advertisements is that you can't just copy from any guru, no matter how legitimate that guru is.
There is no one-size-fits-all when it comes to paid traffic.
You can learn some general strategies, simply by looking up the experts in the field who are sharing information for free.
Ultimately, to find success with paid traffic, it boils down to your specific niche, and how well you know your target audience on a specific platform. All these come with experience. Which, of course, means money to run those ads.
Please do not let anyone tell you that paid traffic does not come with high financial risks, especially for beginners.

His refund policy does not sound good
Take a look at the refund policy:



It is a 12 month success policy, meaning they will consider your request for refund only after 12 months of your purchase.
The reason cited is that they want you to commit yourself to completing the training, implementing it, and showing proof that you have tried it without success, before they will return you the money.
That is, provided their sales page is still around one year later.
Doesn't it appear to you like he is a bit too eager to pocket your money? Shouldn't you be trusted to have the ability to know if something will work for you, within months of trying it out?


The proper way to do affiliate marketing
I want to show you how I am doing affiliate marketing, and making my online income from it.
Affiliate marketing is a cool way to make money online, because you do not have to own or store any products, you don't deal with delivery, customer complaints or refunds, because the sales transactions are between the customers and the retailers directly.
More importantly, you are free to choose whatever niche that you are passionate about. With Commission Hero, the method taught is very limiting, as you only learn how to promote ClickBank products.
Anything under the sun can be a niche, from a hobby to a health problem.
Affiliate marketing is a lucrative business in any niche, as people take their shopping online. Retailers also realise the value provide by affiliates, in giving free advertisement to their products. Hence more and more companies offer affiliate programs, or get themselves on board some affiliate network that will manage their affiliate program for them.


How I get my free traffic
When it comes to traffic, which is the key deciding component for a business' success or failure, I get mine for free, without spending a single cent.
I also do not go for social media traffic, because free social media traffic is mostly not targeted enough, so conversion rates into actual buyers will be quite low.
I target people who are looking for what I am promoting. They are actively searching for reviews of the products that they are considering to buy. So at this last league of their research, I show up with my offers, along with authentic reviews that convince them this product is for them. That's how I land sales.
Of course I only promote products that I believe in, because I want to keep these customers, nurture a long term relationship, and build up a sustainable business.
How does this sound to you?
Let me warn you, though. It will take time and hard work to build up a full time income this way. In fact, whatever method that promises you will make it rich fast and without effort is just out to scam you, so stop picking up shiny objects. They are enticing, but they just won't work.
If you think you are ready to make some serious money online, click on the link below, to learn more about my free traffic method:


---
Pros of Commission Hero
1. Real owner
Robby is a real person, a successful internet marketer, willing to stand in front of his product, showing us a certain level of credibility and accountability for it.
2. Satisfaction guarantee
This basic refund policy is in place, for people who are dissatisfied with the product. Though the refund is eligible only after one year of trying out the strategies, I can't be sure whether the process of requesting a refund will be a breeze.
3. You do get your FaceBook ads training and done for you templates
You do get training on how to run FaceBook ads, which may help you if you understand a bit about your audience on this social media platform already. You do get ads images and landing pages, but do bear in mind these will be duplicated by other Robby's customers.


Cons of Commission Hero
1. Only works for ClickBank products
The training teaches you how to promote ClickBank products, which generally have fallen in quality over these past few years. Products that sell really good on there are in fact quite useless, because many of them live on the hype claimed by their creators.
2. Paid traffic is not as easy as it seems
Do not be taken in by how easy it seems to earn money using paid traffic. It is very high risk. If you ask around, successful internet marketers who really have your interest at heart will tell you not to mess around with paid traffic if you do not know what you are doing.
3. $997 is not a small sum
Considering how Robby says anyone without any online experience can use his FaceBook ads blueprint to make $1K each day, I would say the upfront investment is too high to try this out, plus the fact that it may not be that easy to ask for a refund.
---
Is Commission Hero Scam or legit?
Commission Hero is definitely a legitimate product. But it is priced with too high a tag, and the method may not be exactly suitable for a newbie.
It will not add value to you, as it is much too hyped up, like many other products I have reviewed: 24/7 Wealth Club, Cash Sniper, and 9 to 5 Job Killer, to name just a few.
---
Recommendation
I do not recommend Commission Hero, especially if you do not have any experience with or excess cash for paid traffic.
Why take such a big risk with your money, when the leading advantage of an online business is its low start up cost?
And why pay for traffic when you can get it for free?
For beginners, you should take the free traffic route, and slowly build up your online business, giving it a strong foundation. And when it takes off, you will be able to soar to great heights using this free traffic method.
It is a skill that will follow you for life, that allows you to build up multiple income streams.
This free traffic method also drives highly targeted leads to my affiliate offers, that converts with a high rate.
It takes hard work, and it's not for everyone. That is why some people go for paid traffic.
But after the initial hard work, it becomes a passive income stream, simply by virtue of how I build up this traffic source.
If you are interested to learn how it works, click on the button below:




And for reading all the way to the end of the post, I believe you have it in you to make this work. Here is your FREE PDF Guide: 4 Simple Steps to Making Money Online. Fill in your details to claim it:



If you have any concerns or questions regarding this Commission Hero review, do comment below, and we will start a conversation from there.
---