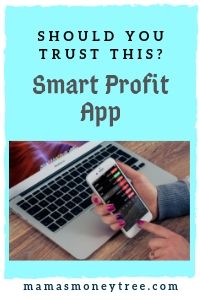 Welcome to my Smart Profit App review.
What is this newest method that can get you earning $13,127 per week starting today?
Is there really such an amazing thing, or is it another scam that will waste your time and money?
We will answer these questions and more, in my honest and in-depth review of Smart Profit App, as I examine the exact money-making method taught, why their sales video is all hyped up, and why this product is not made to work for you.
Without further ado, let's dive right in now!
---
Smart Profit App Review Summary
Product: Smart Profit App
URL: https://smartprofitapp.com/join
Creator: 'Robert Fisher'
Product type: training on being an Amazon affiliate, and paid traffic methods
Price: $37 + upsells
Scam / Legit? : Legit
Recommended or not? : NOT recommended
Smart Profit App is some generic training on being an Amazon affiliate, and getting traffic with paid methods like CPA (cost per action) marketing, Facebook marketing, etc. It will not make you $13K in the first week, as making money online simply does not work this way.
If you do not want to waste anymore time and money on useless products, check out my #1 recommendation to making money online:



Read on for the detailed review of Smart Profit App, and why I do not recommend it.
---
What is Smart Profit App
Let's find out what is Smart Profit App by first checking out its sales video and landing page.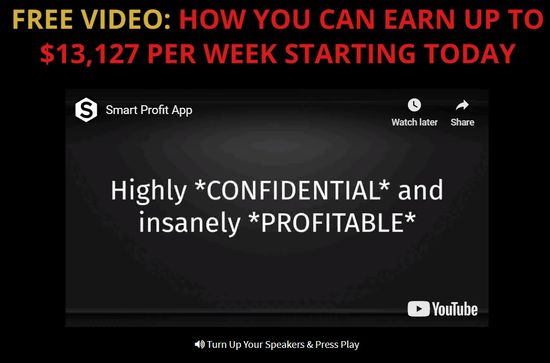 It is basically all hype. How can it be 'highly confidential' when the video is available on Youtube for anyone to view?
Make $13K per week starting today? Nope, no money making method can work to get you such insane results. From the start, I can already sense that this Smart Profit App is going to promise the moon but fail to deliver.
You can supposedly make $1.6K a day with no experience at all, with nothing more than a computer or smartphone, with this brand new method that very few people know about.
Another point of interest is that during the sales video, the spokesperson kept making reference to Smart Cash App, while it is meant to be promoting Smart Profit App. This gives another hint that the product is of low quality, that is why its creators have to keep changing up its name, once the older one gets a poor reputation, and sales get sluggish.
Moreover, this is made to sound like some app that you can use to generate money, when it is nothing like that at all. There is no app, no system, just some plain old training in the form of videos and PDFs.

How Smart Profit App works exactly
Smart Profit App teaches you to do affiliate marketing, by being an Amazon affiliate, or what they call Amazon associate. It also teaches some paid traffic methods.
That's it.
The methods taught are definitely legitimate, but these are nothing new. People have been doing affiliate marketing with Amazon for goodness knows how many years, and no complete beginner will be making $13K in the first week.
The sales video is very misleading, and would have you believe this is a get rich quick scheme. I wouldn't pay for such generic training materials, these will not make anyone a successful affiliate marketer instantly.

No one is making money with Smart Profit App
Take a look at this found at the bottom of their sales page:



The typical purchaser does not make any money using this system.
That says a lot about Smart Profit App, doesn't it? Why would anyone want to buy it at all, if it had been written in normal sized fonts?

How I do affiliate marketing
Affiliate marketing is definitely a totally lucrative way to make money online, in fact it is the exact method that I have chosen too.
What is affiliate marketing
In affiliate marketing, you promote other people's products. When customers click through your affiliate links to purchase the products, you earn a commission.
This is a neat and hassle-free way to earn, because you do not have to create or own any products. No inventory to take care of, no storage space to rent. The sales transaction takes place between customers and the retailers, so you do not have to worry about deliveries, customers' complaints and refunds, etc.
Amazon Associate Program has its requirements
Amazon does not just approve anyone to be its affiliate, or what they call associate. Without a functional website that they are happy with, you will not get approved. Many people have tried and failed.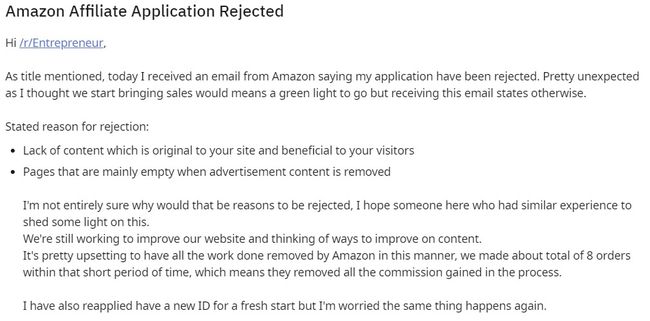 I am in the Amazon Associate Program, not on this website, but some others. Knowing they do not approve people without substantial content on their websites, I established a number of lengthy information posts, made sure my site was ready to provide visitors with an engaging experience, before trying to apply to Amazon.
I was fortunate enough to be accepted on that first attempt.
The point is, it is never as easy as the sales video of Smart Profit App makes it sound. But if you can find some training and resources platform that leads you step by step, from setting up a website to writing content that engages your audience, you can actually make this work, and with much more realistic expectations.

Traffic is paramount to any business
You can find the best affiliate deals, but if no traffic lands on your website or offers, then you are not going to earn a single cent.
Paid traffic taught in Smart Profit App is the fast way to get traffic to your site, if you know what you are doing. Experienced marketers use this to scale up their business, after they have reached a certain level of success with free traffic.
Using advertisements to get traffic to your site is a steep and expensive learning curve, that takes time and money. It is something that you learn as you do, by actually launching campaigns, analysing the results, tweaking parameters to hopefully better target your audience, analyse, make further tweaks, etc.
If you do not know what you are doing, you can easily go thousands of dollars in the red and not having learnt a single lesson about paid traffic.
Hence it is something I totally do not recommend to newbies in affiliate marketing.

How I get free traffic to my offers
Why pay for something that you can get for free? Well, for everything, there must be a tradeoff. Free traffic does not come easy, it takes time and hard work. But because there is zero risk involved, it is the kind of traffic I love.
The way to get free traffic is to build up content on my site. This is such a worthwhile effort, because it also creates a rock solid foundation for my business. Anything built on my website is there to stay, and it simply accumulates.
When search engines start to give my website the authority and trust, they are going to show my site on page 1 of search results, when people search for stuff related to my niche.
In this way, I get highly targeted buyer traffic that is completely free, because they are actively searching for what I have to offer. Free organic traffic is unstoppable.

The proper way to make money online
I guess everyone starts off wanting to make it rich fast. It's a very natural thing, that's just human nature. I wasn't spared of all the temptations on the internet too.
But when I realised those empty promises are only going to make other people rich, and not me, I stopped looking for shiny objects.
I found a dull-looking object, but I knew in my heart that is the real deal. From then on, I have never looked back.
I am now working full time from home, growing my internet business, and making an online income. I started from scratch with zero knowledge in this area. If I can do it, you can, too.
Here's a peek into my earnings on a recent day:



As you can see, more than $100 a day is very do-able. And this is not even at its maximum potential yet, I'm still growing this business every single day.
This is what affiliate marketing with free organic traffic has helped me to achieve.
Check out this training platform that provides all the resources, tools, along with an entire community of aspiring as well as already successful online income earners. The best part is, you get to start for free:

---
Pros of Smart Profit App
1. There is some value in the training
If you do not know a thing about affiliate marketing with Amazon's Associate Program, or any paid traffic methods, then Smart Profit App may possibly allow you to learn some new stuff. But if you ask me, I think it is not worth this money.

Cons of Smart Profit App
1. No real owner
Robert Fisher really does sound like a fictitious character, having not shown a single photograph or social media profile of him. If he were that highly successful, he would be open about his identity, and would in fact want people to be able to find him.
2. Sales materials are all hype, very misleading
The real owners behind Smart Profit App just want you to part with your money, that's their ultimate motive. That is why they are promoting this product with claims that will never come true for you.
They do not actually care whether you succeed or not.
3. Paid traffic is risky, not for beginners
If you do not understand your niche, your audience , or what you are doing, you can easily lose a huge upfront investment, without ever recouping it.
4. Upsells
Just as with any other product that is created to dig right into your pocket, Smart Profit App is no different. You will be bombarded with pricey upsells once you purchase the front end product, even before you get a chance to try it out.
Upsell 1: $197 – Smart Profit App 2.0
Upsell 2: $177 – Smart Profit Pro
Upsell 3: $97 – Smart Profit Social
---
Is Smart Profit App Scam or legit? 
I believe Smart Profit App to be a legitimate product, albeit a low quality one, which is simply some training in affiliate marketing and paid traffic methods.
You really do not have much use for this, just like some other products that I have reviewed, like Trenzy, Trendds, and StealthD, to name just a few.
---
Recommendation
To make some serious money online, there are many great ways to do it. Amidst all the noise and chaos on the internet, it is about finding a proven path that has worked for countless successful people, and then sticking with it until you succeed.
To save you the search, let me show you what has worked for me.
This real deal does not promise instant results, but instead provides the knowledge and lifelong skills required to grow a successful online business, which is exactly what I have done. Check it out by clicking on the button below:



And for reading all the way to the end of the post, I believe you have it in you to make this work. Here is your FREE PDF Guide: 4 Simple Steps to Making Money Online. Fill in your details to claim it:


If you have any concerns or questions regarding this Smart Profit App review, do comment below, and we will start a conversation from there.
---