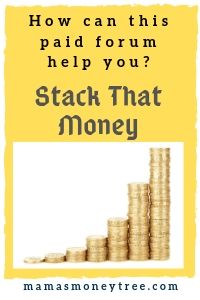 Touted as the largest and most up-to-date affiliate marketing community in the world, you might be wondering: is Stack That Money a scam. I wondered as much too, and thus set out to answer this question, for you as well as for myself.
Welcome to my Stack That Money (STM) Forum review.
What is in this affiliate marketing forum that can cost such a steep monthly fee? Is it really worth the money and time? Will you be able to benefit from the platform as a newbie to affiliate marketing, or as an experienced internet marketer?
We will answer these and more, in my honest and in-depth review of Stack That Money, as we examine what really goes on, on this platform: the topics discussed, the presence of expert affiliate marketers, the traffic generation methods taught, etc.
Without further ado, let's dive right in now!
---
Stack That Money Review Summary
Product: Stack That Money Forum
URL: https://stmforum.com
Creators: Founded by Lorenzo Green, Stackman, and Besmir in 2011
Product type: paid affiliate marketing forum
Price: $99/month
Scam / Legit? : Legit
Recommended or not? : Recommended only for experienced affiliate marketers
Stack That Money is an established forum platform catered for the serious affiliate marketers who already have an existing business, as the topics they discuss are advanced, and center around paid traffic. It is definitely worth the monthly subscription fee if you are already generating a good revenue through free traffic, and have excess cash to now try to scale up.
If you are just starting out as a beginning affiliate marketer, you will likely find the forum overwhelming as a vast sea of cluttered information, without a clear direction and step by step guide on where and how to start.
Check out my #1 recommendation if you are a newbie in the affiliate marketing space:



Read on for the detailed review of Stack That Money, and why I recommend it only to the experienced internet marketers.
---
What is Stack That Money
To find out what is Stack That Money, let's first take a look at its sales page: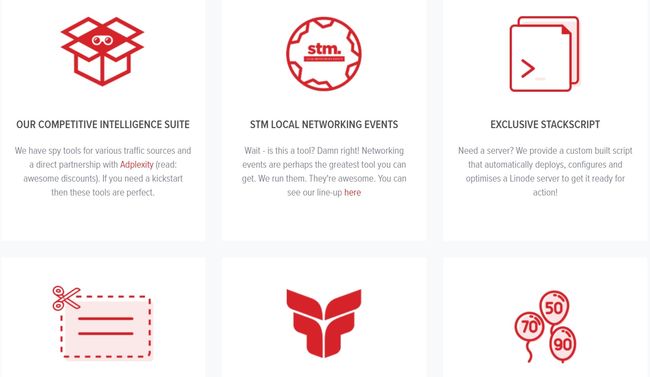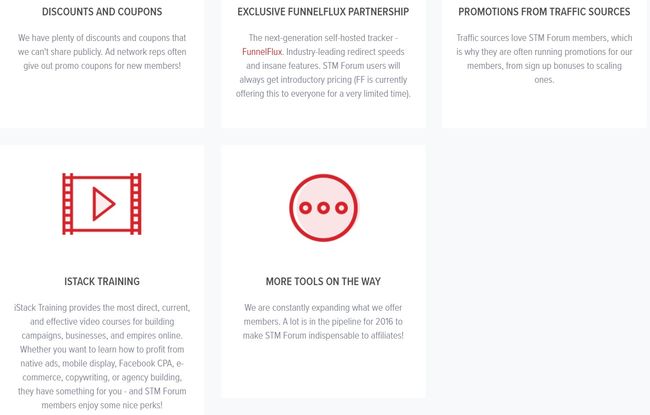 Stack That Money is basically a forum where the top affiliate marketers gather, to discuss common topics, impart knowledge and share their experiences with aspiring affiliate marketers.
The forum topics revolve around all kinds of paid traffic sources, from mobile, native ads, Facebook, Adwords, display media, to adult and PPV (pay per view) marketing.
Apart from forum discussions, it provides tools, training guides, case studies, live events, etc. that will give you the edge over other affiliate marketers.

Why do you have to pay a fee?
This will be the obvious barrier to entry. It is also what distinguishes Stack That Money and other paid forums from the free ones, in the sense that there is no spam and other nonsense on these paid channels.
Because of the monetary incentive, the owners of the platform as well as its employees and others who benefit from the members' fees have an obligation to give of their best, in order to make it worthwhile for its members.
Hence you can be assured that the expert marketers will be sharing a lot more details of their strategies and advertising campaigns in here than they would on any free forum.
They want to contribute their best here, to a highly targeted audience group who is willing to invest in order to make some serious money in their affiliate marketing business.

What do you get within Stack That Money
Traffic Sources Area
This is the main section in Stack That Money forum, which centers around paid methods of generating traffic, including mobile, Facebook, adult traffic, native ads, media buying, PPC (pay per click) marketing, email marketing, pay per call, pay per view, etc.
There is also some discussion on SEO (search engine optimisation), but that is really not the cornerstone of this forum, as it is well known that free organic traffic takes time and hard work to establish.
Paid traffic, on the other hand, can get you more immediate results. But it is not for everyone. You have to understand the risks involved, which I go into detail in one of the later sections.

Buy and sell section
This can get you discounts off tools and softwares that are used by the experts, like some tracking and analysis tools for your campaigns.

The Newbie Zone
This section allows you to introduce yourself, make friends, ask question and get answers as a newbie, with detailed guides in the 'getting started with affiliate marketing', as well as onboarding zone.
There is also a follow-along section, where you can get feedback from the experts on your campaigns.

Success stories
These will keep you motivated and spur you on, at the same time you can read about what others have done to reach that level of success.

Live events
These meetups allow you to network with affiliate marketers, which may turn out to be great opportunities for your business, in many possible ways that you may not be able to fathom if you do not give it a chance.

iStack Training
This part of the training is separate from those training guides you can find as part of the Stack That Money Forum, because this has its own fees, and trust me when I say it is not cheap at all.
The Native Ads Master Class costs $1,497.
The e-Commerce All-Star training costs $2,997.
The Dropshipping course costs $997.
Remember, if you decide to dwell into dropshipping or any form of e-Commerce, and native ads marketing, these will not be the only costs. These are just for your own learning. Do not forget all the start up costs, operating costs, and of course advertising costs.

Why Stack That Money may not be for you
Topics are too advanced
Stack That Money forum definitely has some great quality content, by virtue of the fact that you are paying for it, where there are plenty of free forums out there. So there has to be much value, in order for this platform to have sustained itself for so many years, from 2011.
The thing is, topics discussed here tend to be very much advanced, and in-depth. If you are a newbie starting out in affiliate marketing, you will struggle to understand what is going on, as you do not yet grasp the mechanics of advanced internet marketing.
As you go through the discussion threads, you will find piecemeal information everywhere, which can give a cluttered and overwhelming feeling, making you feel more lost than before you started on this platform.

Step by step guides are not chronological
There are detailed guides, on varying wide topics, like STM Forum 40-day newbie guide, eCommerce Cookbook, Facebook scaling mastery, Facebook Start to Finish Guide, etc.
These are great resources, and definitely have lots of value for the intermediate and expert affiliate marketers, who already have their basic affiliate marketing business set up.
Then you simply zoom in to what you are looking for, whether you choose to advertise through Facebook, or you are setting up an eCommerce online store.
But these are not beginner-friendly.
If you are a beginner looking to do affiliate marketing, what you need is a step by step guide to starting from scratch, from choosing a niche, setting up your website, to generating free traffic and monetising it, before you should consider paid traffic.

Paid traffic is not for beginners, in my opinion
I am making an online income myself with affiliate marketing, so I know how it works. Though I am no longer a beginner, I have not found the courage to dabble with paid traffic, simply because I am not a risk taker.
You see, paid traffic is something that you learn 'on the job'. No matter how much training you go through before setting up your first campaign, each platform is different, your target audience is unique, no amount of training can be personalised to cater to your unique situation.
As you run your first advertising campaign, you will analyse the results, and tweak some parameters for the next campaign, which you will again analyse, and so on.
How fast you learn the ropes, and hence recoup the losses involved in the advertising fees, depends on how you manage to grasp the numbers, interpret them, and instinctively know what figures or data to change, in order to get closer to your target audience.
For some people, they may never recover their losses, as it is a delicate balance of risking your money and fine-tuning your campaigns until you reach its optimum returns. Depending on your risk appetite, it may take thousands of dollars before you call it quits, or for you to finally see the light at the end of the tunnel.

Why go for paid traffic when you can get free traffic
Free traffic is how I started my affiliate marketing journey, and it is something I recommend every beginner do.
If there is free traffic, why would anyone go for paid traffic? Of course there must be some tradeoff, and in this case, it is time and hard work.
With time and hard work, I build up my website content, which allows my site to rank on page 1 of search results, when people search for keywords related to my content, my offers.
While doing this, I am, at the same time, building up a rock solid foundation for my online business, as my site gains trust and authority, in the eyes of the search engines. This paves the way to a passive income stream, because once I am able to get free organic traffic from the search engines, it is unstoppable.
Free organic traffic is also the most highly targeted, since these people are actively searching for stuff related to my niche, so they have strong buyers' intent. They will convert into buyers at the highest rate on my website.
With profits generated from free traffic, I can then choose to 'invest' a certain amount in learning paid traffic, by actually running ads campaigns.
If I can get the hang of it and succeed at it, I will be able to scale up my business, and the sky is the limit.
If I fail to get any positive returns on investment, I can spend some time and more money to learn some more, while still having the passive income stream generated from free organic traffic.
At this point, I would like to show you the training platform that helped me get started from scratch, with zero knowledge in affiliate marketing, to now working full time from home, growing my internet business. If I can do it, you can, too. Here's a peek into my earnings on a recent day:



As you can see, more than $100 a day is very do-able. And this is not even at its maximum potential yet, I'm still growing this business every single day.
Check out this training platform that provides all the resources, tools, along with an entire community of aspiring as well as already successful online income earners. The best part is, you get to start for free:

---
Pros of Stack That Money
1. Great quality content at an advanced level
A paid forum can do great stuff, if managed properly and the right experts are on board, which is the case for Stack That Money.
So even though $99/month may sound very expensive, it can actually offer much more value than what you pay for, if you are an advanced marketer, on par with the content and discussions generated there.
2. Experts' views on your campaigns
This is a great place to be, if you are already running some campaigns for paid traffic, and would like to seek experts' views on your marketing efforts. You would get very customised advice that is hard to find elsewhere, unless you pay thousands of dollars to consult with some super internet marketer.
Still, there is no guarantee that it will help you succeed.

Cons of Stack That Money
1. May not be affordable for everyone
The monthly subscription of $99 is rather steep, not something that everyone can afford.
2. No structured step by step training that is completely newbie-friendly
I do not consider the resources on Stack That Money to be newbie-friendly, if you are looking to start from scratch, and focus first on free traffic.
3. Focus on paid traffic
Paid traffic is something I always strongly advise against, for beginners in internet marketing, because of its high risk, involving huge upfront investment that you may never get any returns for.
4. Refund is allowed only within the first 3 days
The refund policy is a very strict one, which is understandable, to prevent people from gaming the system. But it means that to you, there is only a very short time frame in deciding whether the fee is worthwhile for the month's access to the forum of not.
---
Is Stack That Money a Scam or not? 
Stack That Money is definitely not a scam. In fact, it is something I highly recommend to experienced affiliate marketers who are at the right time of using paid traffic to scale up their already profitable business.
This platform is similar to some others I have reviewed, in the sense that they all focus on paid traffic, like Four Percent, Legendary Marketer, and Super Affiliate System, to name just a few.
---
Recommendation
My recommendation to you, if you are a beginner in affiliate marketing, is to first work on getting free organic traffic to your offers.
When you generate profits just from free traffic, the pressure is off, should you decide to try out paid traffic, as those will be your excess cash, which you can afford to pay in the hope of scaling up your business.
For starting from scratch and learning how to get free organic traffic, I want to show you this training, tools and community all-in-one platform.
This real deal does not promise instant results, but instead provides the knowledge and lifelong skills required to grow a successful online business, which is exactly what I have done. Check it out by clicking on the button below:



And for reading all the way to the end of the post, I believe you have it in you to make this work. Here is your FREE PDF Guide: 4 Simple Steps to Making Money Online. Fill in your details to claim it:


If you have any concerns or questions regarding this Stack That Money review, do comment below, and we will start a conversation from there.
---