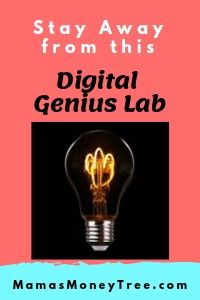 There are so many reviews out there calling Digital Genius Lab scam. You will also find another very passionate group of people on the other side of the fence, defending this company fervently.
Welcome to my Digital Genius Lab review.
After examining DGL closely, I have to say the disappointment is real. It is nothing like what it tries to portray to someone considering using its services. Its marketing is misleading, to the point of being unethical.
I am not associated with Digital Genius Lab in any way. Neither am I here to bash any company.
If you are promoting DGL and what lies behind its mask of affiliate marketing education, you will be mad that I am exposing the company, and we all understand why.
Still, I need to bring the truth to all my other readers, so that they keep their rights to make an informed decision before signing up with Digital Genius Lab.
Without further ado, let's dive right in now!
---
Digital Genius Lab Review Summary
Product: Digital Genius Lab
URL: https://www.digitalgeniuslab.com/
Creators: Sean & Melissa Malone, and Chris Baden
Product type: marketing tools for promoting DGL, which ultimately funnels into MLM company Enagic, which sells the famous Kangen water.
Price: $99 per month for DGL membership, plus upwards of $1K for Enagic purchases and business opportunity.
Scam / Legit? : Marketing gimmicks make it very scammy, but there is some legitimate training
Recommended or not? : NOT recommended
Digital Genius Lab is nothing more than a marketing funnel that recruits you into the Enagic MLM business, which is not made known to you until you pay for the DGL membership.
There is some training on running Facebook ads, but it simply means you are taught to spend more money by digging a deeper hole for yourself, with absolutely no guarantee of any returns.
---
---

What is Digital Genius Lab
To find out what is Digital Genius Lab, let us first take a look at its website.



Apparently it is an affiliate marketing platform, with education, support and tools to help entrepreneurs create and expand their businesses, and market them online.
Sounds cool, since affiliate marketing is the 'in' thing these days, as the entire world is bringing their shopping online.
What I found perplexing was the lack of information on the training content, what are the traffic methods taught, and the pricing of the program.
The only way to proceed was to enter my email address, which I did.

Webinar
I was then presented with a webinar, lasting about an hour or so. If you have not watched it, save your time. Not much useful information there too.
All I got was a lengthy story about the founders, how promoting a particular high-ticket product (more than $1000) could be a life-changing opportunity for me, and how most of the work has already been done when I join DGL.
All I need to do is to bring leads to Digital Genius Lab, by running Facebook ads.
They make it seem like everything is so easy.

What exactly is Digital Genius Lab all about
Inside the members' area, you will get a set of training that teaches you about running Facebook ads, so as to get people on board Digital Genius Lab, by going through the exact sales funnel that you did.
Effectively, you are buying a membership so that you can use the product to promote itself.
When someone purchases Digital Genius Lab, you make a 30% commission.
Not too bad, until you learn what high ticket product DGL is actually promoting.
Moreover, this is not training that teaches you to run your own affiliate marketing business independently, it simply does not equip you with the relevant skills, especially since most of the funnels are done for you.
The tools inside DGL are created specifically for you to promote itself only.

Training in Digital Genius Lab
There are 5 basic training modules in the DGL members area:
Module 1: Facebook fan page
Basics of setting up a Facebook fan page and how to use it for your business.
Module 2: Setting up your sales funnels
You will be taught to create a website, set up your sales funnels in the DGL back office, and set up email campaigns.
Module 3: Setting up for Facebook ads
Getting started on your Facebook ads account, including how to target your audience, Facebook pixels, and re-targeting.
Module 4: How to do Facebook ads that sell
The elements of top-selling Facebook ads.
Module 5: Scaling up your winning advertising campaign
Analyze your results to find the winner in your campaigns, and then scaling it up.

The hidden scheme of things
When you drive traffic with Facebook ads to Digital Genius Lab, its sales team and coaches will be the ones to persuade those leads to purchase DGL and its high ticket item, through coaching calls.
It is a well-oiled recruitment operation, making you pay a monthly membership fee, and then pay for Facebook ads to advertise DGL. This will get more people to pay them membership fees, while the whole time you're also helping them amass a huge team for their MLM business.
Oh, surprise, surprise! Yes, that's what it's ultimately about, that high-ticket product that costs upward of $1K.

MLM Company Enagic – Kangen Water
They have been hiding this from you all along, that the high ticket item that you would be promoting is actually the MLM (multulevel marketing) company Enagic, which sells the well-known Kangen water.
Its products include water filters and water ionization systems.
How effective the water systems are, and all the details of its business opportunity are for another day, in another review post.
For now, we finally understand why Digital Genius Lab has been so secretive about this high ticket product. I'm sure when they decided not to be upfront about Enagic, it was because they knew it would drive away many potential leads, given the negative connotation associated with MLMs.
What makes it worse is the high cost associated with Enagic, which requires you to buy one of their machines costing between more than $1K to $6K to qualify as a distributor, and start earning commissions as you bring in more people as distributors as well.
My guess is that to succeed in this MLM, you will need a good number of rich family and friends around you.
---
---

Why I think Digital Genius Lab does not have your interest at heart
Misleading marketing
Firstly, their website and those first encounters you would have with Digital Genius Lab, like their webinar, are not at all forthcoming in what exactly it is that they are offering.
You get to learn the truth behind DGL only after you begin paying for the monthly membership. I'm not sure about you, but if this were to happen to me, I'd definitely feel like I had been tricked into the lion's den.
MLMs are a far cry from affiliate marketing, which is what Digital Genius Lab tries to make itself out to be, on its website.

You're paying 3 times
First, you pay for the monthly membership of Digital Genius Lab. Next, you pay out of your own pocket to run Facebook advertisements. Lastly, you're paying for the water systems to get yourself onto Enagic's business opportunity.
Why should you be doing these just to promote DGL? What's in it for you?
Yes, as you get more leads who join Enagic, you're also building your downline team. But the nature of MLM compensation plans are such that low ranking distributors will inadvertently pass up the earnings to those high up in the ranks.
This is usually not explicitly spelled out to the new distributor, and is hidden through convoluted MLM compensation plans.
So the people who benefit the most from this arrangement are those in the upper echelons of Enagic – the founders of DGL!
If you are really passionate about Enagic products, my advice is to find a more sincere sponsor whom you can trust to have your best interest at heart, and whose team you can join.
This way, you will not be spending on expensive Facebook ads to get people to pay Digital Genius Lab $99 per month.
You will also save on this monthly fee yourself. You don't have to pay them to build up their team. You do not need DGL to join Enagic.

Paid traffic can burn a hole in your pocket
The issue with paid traffic, no matter on Facebook or any other platform, is that there is no guarantee of any returns. If it were so easy, everyone would get rich just running ads to whatever companies they are promoting.
You could be seeing hundreds to thousands of dollars going down the drain without a single sale, especially for expensive programs like DGL.
Paid traffic on each platform takes a steep learning curve, where you pay to actually run the campaigns, while you analyze results, tweak parameters, run the campaigns again, rinse and repeat.
Until you find the ad copy that clicks with your audience, and gets you the highest conversion rates. This steep learning could take weeks or months, before you start getting your first dollars back.
Hence paid traffic is a very risky business, when you have not mastered the art and science of it yet. Many people just throw in the towel, to cut their losses.
Digital Genius Lab will not tell you all these. They provide some training, and it is on you to make the Facebook ads work, since it is your money, not theirs.
All that matters to them is that you are continually paying them a monthly fee.
Do you know there is a way to get free traffic to any MLM business? Check out the link below if this interests you.
---
---

To round up this article, let me recap and summarise the pros and cons, before I finally make my conclusion.
Pros of Digital Genius Lab
1. It is possible to make money through the affiliate program of Digital Genius Lab
Yes, it is possible to make money just by promoting DGL, if you are well-versed in some online marketing technique that can get you great conversion rates without spending a bomb.
But I doubt you will get a lot of happy customers, once they discover this is a sales funnel into Enagic.
2. Water filtration and ionization systems could have its own market
It is possible that there is a niche market for this kind of water systems. The problem is how to find your targeted audience, and how to reach out to them so that they will join your team as distributors.
3. Giving back to society
This is at least one thing I admire about the owners of Digital Genius Lab. They donate 1% of their profits every year to an organization called NeverThirst, which help communities that do not have access to clean drinking water.

Cons of Digital Genius Lab
1. What you see and what you get are entirely different
If a company has to hide what it is really promoting, it says quite a bit about their integrity, and how much they care about their customers' rights.
2. Expensive
I think $99 per month is crazy expensive, for getting some tools that you would be heavily reliant upon, instead of acquiring some skills and knowledge which you can transfer to your own ventures outside of Digital Genius Lab.
3. Digital Genius Lab is an empty shell
If you think about it, there is nothing within DGL, as all it does is give you the tools that promote itself, and sends people to the Enagic business opportunity to build up their own team.
Enagic is at least a legitimate business, albeit an expensive one to join. It has products that offer value by providing clean and safe, and possibly healthier drinking water. If they meet your needs, you can simply buy them as a customer, without getting involved in recruiting.
On the other hand, DGL is ALL about recruiting.
4. Upsell
Once you join Digital Genius Lab, there is a pricey upsell called Fast Track Triple Pack, costing $297, which includes the following:

– a 4-week program where 2 coaches will be assigned to you, to help you set up an effective Facebook ads campaign
– a 13-week program, providing 1 video per day for 90 days, guiding you towards making sales
– getting involved in mastermind groups of between 5 to 8 persons, for mutual support and healthy competition.
---

Is Digital Genius Lab Scam or legit? 
I wouldn't exactly call Digital Genius Lab a scam, since it has some legitimate training on running Facebook ads.
I would say it adds a stroke of genius to the forms of traditional recruiting that most people know with MLMs.
Besides leveraging on online marketing, they offload the huge risk and cost of advertising their business to you, while at the same time collecting a monthly payment from you.
Similar programs that I have reviewed include Digital Income System, 8 Figure Dream Lifestyle, and Easy 5 Now, to name just a few.
---

The best way to make money online
Some people do well with MLMs, but for the average person, the odds are really low. That is a result of how the compensation plans are set up, not because you are bad at it.
Even if you really decide that Enagic is for you, it should not be difficult to find someone you can trust to buy from, and get signed up on their distributorship with.
At the end of the day, it really boils down to what you want.
If you are trying to find a way to make money online, working from home, then MLMs are not the solution, because they take quite a bit of face to face selling, especially for high ticket items costing a few grands, very few people will simply buy it online, without taking a look at the real thing, watching some live demo, etc.
If you would let me, I'd love to show you how I am working full time from home, growing my internet business, and making an online income.
Here's a peek into my earnings on a recent day:



That's almost $200 in just one single day. It's nothing to boast about, though, as it's just a small fraction of its full potential. I just wanted to show you the possibilities.
Check out this training platform that provides all the resources, tools, along with an entire community of aspiring as well as already successful online income earners:


This real deal does not promise instant results, but instead provides the knowledge and lifelong skills required to grow a successful online business.
And for reading all the way to the end of the post, I believe you have it in you to make this work. Here is your FREE PDF Guide: 4 Simple Steps to Making Money Online. Fill in your details to claim it:


If you have any concerns or questions regarding this Digital Genius Lab review, do comment below, and we will start a conversation from there.
---