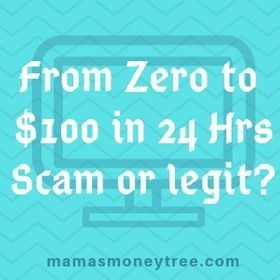 What is 0 to 100 in 24 hrs? Is it another scam, or finally a legit way to make fast money online?
If you have landed on this page, you are probably researching on this product, newly launched on November 23, 2018.
It is great that you are digging around and trying to find more information on a product before deciding whether to go ahead with the purchase. There are so many scams out there these days, it really pays to do your homework.
In this article, I will provide an in-depth review of 0 to 100 in 24 hrs, through the following sections:
---
0 to 100 in 24 Hrs: Review Summary
Product: 0 to 100 in 24 hrs
Creator: Jono Armstrong and Brendan Mace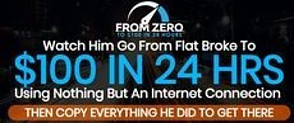 Product type: Training in affiliate marketing
Price: $12.95
Scam / Legit? : Legit
Recommended or not? : Not recommended
This product, From Zero to $100 in 24 Hrs, is basically a training course on affiliate marketing. It teaches a not so common method of carrying out affiliate marketing, called launch jacking.
In short, launch jacking taps on new products or training courses that are just being launched in the internet marketing niche, where lots of curious and hopeful traffic is generated from the launch campaigns. By providing a solid review of the new products, as well as throwing in your own bonuses, you can supposedly get good sales.
I would not recommend From Zero to $100 in 24 Hrs, for a few reasons. The main reason I want to highlight in this summary is that the internet marketing products are 80% to 90% crappy stuff which people can easily find on the internet for free.
So if you strongly promote these products as they are being launched, people who buy into your reviews and bonuses purchase the product only to find it does not work for them. There goes your reputation, down the drain.
Rather than being restricted to the internet marketing niche, affiliate marketing is more about choosing your own niche area that you are passionate about, so you are already the pro in this area, and you can really recommend solid products, instead of giving solid reviews for crappy products, or worse still, products that are pure scams.
Check out this platform to learn affiliate marketing the proper way, so your passion drives your online business:

Read on for the detailed review of 0 to 100 in 24 Hrs, and why I do not recommend it.
---
What is 0 to 100 in 24 Hrs
Information presented in promotional video and landing page
0 to 100 in 24 Hrs is all hyped up and promises to let you start earning within one day! It is a brand new method of literally going from scratch, to turning big profits, starting the very same day.
Jono was given this challenge: to start with no money, connections, funnels, autoresponders, lists or any other advantage, and earn $100 in 24 hrs, with just an internet connection.
And he actually did it! (In a highly dramatised video clip, which did not show a single result, really… Just like for everything else, we just take his words for it.)
So anybody can duplicate his methods and start earning tomorrow…
Nobody has ever seen anything like this before, as it is a secret blueprint that every mega-successful internet marketer uses, but refuses to share.
You won't spend a dime out of your pocket for traffic or anything else. After making $100 fast, you can scale up to as big as you want.
You don't need a website or email list, no product creation, no technical skills required. It only takes minutes to set up, and is 100% newbie friendly.
It allows you to work less than you ever did online, and yet earn more money, faster. You don't have to wait for anything, because it works so fast.
The earnings can be accomplished in 3 simple steps:
1. Sit back and view the step by step training.
2. Set up using their exact blue print.
3. Sit back and watch $100 roll into your PayPal within 24 hours.
There was also 'income proof' of the earnings, hundreds per day.
The product includes: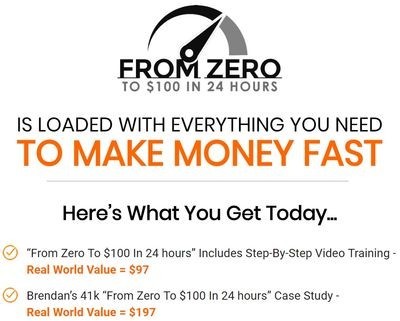 Step by step video training of '0 to 100 in 24 hrs'
Brendan's 41K case study
Bonus 1: 48 hours full case study of a passive profit machine and video training
Bonus 2: Emergency Cash Booster – fast cash generating methods
Bonus 3: Traffic Power-Pack – 4 powerful traffic methods with video training
What 0 to 100 in 24 Hrs really is
All hyped up, it is basically just some training materials that promise you the entire universe. Yes, the method taught is quite unique, presenting explicitly something that the most successful internet marketers have been doing. But it is definitely not something that newbies can do and achieve in 24 hours. You will see why…
This method, called launch jacking, makes use of the huge rush of traffic when product creators launch their new products or training courses. At this time, many affiliates will be promoting the product through their email lists, pushing through their email marketing campaigns, and putting in their affiliate links, hoping people buy the product through their links, then they earn a commission.
The thing is, people will not buy just because the affiliates tell them to. They will be doing their own research online, about the product.
So 0 to 100 in 24 hrs teaches you to capitalise on this. Get ready a solid review of the product as it is about to launch. Throw in your bonuses that can add value to people looking to buy the product. So when people search for information about the product, they find your review, which stands out above the rest because of your bonuses, so they buy through your affiliate link, and you earn the commission.
In 24 hrs? I don't think so…
Launch jacking requires a lot of preparation work. It will not get you earnings in 24 hrs as promised.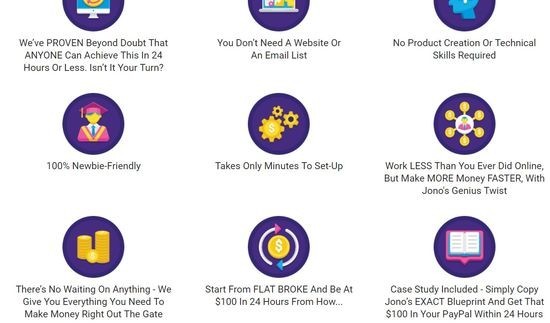 When people do research, they mostly use Google. So if you were to write a review of the product, you really need your own website. To publish a post and get ranked instantly so that people can find you on page 1 when they research for the product, you need an established website that constantly produces quality content, consistently over months, in order for the search engines to trust you.
Many times, YouTube videos do appear in search engine results. So another option is to try and get ranked by making your own YouTube video – review the product through your own video, if you are comfortable with it, and have the expertise to do it. That is another steep learning curve if you have not tried it before.
Then you will also need your own YouTube channel, with lots of quality videos, before you can get any chance of ranking high in search engines. Again, that takes time. Lots of time for you to gain experience and learn what it takes to rank your videos, learn through doing and making mistakes, as well as for the search engines to trust your YouTube channel as it matures with time.
On top of all these, you have to study the new product, and prepare a set of bonuses for your potential customers, that will add value to what they have in the main product you are recommending them to buy. And these bonuses got to be more and better than what your competitors are offering, because people will be shopping around for the best offer.
In addition, you need a great network in the internet marketing niche, which you are not likely to have as a newbie. If you hear of product launches at the same time as all other affiliates, then for each launch, you will have to scramble like crazy to get all the review page, video, and bonuses out.
If you know the internet marketing niche well enough, you will see that the creators of the products form their own tight circles, and are in fact good friends. When one launches a new product, the others will have gotten ready their launch jacking campaigns ahead of everyone else. That is how they all make money together, and it is an almost impossible task to compete with them, with the edge that they have over the rest of the world.
A LOT of work to implement Launch Jacking
Tons of work go into preparing yourself to capitalise through launch jacking, much more than what you are led to believe in the promotional materials of 0 to 100 in 24 hrs.
I'm not saying hard work is no good. We should not be afraid of hard work. In fact, there is no other way around tons of consistent hard work, if you want to succeed in making money online, on the internet.
It's just that this product is so misleading in making you think that all it takes is 24 hrs and 3 simple steps to generate a sizable income. It is targeting the human nature of instant gratification, to lure people into buying it.
If you are ready to work for it, I can show you the proper way to earn a sustainable income online:
This training platform in the link that I recommend above also teaches all about building your own website, and writing content in a way that will give you page 1 rankings.
With a website, you are owning an asset in the internet world. Whatever you build upon it, it all adds up, and is there to stay, until the day you decide to pass it on to your next generation.
Whilst with YouTube, you are simply uploading your videos onto a platform, you don't own it. One day, should the platform shut down or disappear, there goes all your hard work, all your followers, etc.
Time sensitive method
As you can sense by now, launch jacking is a very time sensitive method. You have to catch the audience in the few days leading up to the product launch, and maybe for a few weeks after that.
Once the hype and excitement dies down, and people know enough of the product to realise it is not really so good for them, and negative reviews from buyers of the product start to appear, your earnings will start to decline dramatically, until you set up for another product launch.
So in fact, you will be chasing one new product after another new product. If the products are really that fantastic, why is it not able to sustain a steady income? That brings us to the next point…
Products in internet marketing niche are mostly substandard
Most products in the internet marketing niche target the natural human weakness of laziness, instant gratification, minimum work for lots of money. That is how those products make money, they are not created to genuinely help others.
Those are all digital products found on the affiliate marketing platforms of JVZoo, WarriorPlus, ClickBank, just to name a few. Affiliates are trying to make money out of them too, so everyone will add to the hype, chime in about how fantastic each product is, to prey on unsuspecting people who are just looking for an easy way to make some money online.
Launch jacking mostly deals with this kind of products, many of which come and go, so creators have to keep developing new products, precisely because they do not deliver what they promise.
If a product is really that great, it will hang around for years, like this one which has been around since 2005, and has got a legit website, with loads of features, tools, training and information, as well as a buzzing and alive community that is always helping and learning. It is not just a sales landing page that is built for a passing fad.
---
Pros of 0 to 100 in 24 Hrs
1. Real owners
The owners of the product are real people with real faces. People know them in the internet marketing niche, and they are really successful in their own rights.
2. 30 day money back guarantee
This basic refund policy is in place, for people who are dissatisfied with the product, or who does not make $100 within the first 24 hrs.
3. There is some value in the training
The method taught in 0 to 100 in 24 hrs is not just something found easily off the internet, at least until now. So I think there is some value to the training.
It covers finding good offers to promote, how to create bonus pages using free tools and paid ones, the ranking sequence, as well as some extra stuff to help make your videos show up on YouTube search results.
Its Cons
1. Only works in the internet marketing niche
Launch jacking works only for new products launched in the internet marketing niche. The nature of this niche is such that you will always find a lot more crappy products than really good and helpful ones.
2. Not minimum effort like what it is made to sound
There is rightfully lots of preparation work involved in this method, because it is very competitive. You have to build the relevant bonuses way before the product launch, so you need to get wind of it early.
If you are new, it is virtually impossible to rank well on Google and YouTube, until you build authority, by consistently producing great content.
Every launch jacking campaign is short lived, so are the profits from each one, so you have to keep chasing after new launches.
3. Not for newbies and struggling marketers
The learning curve for doing launch jacking is steep. You have to learn how to make review videos. You have to write review blog posts that rank well. And you have to learn how to create bonuses for your potential customers.
That is why the experienced marketers are doing this. They have learnt through many years of doing and failing in order to get there. It really is not as simple as what they make it out to be.
Even if you do everything right and gain the trust of the search engines, you will still never catch up with the group of product creators themselves, as they are in this together. They find power in numbers, so they are the ones taking up all the first few positions on the search engines. They have been doing this for years, so they have a great advantage over anyone else.
4. Upsells
Something I have gotten used to expecting, for any typical internet marketing product aimed solely at making money for its owners.
So the numerous layers of upsells in 0 to 100 in 24 hrs comes as no surprise at all.
Upgrade 1: Traffic training – $37
Upgrade 2: Limitless traffic for 365 days – $197
Upgrade 3: "Done for you Funnels" to use – $67
Upgrade 4: Lifetime Campaigns – $197
Upgrade 5: License Rights – $97
5. What comes to your mind when you hear Jono and Brendan
If you have been in the internet marketing niche for some time, you would know the owners of 0 to 100 in 24 hrs for their very hyped up products, which in fact sell very well, because these people know their game well. They know to target the weakness of human nature, and newbies who do not see the big picture yet. And their selling tactics are certainly very well-honed.
Ultimately who benefits the most from these products? Yeah, you guessed it.
If you want a product without hype but quietly delivers what it promises and more, look no further. See how I am working from home to make money online:

---
I won't be recommending 0 to 100 in 24 Hrs to anyone, mainly because the internet marketing products that you can use launch jacking to monetise are frequently very low quality ones, among the many other reasons discussed above.
For affiliate marketing to work for you, the proper way is to choose your own niche, something you are passionate about, like your hobby, or health, or recommending niche products like gadgets, kitchenware, etc.
And build a website on your chosen niche, create helpful content around it so search engines see you as the authority in the niche, and you get massive amounts of free traffic to your website, which you can then convert into buyers as they click through your affiliate links to buy products that you truly recommend.
See how I am earning an income this way.

---