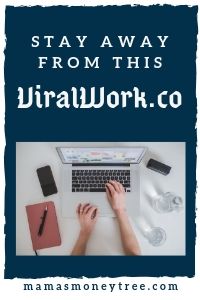 You may have seen people putting their referral links on social media, forums, and other platforms, and are wondering what is ViralWork (its website is https://viralwork.co). You have landed at the right place.
Welcome to my ViralWork.co review.
Earn $500 today? Get paid $30 per task that you complete? Make $15 for every friend that you refer to the site? Can making money online really be that easy?
When something sounds too good to be true, it most likely is.
In this article, I will be pointing out all the huge red flags that tell me NOT to trust this website, from my experience of having reviewed more than 150 online products and platforms.
Without further ado, let's dive right in!
---
ViralWork Review Summary
Product: ViralWork
URL: https://viralwork.co/
Creator: Unknown
Product type: SCAM, hiding behind a referral platform
Price: free to join
Scam / Legit? : SCAM
Recommended or not? : NOT recommended
ViralWork.co is a rehashed version of ViralPay.co. It is out to get people's contacts, most likely so they can sell your information to third parties. It will be a huge waste of your time trying to complete the tasks, referring people, only to find out that they do not pay when you try to cash out.
If you want to make some serious money online, check out my #1 recommendation:




Read on for the detailed review of ViralWork, and why I call it scam.
---
What is ViralWork
It is the #1 influencer network, and apparently has been around for 10 years.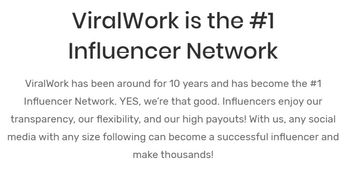 But wait! Their domain was very newly registered on 8th of April 2019, and only lasts for one short year, until 2020.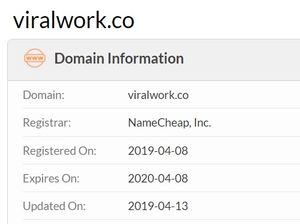 Hmmm, looks like we are off to an interesting start. If they were so established, shouldn't they be buying the domain for the next 5 years? Or at least 2 years?
They also mention about Viral Dollars being formed in 2009, it seems they are somehow related.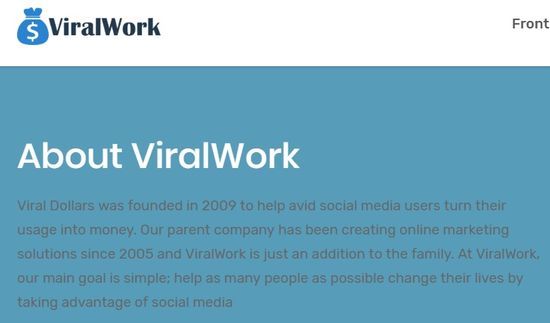 A quick check reveals that ViralDollars.co was only registered on 13th April 2019, also expiring in just one short year.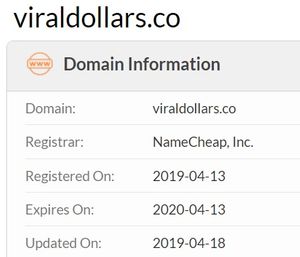 I have reviewed another platform called ViralPay.co before, which sounded like it has a strong link to this ViralWork and ViralDollars. So I went back to the website of ViralPay to try and check if it still exists.
Lo and behold! I got re-directed to ViralDollar.co!
Looks like I had uncovered an entire family tree.
Previously when I reviewed ViralPay.co, I found it to be a scam. ViralWork looks destined to the same fate. Right at the start, we are already seeing lie after lie, blatantly put up on its website.
Let's move on to the other red flags:


Unrealistic income claims on ViralWork
Make $500 today, I think that really went overboard. This figure works out to $15K per month if you work all 30 days. Just from a referral and get-paid-to platform? Would you believe that?




$30 per task that takes 3 to 5 minutes to complete?




And look! Alvardo and Christian! So this is where they earn their million dollars!




I mean, this is so lame. Just some words and a graphic to call a testimonial? Come on, ViralWork, you can do better than that, surely?


Social media buttons on ViralWork.co do not bring you anywhere
These buttons on the ViralWork website do not work, they simply open another window of the same ViralWork page.


ViralWork has no intention for you to contact them
They do not want to be contactable. Look at their contact page: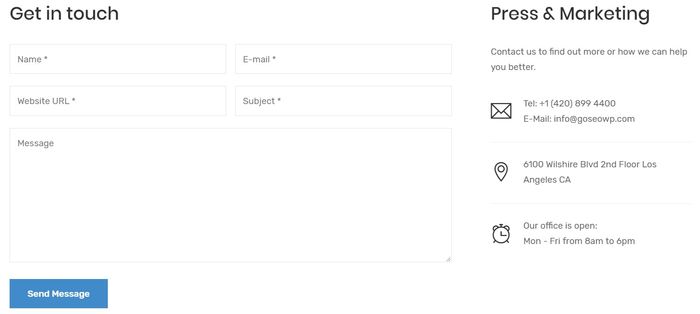 I found it weird that a website url is required, just to submit a message to them. Anyway, it doesn't matter, because this contact page just does not work.
After entering all the fields, I clicked on 'send message', it didn't get through. I did not receive anything in my email.
That email address on the right column is also fake. Look what I dug out: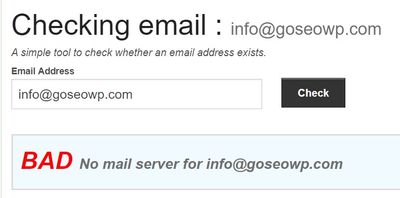 Well, well. They make my detective work quite easy, leaving so many holes uncovered.
No user reviews about ViralWork so far
As I am writing this, ViralWork.co is barely a month old. Its new members would not have tried to cash out yet, so there are no reviews about this platform so far, it all appears peaceful and quiet.
But look at what everyone is saying about its sister, ViralPay.co:





These are just the tip of the iceberg.
So I will be expecting something very similar for ViralWork.co. My guess is, nobody will be paid a single cent. All the time wasted, all the hopes dashed, all because of these scammers.


What goes on behind ViralWork?
These people behind ViralWork, ViralPay, and ViralDollars are very likely the same bunch of people. What do they actually want from you? And how do they earn when you are not giving them a single cent?
Actually what they want is just your contact details, like your name and email address, which they would get once you sign up on the platform.
They can then sell this information to third parties, by quoting a high price because they can prove that this list of people who had signed up with them are interested in making money online, hence it makes a very targeted group of audience.
Some of the tasks you do on ViralWork would also be sending you onto some other websites, where you are required to enter your details and information.
This is how they make money, from people who want to buy their members' list, like advertisers, and so on. It may be just a slight inconvenience to you, as you would likely get spammed by promotions and offers that seem to come from nowhere.
But the bigger frustration will be all the time you wasted into referring people and completing tasks, trying to earn more on the platform. And not to mention the trust you may be breaking with family and friends whom you had referred to these sites.


The proper way to make money online
I guess everyone starts off wanting to make it rich fast. It's a very natural thing, that's just human nature. I wasn't spared of the temptations on the internet.
But when I realised those empty promises are only going to make other people rich, and not me, I stopped looking for shiny objects.
I found a dull-looking object, but I knew in my heart that is the real deal. From then on, I have never looked back.
I am now working full time from home, growing my internet business, and making an online income. I started from scratch with zero knowledge. If I can do it, you can, too.
Check out this training platform that provides all the resources, tools, along with an entire community of aspiring as well as already successful online income earners. The best part is, you get to start for free:


---
Pros of ViralWork
There is not a single pro to ViralWork.


Cons of ViralWork
From all the red flags on its website, I am quite sure this is a scam. It has claimed its relation to ViralDollars.
ViralPay.co that I had reviewed earlier is now re-directed to ViralDollars.
And ViralPay has now been confirmed as a scam, with more and more people sharing their very negative experiences with it. No one has earned a single cent through any of these sites.
Do not waste your time, and do not sacrifice your trust and credibility with people around you.
---
Is ViralWork Scam or legit?
ViralWork is a big scam. It is a complete waste of time, just like Painted Dreams Marketing LLC, Blue Skies Marketing, and PayingType.com.
---
Recommendation
If you are looking for ways to make money online, my sincere advice to you is: avoid those that promise to get you rich fast. No such things exist. These things work only for the creators of the products or platforms.
Build your own dream. If you want any success on the internet, it is possible, but it won't come easy. It will come with hard work, if someone can show you the way, tried and tested, that had been taken by successful internet marketers before you.
I want to show you a training platform that has helped me reach success in the online world.
This real deal does not promise instant results, but instead gives me knowledge and the lifelong skills required to grow a successful internet business. Check it out by clicking on the button below:




And for reading all the way to the end of the post, I believe you have it in you to make this work. Here is your FREE PDF Guide: 4 Simple Steps to Making Money Online. Fill in your details to claim it:



If you have any concerns or questions regarding this ViralWork review, do comment below, and we will start a conversation from there.
---